Coming out of eighteen months of huge upheavals, many of us are looking back and forward simultaneously, with a refreshed sense of gratitude for our environment and surroundings. What will we take into the future from a period of intense collective despair?
Our immediate environment has taken on a new valour at a time where we have been forcibly confined to it, and in London we have been wondering: who are our neighbours? How can we support and care for each other, and what can we offer? What are the stories behind the quotidian buildings we pass regularly but never stop to look at?
'(In)visible City', curated by Olga Tarasova, saw hidden and overlooked parts of the city as a living, breathing and evolving entities, bearing stories that illuminate our own malleable human condition. While this exhibition programme looked closely at the area of Somers Town in Camden, north London, it felt like a blueprint for a more compelling adaptation of some of the city's existing art festivals. The architectural background of its curator was evident in the ways in which the minutiae and more desolate parts of the area have been not only embraced but accentuated.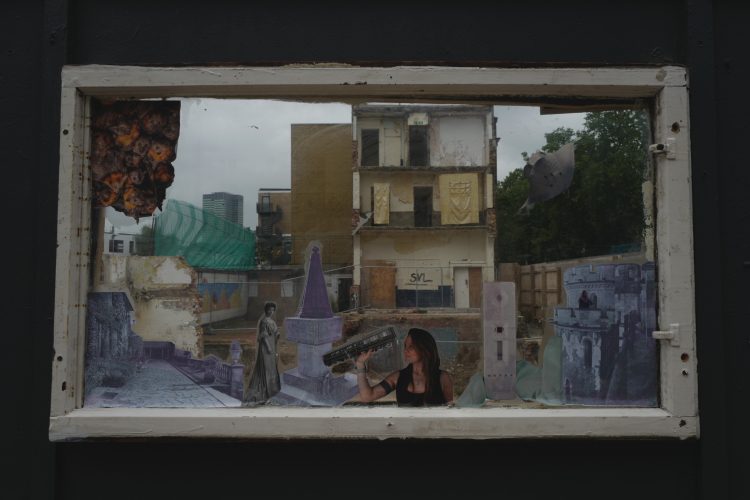 An accompanying map to the exhibition emphasised just how close in proximity all the components of the programme were, an interconnectivity that made the theme of the show less about how similar the different artists' work might be but instead evoking a sense of community and engagement, in a way that has substance. For instance, we have Katharina Fitz' sculptural piece 'Shoreline', which hung off a bulldozed half of a building across the street from the '(In)visible City' hub at UK Mexican Arts Society. It was surely a health and safety nightmare to install the work, which tentatively looked down over cordoned-off rubble, soon to be constructed into new social housing. The piece itself is a latex canvas that was almost nervously waving from the site, which has been in ruins for a year.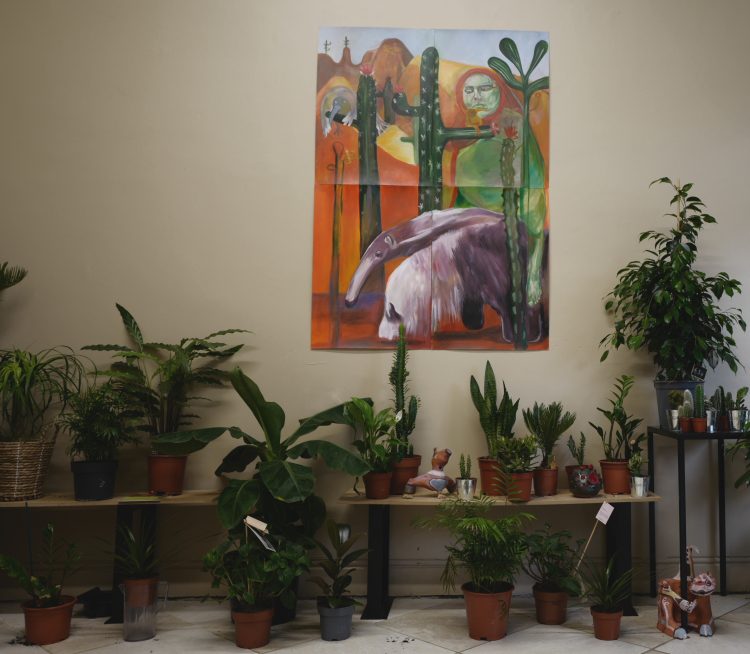 Engaging with communities in contemporary art exhibitions can often feel like a gimmick, without much consideration of the needs of the people involved, but the ways in which '(In)visible City' had been put together makes it almost obligatory to engage at some level. Even if it is simply asking: "Why is this here?". There are no obvious or silly questions when it comes to art enquiry; for an anti-Capitalist liberation of the art 'world', everyone's experience of art must be of equal importance, in a similar way to how everyone's experience, and indeed safety within and around, architecture is vital to its existence.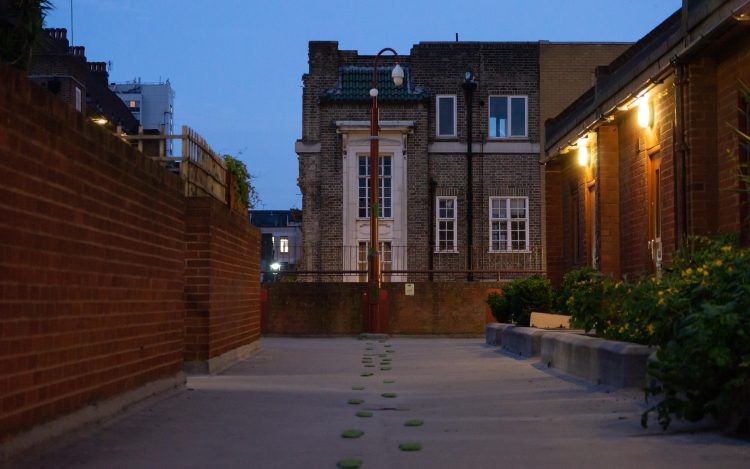 With this in mind, Maya Rose Edwards' installation 'Roadworks' in the courtyard of nearby Oakshott Court yard, was a personal highlight. The simple execution of installing artificial grass in the shape of feet across the yard of the beautiful 1970s estate designed by the Camden Council Architects' Department captivates in the most unobtrusive way. 'Roadworks' works very much with the architecture, and this is something Tarasova has organised expertly throughout the programme, almost as if listening in to the lived histories and current uses of these different spaces. Each placement is located in a space that is utilised by the local community, blurring the boundary of resident, pedestrian and art trail follower. By encountering the works either spontaneously or purposefully, we are coming together and sharing the joys of the artworks, in a way that has been rare and lucrative in recent times.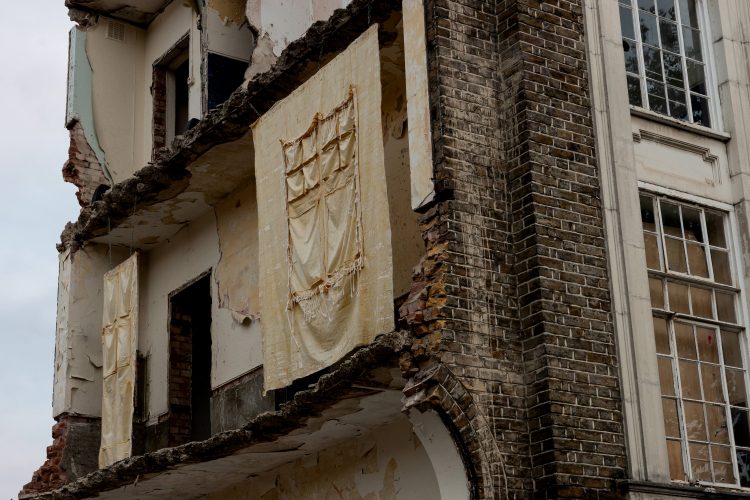 One aspect of the exhibition that was less public, but one of the most captivating, is the sculptural work of London-based artist Anais Comer. In the disused function room atop The Cock Tavern, a traditional Irish pub on the adjoining Phoenix Road, the key must be sought from the pub staff in order to quite literally unlock the magic of Comer's sugar and botanical pieces. Despite being indoors, it is a quietly chaotic space, as the function room is not fit for purpose and is in use by neither the pub nor the public. Comer's part of the exhibition felt like an institutional-quality presentation; the showcase would not look out of place at the likes of the Serpentine Galleries. Ornate glass window frames stand upright with a stained glass effect created by sugar; after close inspection, we see that the matter is melting and oozing on the floor, whilst still retaining a stunning yellow hue, through which the light of the room's real windows shine. Elsewhere in the space, nettles sprout out of the flooring; this burst of wilderness bodes well in this environment that is something of a hinterland, a space defying categorisation, lying between the supposed safety and sterility of the indoors and the wildness and unpredictability of the outside, something that has only been further reinforced under the various lockdowns and guidelines.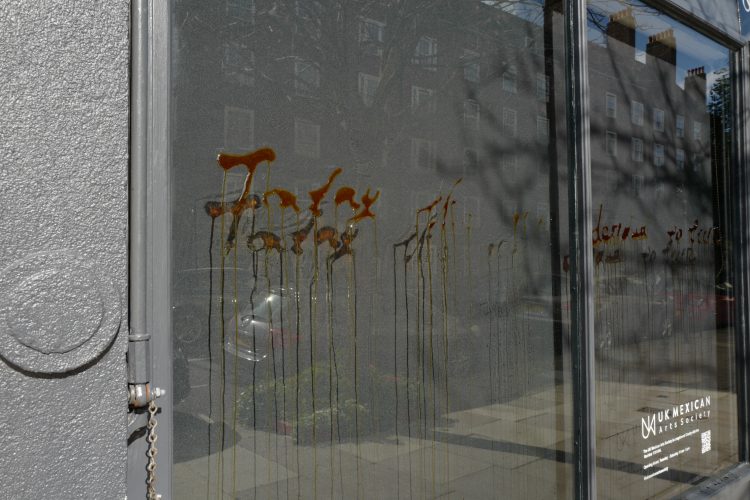 One of the great joys of '(In)visible City' was the almost childlike wonder of its trail stylising. An accompanying map showed where everything was located but, thrillingly, the names of the streets were not included. Many of the works were seamlessly integrated into the urban environment, and part of the experience was walking around this small part of the city in anticipation of the next sculptural, or aural, intervention. Encountering Maria Camila Cepeda Gnecco's lusciously tranquil paintings amongst organic teas and fauna at the Flori Canto store was an exquisite pairing of environment and artist, and made for an experience that, simply, felt right. With real estate at a premium in London and art communities constantly being pushed and priced out of certain parts of the city, curator Tarasova showed here that the fusion of small businesses and artists does not have to be entirely contrived and unnatural. The placement of paintings at eye level and towards the ceiling, and sculptures hugging table legs on the floor, felt like a defiance of the financial emphasis on urban space: there is room for us all, and everything we love.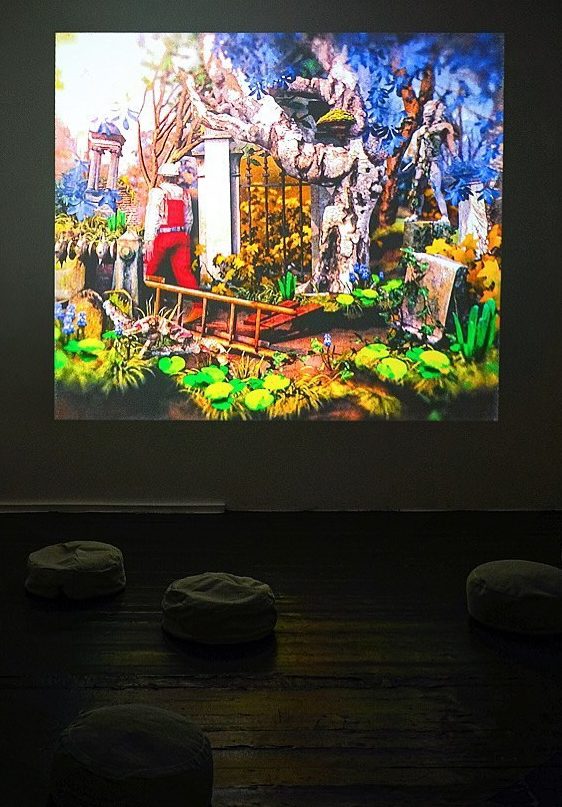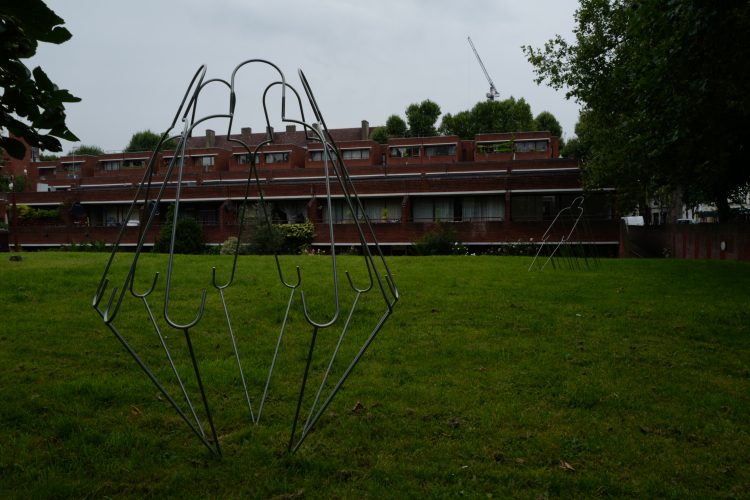 Authentic joy manifested again with Katherine Smith's immersive performance 'walking with silver sacks in a car park'; with its self-explanatory title, the four-hour slot was a real burst of whimsical energy, taking place in the Oakshott Court car park. Taking hold of a silver foil sack, visitors were invited to parade up and down the car park in their own time, with time allocated to play freely. The artist asked that no photographs be taken; at a time of incessant and habitual documentation, this was a refreshing stance and one which catered to the silliness and freedom of the performance. A photograph would not have been an appropriate representation of the myriad, and entirely subjective, experiences felt and held dear by each individual taking part. Residents and local members of the community were actively invited to the exhibition, and indeed Smith's performance; in London, it can be difficult to seek out community activity, but this engagement harked back somewhat to the origin stories of social housing when they were first commissioned, designed and built to accommodate people in the city. The fun and frivolity of Smith's work in the mundane yet captivating backdrop of the car park was a truly exciting paradox, and everyone involved couldn't help but smile throughout, regardless of whether they were a witness or active participant. The sensation of joy was something that unexpectedly radiated through '(In)visible City', and reinforced the importance of community, which is often lost in London, and certainly in its commercial art scene. Exhibitions and art events surely have to embrace, and indeed create, experiences with fun as a priority, and not dismiss its power. Accommodating the public and different communities, Tarasova has curated with integrity, being mindful of both structural and social environments whilst amplifying the talents of her chosen artists.
Main image: Anais Comer 'Over the gate we go', 2021. Photo by Ewan Kerr
[in]visible ran from 13.08.21 to 22.08.21. Mon-Sat 10am-6pm, Located around UK Mexican Arts Society and across Somers Town. Curated by Olga Tarasova.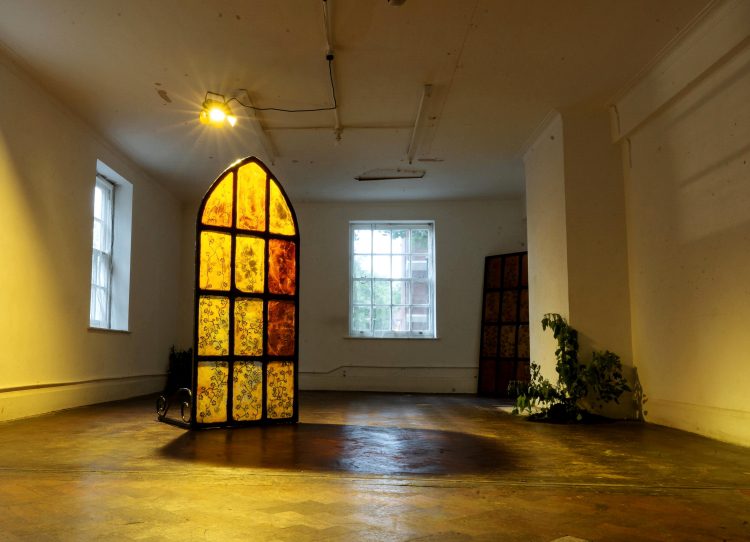 Issey Scott is an art writer and curator based in London, who is currently on the MA Contemporary Art Theory programme at Goldsmiths, University of London. Her writing has appeared in publications including Candid Magazine, The Big Issue, RIBA, Floorr Magazine and Cluster Journal. Issey has curated projects at South London Gallery, Anise Gallery, Museum of the Home and arebyte, and has produced exhibition texts for Castor Gallery and Wimbledon Space.