In a game of Word Association, what would be the next phrase that comes to mind when presented with the term 'public art'? If based in a large city, it is likely to be something abstract and unprovocative, backed by corporate funding. Whilst painfully inoffensive, such projects often have the benefit of providing a creative splash to bleak business landscapes, as well as conversation points that might open the art world up to those otherwise less likely to engage.
But times are changing; people are working increasingly from home or community hubs, and a shift in attitude towards our working and living conditions runs parallel. Exactly who are we when we're not at home or work, and what do we want to see in our surroundings? Art, after all, is ideally less about prescriptive conditioning, and more about opening the mind to explore ideas beyond what capitalism might incentivise.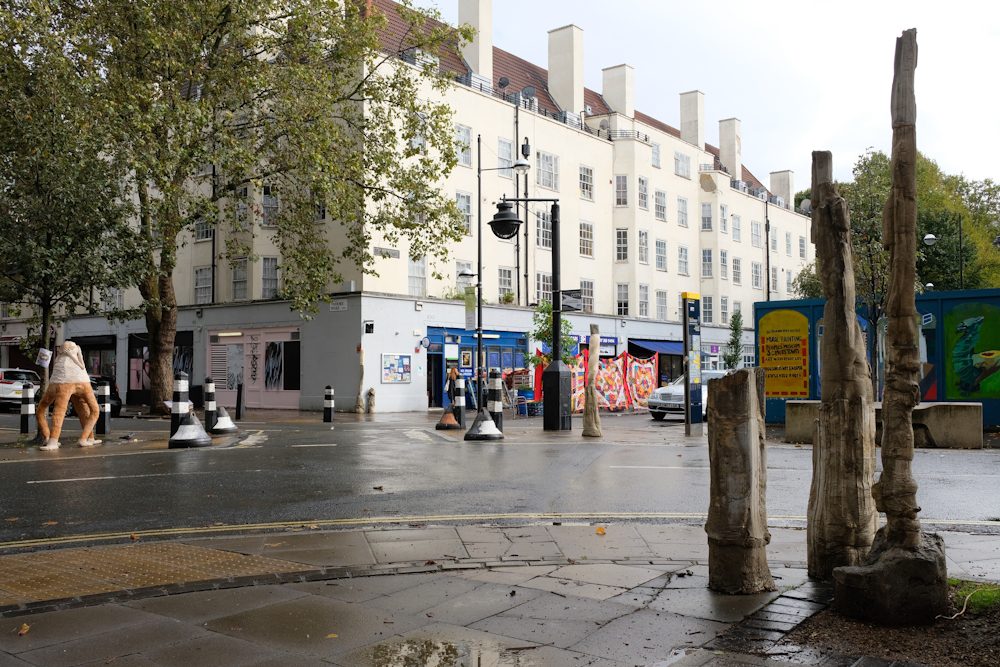 Located between Euston and King's Cross in London, Surprise is a short-running exhibition of works curated outdoors within the vicinity of Somers Town. To pedestrians, Somers Town is a welcome respite from the chaos of the busy locations between which it is sandwiched. And to local residents and business owners it is a genuine community the likes of which are hard to find in the capital city. In its limited run of one week, Surprise immediately distances itself from average public art initiatives. Take Sculpture in the City, for example, which is viewable 24/7 in various parts of the Square Mile in central London, and is a fixture for almost a year. In that time, artworks will lose their potency and become part of the routine navigation of these spaces. Business as usual. By contrast, Surprise is time-sensitive; any interactions will be framed within a particular moment, both personal and temporal. Placement of these works are sacred in their limitations. By design it is a small-scale project, available for a limited time, and so engagements by the public and residents alike are similarly fleeting. By the time many will have formed their opinions, the works are de-installed, gone, no longer to be associated with this specific geography.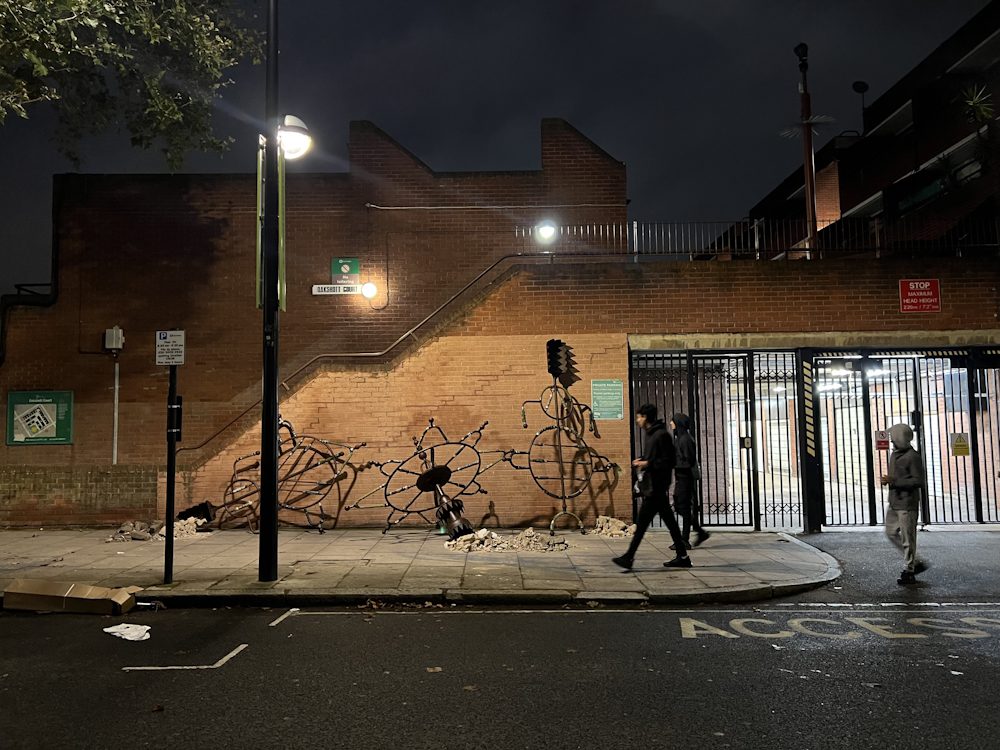 A rooted theme that runs through Surprise is that of the mosaic, used metaphorically by Walter Benjamin in his assertion that they 'preserve their majesty despite their fragmentation into capricious particles', and here curator Olga Tarasova has exemplified the diversity of Somers Town whilst utilising her specialism of outdoor art. In this instance, 'public art' means something quite different to the practice that Tarasova shows here; there is an admirable level of community engagement, which is something of a bastardised term in the art world, given its relentless inaccessibility. Yet, Tarasova informs residents about the exhibition in advance personally, through in-person conversations and written communications, creating a relationship that manages to prioritise neighbourly wellbeing and concerns as well as the needs and ideas of the artists.
Considering the mosaic motif, arguably no artist within the show better executes Benjamin's words than Sana Iqbal Qutb. 'Kanaat' is lovingly curated at ground level so that no detail of the intricate embroidered piece is missed, capturing attention whether the viewer is in gallery mode or pedestrian mode. Boasting an array of vibrant, eye-catching colours, the piece was created collaboratively with schoolgirls in Sheikhupura in Pakistan. To create the work Qutb paid participants a stipend, provided materials, and taught them a skill that they can use to generate further income in the future. Despite its billboard scale, its placement grounded to the pavement highlights the humility, the labour, the love, and the long-term vision that has gone into this sculptural work, defying the Imperialist demotion of South Asian 'craft' signifying its status as high art. Much like the diversity of the local area, Qutb's work is a visual stitching together of creative output and ideas, producing a mosaic effect in the streets of Somers Town.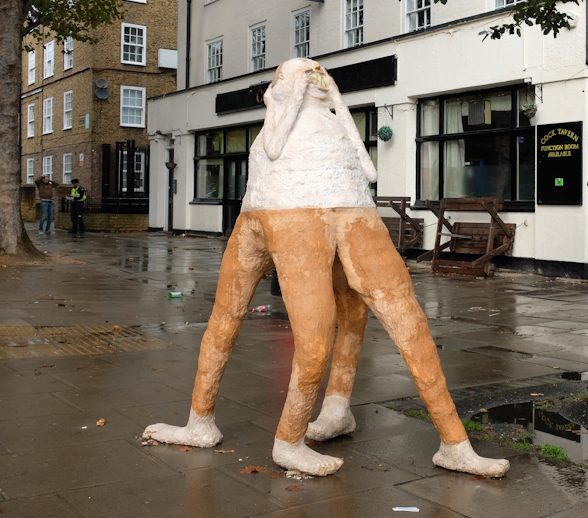 As with all good art, the project hasn't been without its hot debate among audiences. Kelly Ewing's sculpture 'Somers Sidh' is installed around a tree, outside the Oakshott Court housing estate. Comprised of a manipulated blow-up mattress, deflated and made canvas by paint, the allusions to rising rates of homelessness could be perceived as a little on the vulgar side. However this is no more of a reality check than the visibility of street homelessness in London. The artwork serves as a further reminder of the issues some would rather avoid in favour of good taste and critically acclaimed art, both of which are entirely subjective. Astute observers will notice the placement of Ewing's piece opposite a local food bank, and some residents have commented on the uncomfortable irony of displaying art, considered a luxurious or perhaps even unnecessary feature, when there is such significant, and increasing, poverty in London. Whilst these concerns are valid, the lived experience of the people and art must coexist. Art should be a protest as much as possible, and while meaning is not always crystalline, closer inspections and interrogations can serve to illuminate. We saw during the pandemic that those working in the arts, and most notably its low-paid workers, labourers, and creatives, were told in no uncertain terms to retrain by the state. Yet, the arts show time and time again the importance of respite from our immediate lived experience. In the case of Surprise, artworks were free for passers-by to interact with and did not obscure the residents' necessary routes and resources; the neighbour's comment on the luxury status of art in public spaces is a valid one, but the narratives that form from their display in unconventional spaces are their real raison d'etre.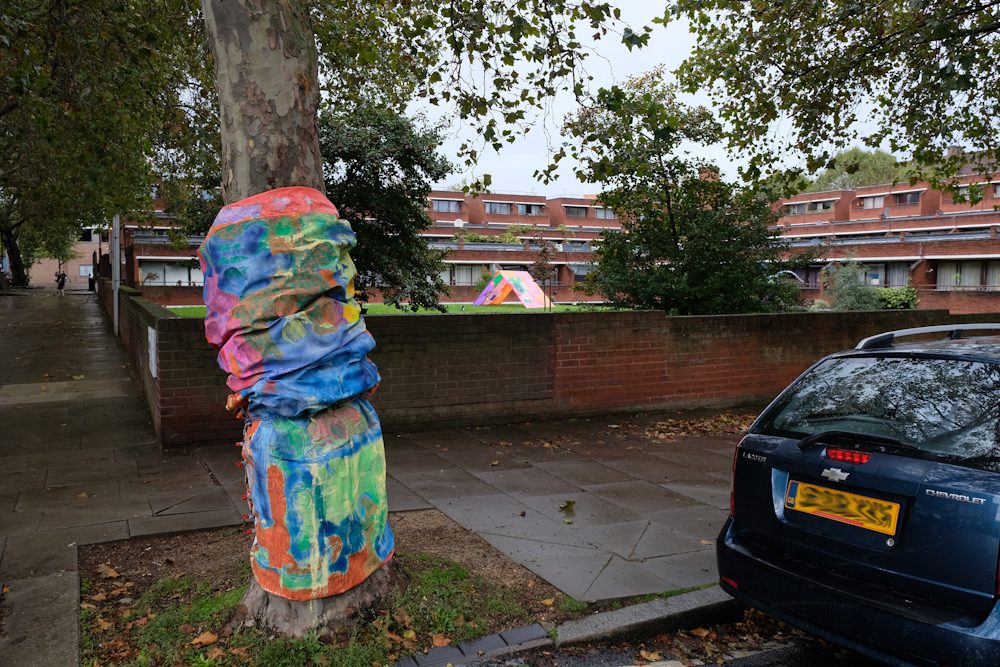 In curating such an engaging and lively collection of works, curator Tarasova has poked her audience, possibly as diverse a group of people as can be achieved in an exhibition setting, and there is a genuine element of gleeful surprise. Diana Zrnic's comical yet also rather horrifying 'Take Me Away' portrays a life-size figure, clutching its face in despair and eating its phone. In other works these varied levels of commentary are used to mesmerising, domineering affect such as in Katie Surridge's 'Our Common Tools'. Both of which feel as if they will be spotted in an institutional museum or gallery in the not-too-distant future. And that is the main takeaway from this short but punchy exhibition: art should be accessible. Doorsteps inward to the future of public art. Independent endeavours such as Surprise are paving the way encouraging new audiences to fall in love with emerging art practices.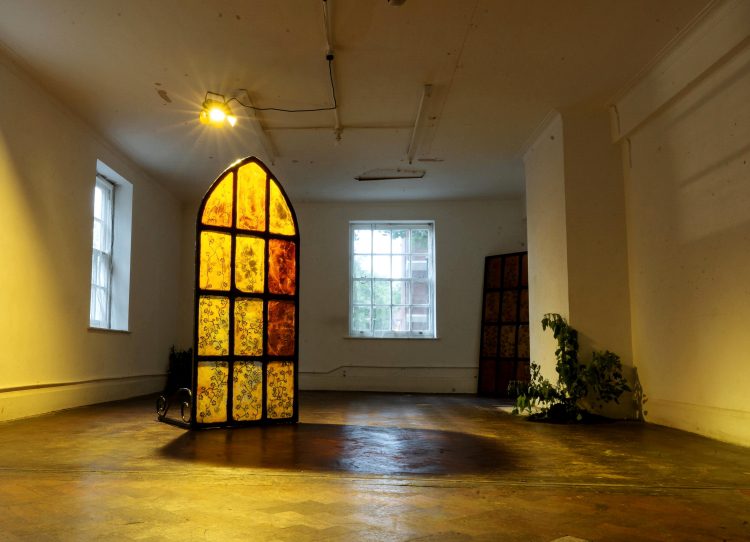 Issey Scott is an art writer and curator based in London, who is currently on the MA Contemporary Art Theory programme at Goldsmiths, University of London. Her writing has appeared in publications including Candid Magazine, The Big Issue, RIBA, Floorr Magazine and Cluster Journal. Issey has curated projects at South London Gallery, Anise Gallery, Museum of the Home and arebyte, and has produced exhibition texts for Castor Gallery and Wimbledon Space.