The temptation for art conceived in the contemporary moment to be serious, radical, and directly political is surely palpable. The intellectual drive, the perma-crises, the news cycle; no time for a moment's respite. Conversely, visual culture addressing play and unproductive joy is also on the rise in the face of all the trauma and distress of the world, but is there something in between? Neither distress nor play can be a constant, in the pursuit of a happy equilibrium, and ultimately, the gallery space itself plays an exciting role of a Third Place in between work and play (Oldenburg 1989).
Of course, an artist's endeavours are a serious business, and address ideas and concepts being lived out and worked through. Over in Deptford in South London, Seager Gallery's location on a busy junction whereby a constant flow of traffic generates something of an ecosystem, feels apt to the work of London-based artist Jo McGarry. Her solo exhibition, In|Visible, produces a process of spinning our perspective, as well as our expectations. Breaking out of the cycle of exhaust fumes in Deptford requires an audience action of coming inside, and thus starts a process of putting oneself inside the different spaces that comprise McGarry's work. It's exciting on a small scale, which in itself is tantalising. At Seager Gallery, the artist flexes her repertoire across installation, sculpture, painting, and a brief spell in artificial intelligence.
A busy and compact space, the show demands attention but also taps into a certain Instagrammability. Presenting a wealth of immersive, playful elements, tight colour palettes of whites, greys, bright synthetic greens as well as challenging the idea of an art space in itself. In this way, In|Visible Things is a continuation from McGarry's 2022 postgraduate Slade show, where she surprisingly elected to showcase her work in a UCL Geography department classroom. This reappraisal of the physical and theoretical basis of the gallery space is in keeping with her offering at Seager Gallery (curated by Olga Tarasova). Here works consisting of polythene tubing, a microcomputer, air extractor fans, speakers and green Xs placed on the ceiling, and the Tubes installation materially examines air and breath all co opt the viewer/work relationship.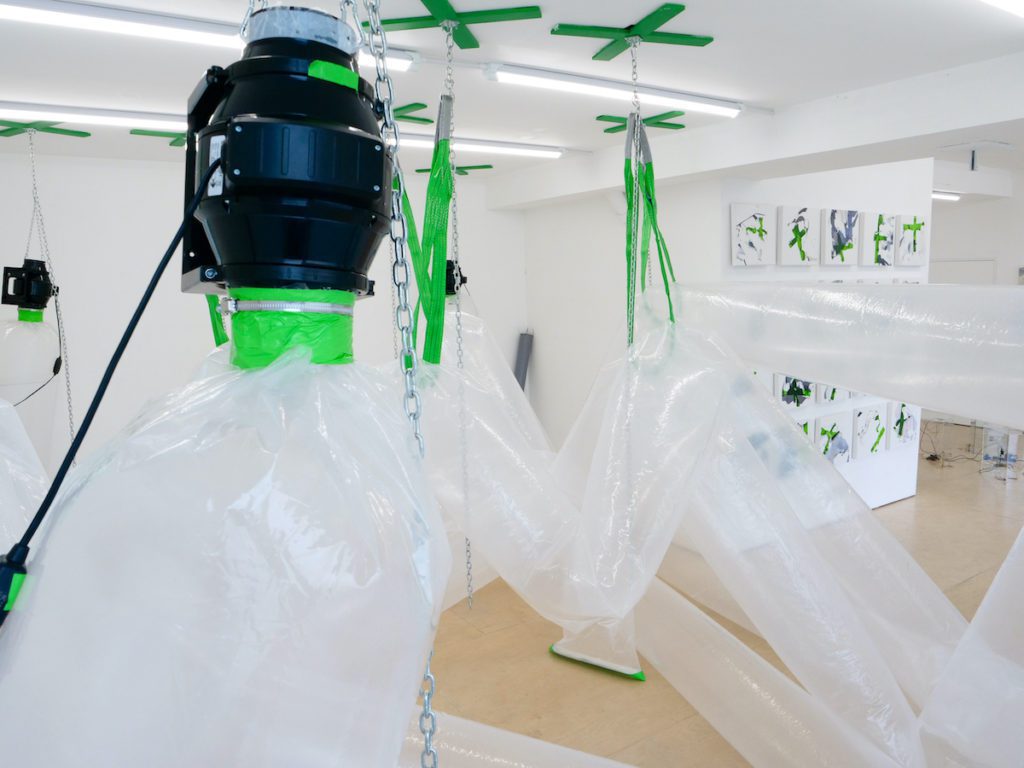 In Tubes, every thirty seconds, tubes down the left side of Seager Gallery slowly inflate, making the otherwise invisible movement of air visible, playful, and thus personal. After all, the fun childlike connotations of inflatable shapes are unavoidable. For the viewer entering the installation, the process of breathing tubes that inflate then detumesce thirty seconds later, leads to a centring of the individual. We breathe, reminding us of Franco "Bifo" Berardi's call: "Let's find a way to rhythmically evolve with the cosmos. Let's go out of this century of measure, let's go out to breathe together" (Franco Berardi 2019).
All of a sudden, our own breath is indeed part of the installation. We have something in common with the work, and we coexist together. This realisation is both incredibly peaceful and life affirming. Once the tubes are deflated, the stark reminder of its place in the choking pollution of the main road returns, and while the works wouldn't necessarily be termed 'site-specific' there is certainly an emergent, fraught relationship between the art and the immediate outside. Tubes invite the viewer to take a minute and breathe in the moment; there is no convoluted, extravagant request to explicitly embrace mindfulness, but instead we are invited to merge this with a moment of play.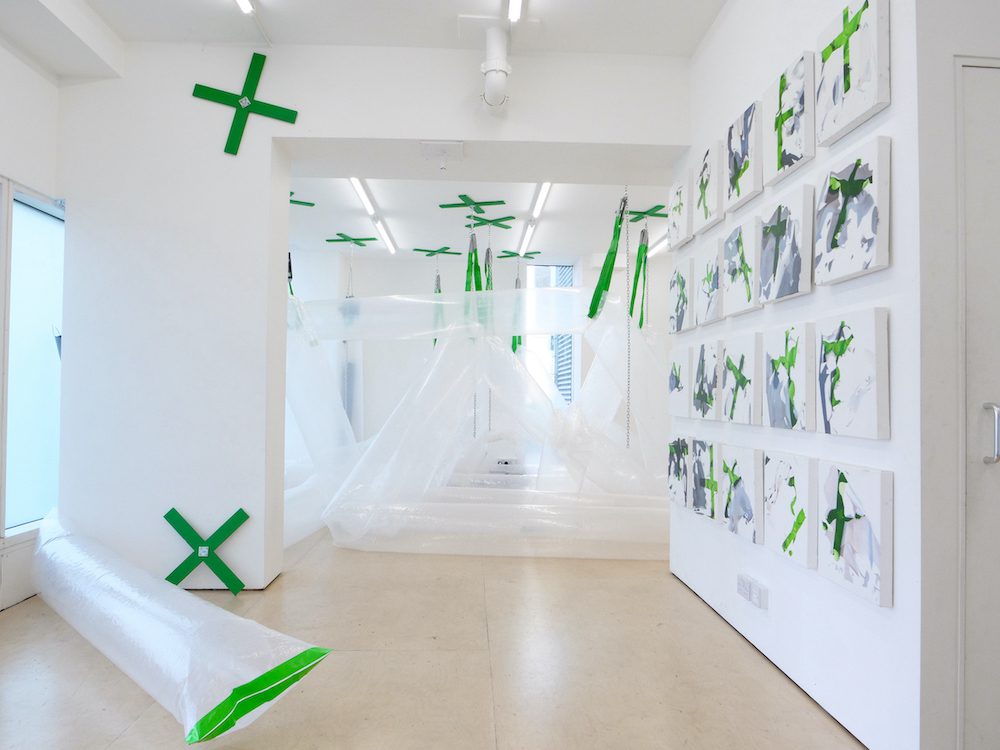 Continuing to ask why we should visualise the invisible McGarry uses the medium of painting with striking aptitude. This is especially apparent in the work Radiator #3, where with a nod to realism one sees a radiator height canvas depicting a radiator so that one might well assume the gallery has its own eponymous heating system on display. In this instance the artist makes the everyday reveal its playful side and presented in such a way the artist and curator amplify the dialogue making it irresistible.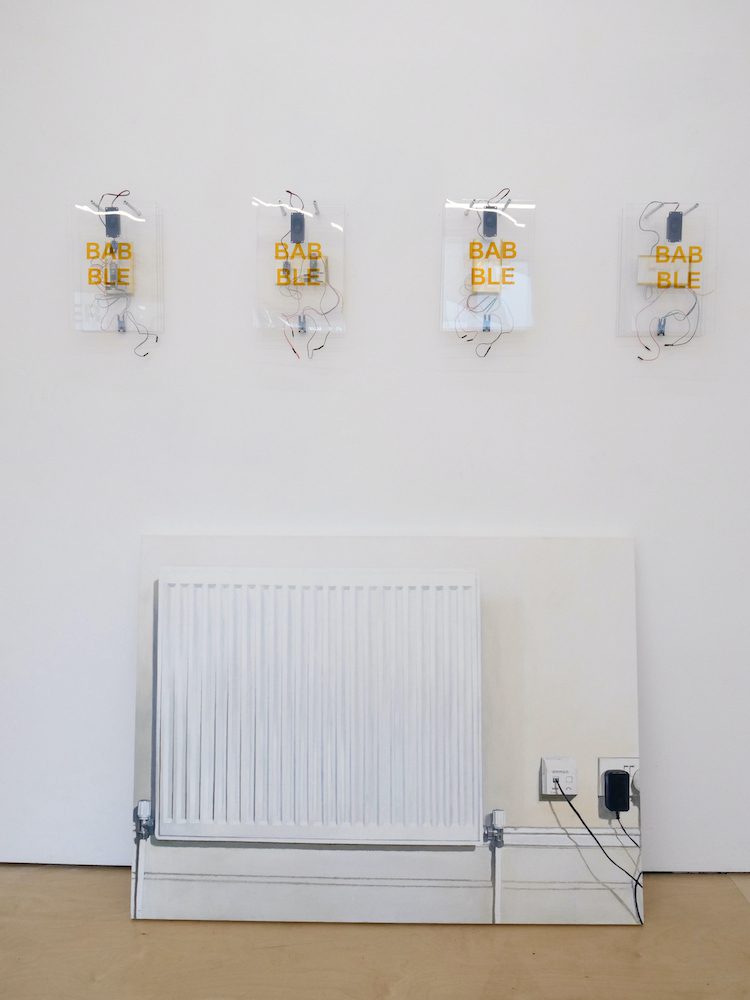 Another painting, this time hung window height, brings domestic banality to the fine art sphere. Here, McGarry used an AI software to glitch a photograph of the artist's living room which she then reproduced as a painting. While the work, gently titled Living Room, is somewhat jarring and disconcerting to the eye, the marriage of domesticity and technology is cleverly highlighted, mirroring effects similar to the new Apple Vision Pro, and its ill-fated predecessor Google Glass.
This swift and deft transition between mediums is incredibly satisfying, in that the ideas developed by the artist can be mapped logically between immersive installation, sculpture, and painting. Another example of the latter comes with the White Wall Project series of twenty works in the middle of the gallery space. Using the green, white and grey palette, McGarry has mapped a white room with computer-readable green crosses, allowing her AI mapping technology to spot the contours and depths of the room itself. Again, these interesting perspectives have been transferred to the medium of painting, but in such a way that it is difficult to identify them as paintings.
In|Visible succeeds not only in rendering the essential yet invisible into the playful and hyper-visible, but also as a site of action. The viewer leaves with a compulsion to know where we will see McGarry's green crosses and manipulation of space next, perhaps even outside the gallery! By recontextualising (perhaps even reterritorializing) the gallery space (or classroom) McGarry suggests that mapping the air, and perhaps its quality, in public spaces might be a playful way of tackling serious issues.
Jo McGarry, 'In|Visible|'. Seager Gallery, Distillery Tower, 2 Mill Lane, Deptford, London SE8 4HP. 30 June – 22 July 2023.
References:
Berardi, Franco "Bifo". 2019. Breathing : Chaos and Poetry. Los Angeles: Semiotext(e).
Oldenburg, Ray. 1989. The Great Good Place : Cafés, Coffee Shops, Bookstores, Bars, Hair Salons, and Other Hangouts at the Heart of a Community. Philadelphia: Da Capo Press.
All Photos by Will Danton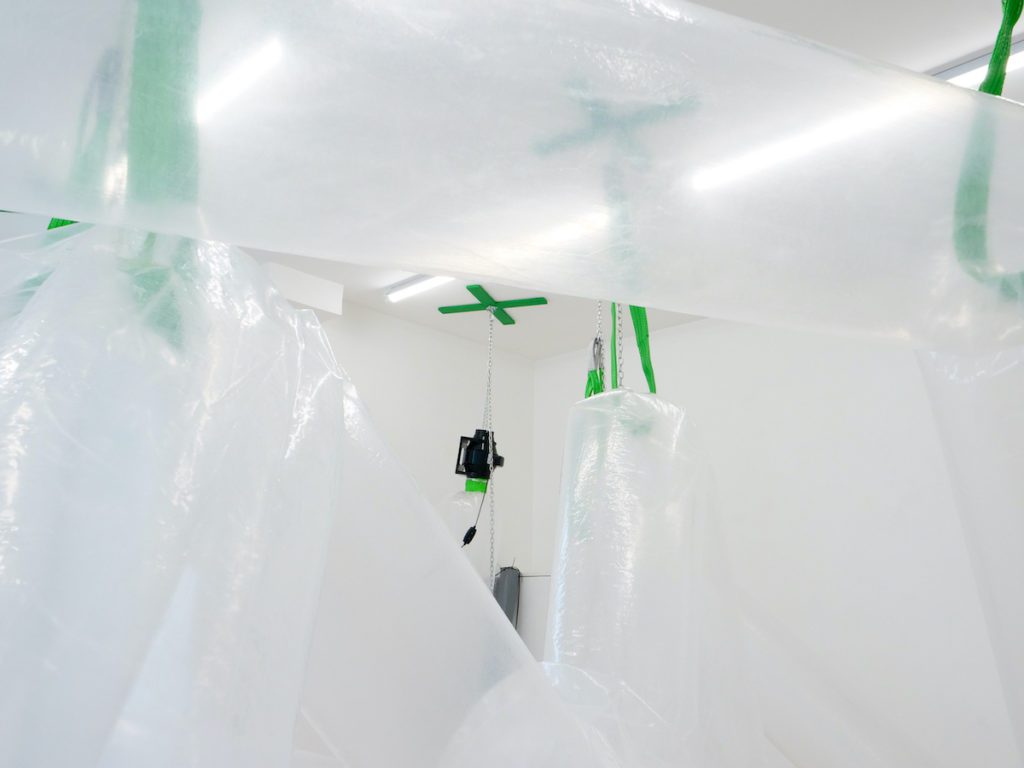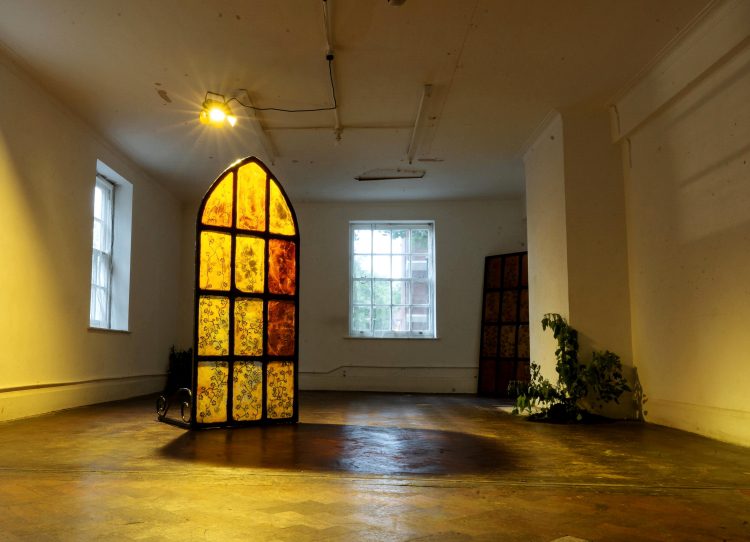 Issey Scott is an art writer and curator based in London, who is currently on the MA Contemporary Art Theory programme at Goldsmiths, University of London. Her writing has appeared in publications including Candid Magazine, The Big Issue, RIBA, Floorr Magazine and Cluster Journal. Issey has curated projects at South London Gallery, Anise Gallery, Museum of the Home and arebyte, and has produced exhibition texts for Castor Gallery and Wimbledon Space.