[dropcap style="font-size:100px; color:#992211;"]T[/dropcap]he naive quality of Rob Moreton's paintings and enthusiastic colour palette caught the attention from the outset, reminiscent of Karel Appel's crude paintings and abstract style.
However unlike Appel, Moreton's paintings are colorful. Well, more than just that. It is as if he has mixed a jar of Smarties with Skittles, spun around in circles and then thrown the jar onto the canvas. It's that sort of colorful.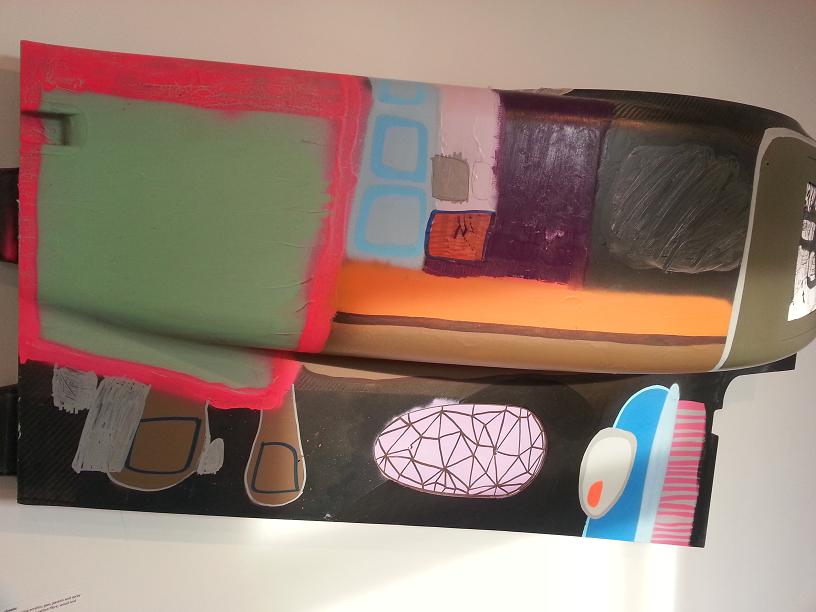 'Chaotic' Acrylic, pen, pastels and spray paint on carbon fibre, wood and canvas.
Studying both his B.A. Fine Art and M.A. Art and Design at Leeds Metropolitan University, it is no surprise that Soundscapes is an extension of his love for the city, taking inspiration from the unpredictability and mix of the city's streets
"it has been influenced by my love of drum n bass and the whole sub-culture vibe. I am interested in society, especially city life. I also was very much into graffiti when I was young so that inspires it as well, mainly the colours of graffiti though."
Graffiti has a much stronger influence than just colour, the painted shapes and patterns remind of graffiti tags, each one a unique identity. They bounce off each other, flow, unifying the whole collection
"I like the natural forms of shape that can be contrasted with more linear lines, but mostly I like it to flow – like a dream, or how music is a natural wave."
Coming away from the exhibition I started to visualise graffiti that I had seen, suddenly realising the paintings have a common connection: their backgrounds are all neutral colours, browns, greys, blacks. As if Moreton is treating them as an extension of the city's buildings. This trend continues as Moreton admits he deliberately works on top of found objects, constructing his own canvasses using steel, planks of wood and carbon fibre. The relief built from carbon fibre ['Chaotic'] resembles a car part to me. Coincidence? Or perhaps an example of unconscious intent leading the conscious.
"The objects give my work a more rough edge; I really don't like the feel of canvas. By painting on objects they then become a part of the art, not just literally a canvas to put paint on top of."
With a skilled eye for colour, Moreton has an ability to use a diverse and sizable range of colourways ranging from black to fluorescent pinks and everything else in between.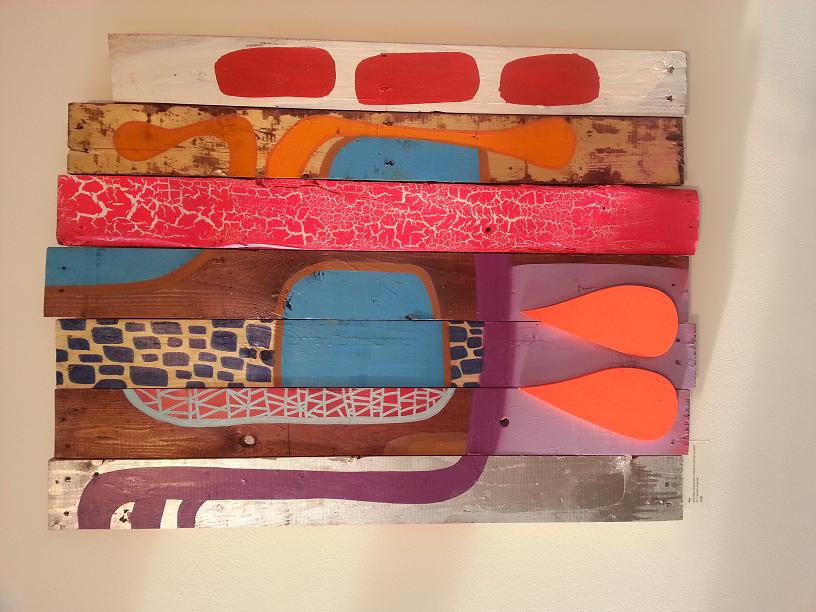 'Day' Acrylic,ink pens and spray paint on 7 panels of wood.
In the paintings 'Day' and 'Night' I counted a total of twenty-seven different colours, a skill which should not be overlooked. It can be all too easy for a painting to feel overworked, however, Moreton seems to always find balance in his compositions.
"Colour is important, it helps a painting pull and push. Our brains deal with different colours in different ways and I try to play on that."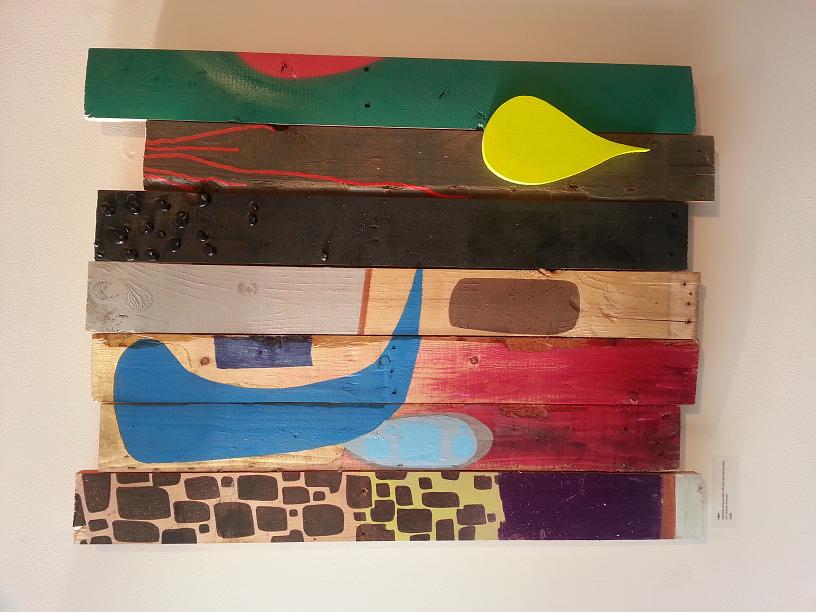 'Night' Acrylic,ink pens and spray paint on 7 panels of wood
The success of this balance is partly due to the range of media. Not one for sticking to acrylic, Moreton tends to swap between spray paint, ink pens, and pastels. The different textures and finishes he gets from these mediums obviously have an effect on the 'push and pull'. Is the process completely a self conscious relation to Moreton's love of music and street art, or does Moreton deliberately create an identity?
"I normally have a rough sketch of an idea but during the process of making a piece it usually evolves to something different to the original idea."
Funnily enough, Moreton paints late at night in his basement, surrounded by darkness and music. He lays out all his paints and spray paints, gathering colours which match or contrast each other. Maybe this contrast in environments magnifies his desire for light
"I like to have a really bright colour, such as the fluorescent orange and yellow, but try to have these colours as small elements like in a corner somewhere." 
As a result the colour palette seems to be the only definite decision in the creative process.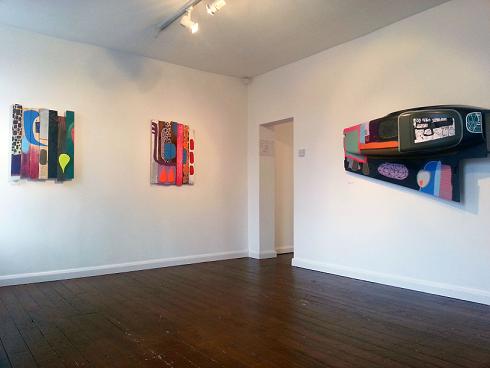 As already mentioned, Moreton's love of music is paramount, he has an emotional connection to it and respects how it influences his life. His passion for people and music is welcoming and energetic, these glimpses of happiness are translated into little splashes of colour in his life
"Music is definitely a major influence; I try capturing the emotions of the music I like into the art I make. Also the people in my life that I care about, they represent elements in my work, usually represented in colour. The lack of colour in the world we live in makes me want to create pieces that counteract this."
His spontaneous style is an influence from his favorite artists ranging from Gustav Klimt to contemporary illustrators (such as Neads Control Centre, aka Stephen Smith) however, his underlining idol is, not surprisingly, Jean Michel-Basquiat "he is the essence of art."
With an apparent shared approach to work Moreton has no no underlining agenda with his paintings, he is still developing his visual language but has a selfless attitude:
"I think it (my work) will start to get a bit more serious. Perhaps exploring the meaning of existence – I'd like to have a few more exhibitions, but mostly I'd like to help other people. That is what I am working towards; ideally I'd like to help young people who could benefit through art."
I ask him how he sees his work developing in the future?
"The mediums will grow and vary. Colour will always be there, that's the most important thing. I'd like to paint of a massive scale. Perhaps having a painting that has elements of sculpture involved, I think I am at the beginning of that by painting on wood, carbon-fibre etc. A 3D painting of some-sort."
His bright outlook on a grey and snowy spring day is addictive, he seems to care a lot about people which for a young ambitious artist is not always the norm, he doesn't feel pressured to be anything other than himself,
"I love Leeds; it doesn't try too hard like a place like London. There's no hype to live up to so it just does its own thing."
his paintings are evidently an extension of his personality.
"I hope it (my painting) makes them think. I hope it makes the child inside of them smile, I hope they realise it's happy and generally just brightens up their day for a brief amount of time."
Rob Moreton
Soundscapes
The Bowery Gallery,
54 Otley Road
Headingley
Leeds
Feb 23-April 26th
Admission free
[button link="http://www.thebowery.org"] The Bowery[/button]