[dropcap style="font-size:100px; color:#992211;"]T[/dropcap]he Project Space at the MK Gallery in Milton Keynes is showcasing emerging talent from recent art graduates. The Platform Graduate Award exhibition 2019 aims to help the creatives to propel themselves into the contemporary art scene.
This kind of initiative along with others such as New Contemporaries is an excellent way to encourage new talent and to recognise the achievement of less well known artists. The chosen artists represent the high achievers of various universities fresh from study and fully engaged in practice.
Emerging Fine Art Talent
'The Platform Graduate Award is an initiative to support emerging graduate artistic talent to further their practice following graduation. Established in 2012, the award includes a £2,000 bursary and 12 months of mentoring support, and is awarded to an outstanding graduate from one of seventeen participating regional higher education partners. The initiative is led by CVAN South East (Contemporary Visual Arts Network South East) and is currently a partnership between four galleries: Aspex in Portsmouth, MK Gallery in Milton Keynes, Modern Art Oxford and Turner Contemporary in Margate. Following an exhibition and events programme across the participating galleries, an artist from each gallery is nominated for the award.'(MK Gallery)
Trebuchet spoke to Natalie Andrews, one of the nominees about the opportunity.
Natalie Andrews
'The MK Gallery space shows work from internationally recognised artists and the chance to be in that company started the new academic year on a high. The initiative involves various artists from 17 participating universities and the chosen recipient will be granted a £2,000 bursary and 12 months of mentoring support. At first I was just excited about the prospect of the show but now the prize seems more real since I have been shortlisted and have to attend an interview about my plans and practice.  Obviously the grant would allow me to invest far more than I am usually able to into materials, space and all things practical; however, it's the mentoring which I think is a much longer term advantage providing new relevant people as contacts.' (Natalie Andrews)
Andrews work combines large format painting with sculpture and installation to create environments which immerse the viewer into the art; and which seem to overrun the white cube as they are constructed and reconstructed. The artist often works on the show during its duration bringing an element of temporality into the process. These works deal with the effects of architecture and space as well as media on the psyche and make for energised interventions into the display space.
Artificial Worlds
'My point of departure has always been that I can only make a painting by placing it in an artificial world. I am interested in a 'third nature' nature, that is, in an environment that has already been manipulated and designed and which I then subject to further transformations in order to make it my own. This Artificial world had previously been evoked by an individual painting and contained within its borders, more recently sculpture has come to play an increasingly prominent role in my practice resulting in staged orchestrations of work in different media as well as architectural modifications of the fabric of the gallery space. This self contained environment becomes the artificial world.' (Natalie Andrews)
Natalie is joined by Lana Fotheringham and Jan Harrington, all three create objects and installation which can be seen at the gallery between the 7–30 November 2019.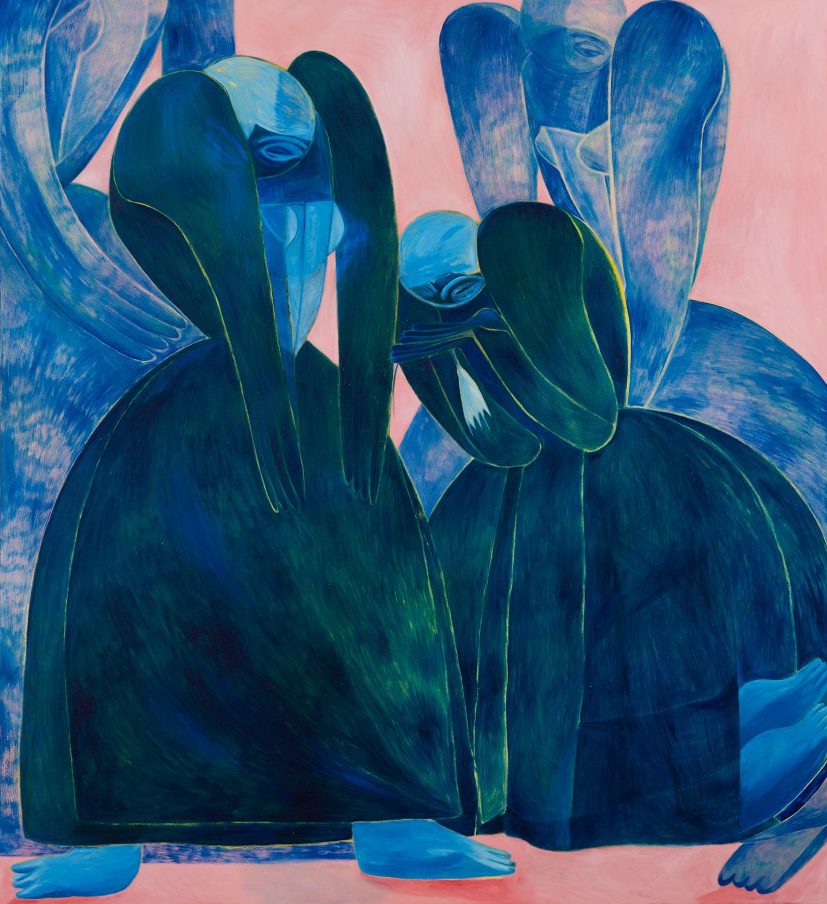 Some of the news that we find inspiring, diverting, wrong or so very right.