[dropcap style="font-size:100px; color:#992211;"]C[/dropcap]ontemporary painting exhibitions often intrigue me more than any other; firstly, for their comparative rarity amongst exhibitions of other contemporary art forms.
Secondly, because I look on them as a failed painter myself.
Someone – therefore – who has desired to create something valuable with paint, but struggled, making the excuse that my difficulties were down to "the state of painting now."
[quote]Particularly pleasing for
the visitor is that
each artist not only
evokes different ideas
but also appeals
differently to the eye[/quote]
"The state of painting now" is a tired topic. The premise – that painting has lost its lure because of new media, which in their very newness enable their users to conquer new territory in the name of art – is a familiar concept in the art world. The evidence of this is Tate's inauguration of this exhibition: Painting Now: Five Contemporary Artists.
Here the Britain branch of the Tate family fulfils its crucial role in contemporary art education, it acts as a certifying body to art practice: confirming, legitimising and exemplifying that the state of painting now is of ongoing 'concern.'
In this context, the word concern should be read in two ways. While some worry about the worth of painting now, Tate's curators expressed "the state of painting now" as a concern (consideration) of contemporary art, and not as something we should be concerned by. Their stance on the subject: positive.
Penelope Curtis, Tate Britain's director, introduced the show as a case study of the vivacity of painting now; and the exhibition text describes the show's aim as "providing an opportunity for a wide-ranging and critical discussion about painting now," as the show is constructed to enhance our exploration.
The work is organised within the space in a very satisfying manner; the consequence that the works can be read as triggers of key questions in the discussion. Each painter selected – Tomma Abts, Simon Ling, Lucy McKenzie, Catherine Story and Gillian Carnegie – exemplify a consideration of painting now. Particularly pleasing for the visitor is that each artist not only evokes different ideas but also appeals differently to the eye.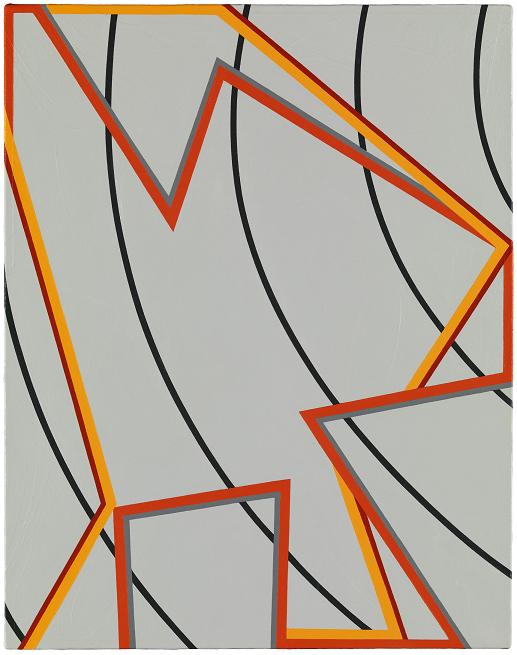 Tomma Abts 'Jeels' 2012 © Tomma Abts, Courtesy Galerie Buchholz, Berlin/Cologne
Tomma Abts
First, Turner Prize-winning Tomma Abts: the pin-up girl for contemporary abstraction. Except, that she's not an abstract painter strictly speaking (and avoids using the term.) Instead of beginning with a specific idea or vision of the world and reducing it to a more condensed aesthetic as the original abstract artists that Abts is often compared to did, Abts begins the process of painting with one loose thread of thought, a hazy image or a lightly sketched composition, and works the image up until it reaches a point of resolution.
Admittedly though, the aesthetic is highly evocative of the European and American Abstract godfathers, and as a consequence, her work speaks powerfully about the position and direction of painting now. Asking: does the abstract aesthetic have anything more to say? As a conscious response to painting before it, abstract art was provoked by a desire to clean up painting so it could become more self-assured, more self-standing. Can abstraction be appropriate now?
If abstraction is where we left painting, when other mediums began to develop and dominate, does it stand in a post-modern age? Is the exclusiveness of paint in abstract painting appropriate in an inter-disciplinary and post-medium age?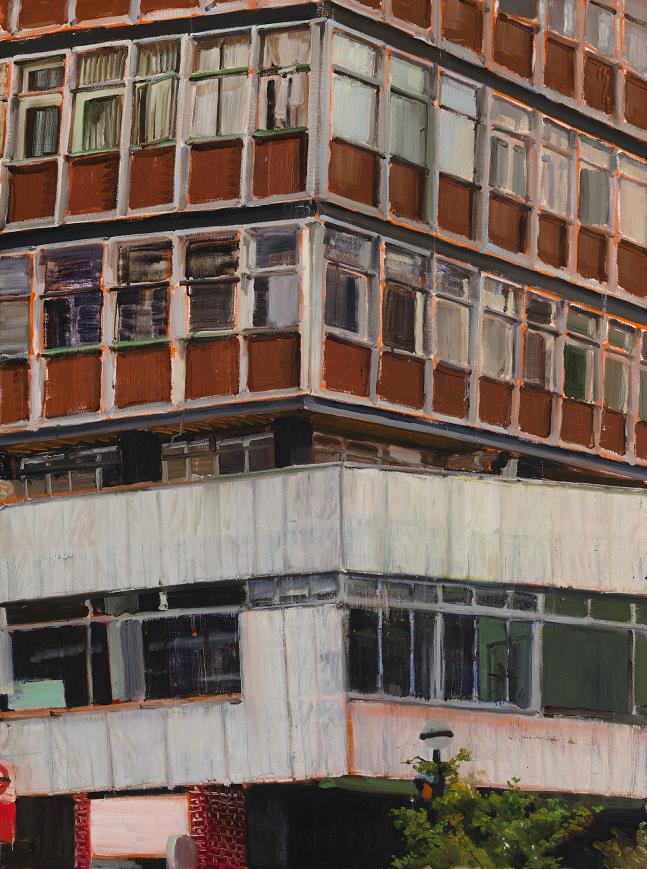 Simon Ling, Untitled 2012 © Simon Ling
Simon Ling
In the next room, Simon Ling's sometimes representational, sometimes objectless paintings consider: to what extent is it a painting's job to reflect life? This understanding of the role of painting was prevalent in the late nineteenth century with the Paris-based Impressionists. Ling's paintings mostly depict scenes from urban life – specifically snapshots from around the streets near his studio in EC1 – however their subject is not a place, but the emotional character of its materials: how the substance of these scenes impress and influence the eye.
Therefore, Ling's approach to materiality is unlike the abstract painters or Impressionists who use paint as form (the evidence of paint is the work's subject matter and what makes the work a painting), and paint as a descriptive tool (a means through which the painter describes the shape of things before him/her). Instead, he illustrates the feeling of physical objects through the tactile quality of paint.
He distinguishes between things that require or desire touch and that detract from it, and between cold and warm, feminine and masculine, open and closed materials.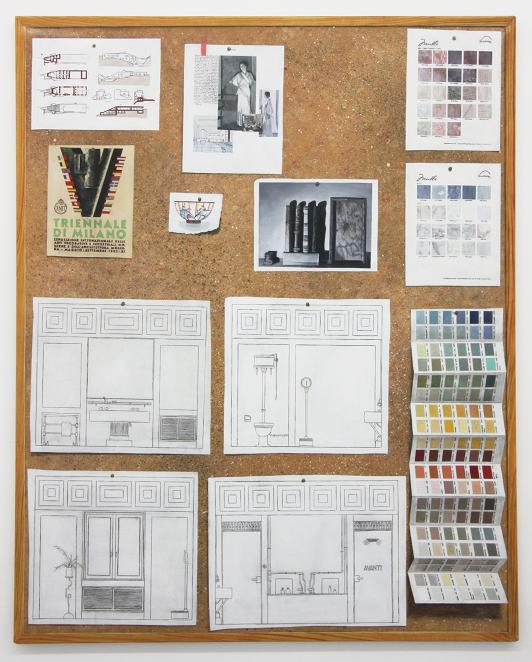 Lucy McKenzie 'Quodlibet XX (Fascism)' 2012 © Lucy McKenzie Photo: Galerie Micheline Szwajcer
Lucy McKenzie
Entering the third room, one finds Lucy McKenzie's paintings and painted objects. They raise the question: how true to nature should painting be, visually and idealistically? This is very much the case in Quodlibet XX (Fascism), Quodlibet XX (Objectivism), Quodlibet XXII (Nazism), which are trompe l'oeil mood boards showing collated photographs, postcards and interior design shop samples for your bespoke political home.
In technique, McKenzie looks to paintings' long-running affinity with realism, and in content, asks if painting should be an escape from the world, and whether it should dutifully reflect the artist's own ideology.
Catherine Story 'Lovelock (I)' 2010 © Catherine Story Photo: Andy Keate
Catherine Story
Catherine Story's oil on baking paper paintings and terracotta-simulating sequence of pieces discuss: to what extent should paintings interact with sculpture as the medium's closest bedfellow? In sculpture and in paint, she reveals similar motifs, and in the way in which she works with both, she illustrates no preference or priority.
Painting seems as much a model for sculpture as sculpture is for painting and as such the artist challenges the lines of influence.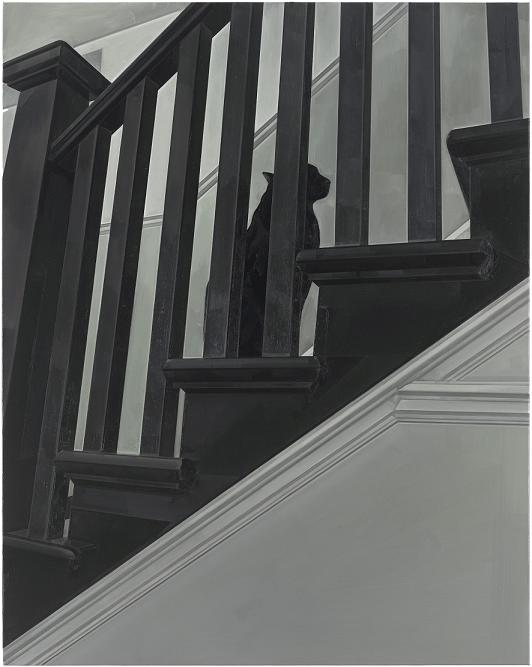 Gillian Carnegie 'Prince' 2011–12  © Gillian Carnegie courtesy the artist and Galerie Gisela Capitain, Cologne
Gillian Carnegie
Finally, Gillian Carnegie asks: what of the figure – the painter's first and eternal subject matter – the landscape, and the still life? She references the history and territory of painting as was advocated by the academy. Her almost grey-scale paintings are close to nocturnes and grisaille.
She resists colour, and in some she resists focusing, admitting that in the way she works – section by section – she combines many abstract paintings into a recognisable whole. Looking at seven of her paintings alongside each other, ones sees how the artist relaxes the grounds on which the traditional subjects are painted, altering their potential for 2013.

Rachel Eliza Guthrie is a freelance arts writer whose main interest is in the contemporary art scene in London. She writes with the premise that all "people have an inbuilt sense of art, especially the ones who haven't had it taken out of them," which was first said by Quinlan Terry. Her educational backbone is founded in Art History but she has dabbled practically in art as a painter and curator. She's a keen photographer and has a soft spot for Italy and its art, having lived in Venice for a short period.
http://rachelelizaguthrie.wordpress.com/