[dropcap style="font-size:100px; color:#992211;"]T[/dropcap]o Queensrÿche without Geoff Tate or to Geoff Tate without Queensrÿche? A hot topic for fans since they went their separate ways in 2014. Trebuchet experiences Tate's Operation: Mindcrime at the Garage, London, on a blustery January evening.
Geoff Tate's band Operation: Mindcrime have been active for a few years now. This is, however, the 30th anniversary tour of the Queensrÿche album they were named for. The album is played back in full, with a few extra hits added to the end of the set.
So many bands have made history with their music as a whole, but an album that is as respected and still this exciting for people as a complete piece of work is relatively rare. The Operation: Mindcrime album in its own right is a very successful work of art that stands aloft as a special landmark in Metal music. The band's fracture into two camps is surely a key reason fans are hesitant when it comes to hearing it in live form, with high expectations of any live rendition.
Overall, London hears a very tight, intense and smooth-flowing performance, with the songs refreshing memories and delivering a similar vibe to the album's original feel. This is, of course, what the audience are mostly looking for from a tour like this. The extra tracks at the end also serve well to peak the energy of the evening and give the discerning crowd that extra little burst of joy.
The only thing especially surprising for people tonight is the look of the band.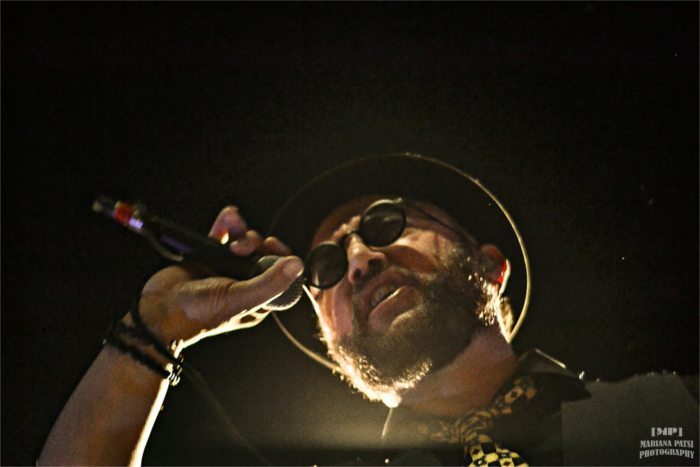 Geoff Tate appears on stage in his shirt, vest, hat and shades, resembling a Blues/Fusion singer. He seems to have grown out of 'the tough guy in a Prog Metal band' image he's been known for, into a more sympathetic and happy character who clearly loves what he does. The rest of Operation: Mindcrime is made up of musicians hailing from different eras and styles (from Punk to Glam Rock to Heavy Metal). Tate introduces us to their various backgrounds and countries (USA, Canada, Scotland and Brazil).
As an experience, it doesn't take long to come to the conclusion that Tate has gone beyond the expected clichés. He delivers a spectacle above the accustomed looks or styles, without compromising on the essence of what's delivered. Seeing the deep-rooted, repetitive patterns of the Metal world being deconstructed and scattered in this manner is admirable – a sentiment hand in hand with the shift that this 'progressive' album has symbolically created in Metal music in its difference. Operation: Mindframe is 30 years old, yet tonight the dust on the tape has been shaken and immaculately wiped away.
For anyone particularly curious about Geoff Tate's voice, the answer is a resounding yes – he still sounds incredible! Operation: Successfully Delivered.
 Setlist (15th January 2018)
I Remember Now
Anarchy-X
Revolution Calling
Operation: Mindcrime
Speak
Spreading the Disease
The Mission
Suite Sister Mary
The Needle Lies
Electric Requiem
Breaking the Silence
I Don't Believe in Love
Waiting for 22
My Empty Room
Eyes of a Stranger
Encore 1
Best I Can
Silent Lucidity
Empire
Jet City Woman
Encore 2
Someone Else? (Tate & Piano only)
Photography by Mariana Patsi.

Meltem is a London-based 'wanderer above the mist', whose biggest passion – a flame that never burns out – is Rock 'n' Roll. She contributes to the magical (for some!) world of Rock 'n' Roll by being a rock singer, a rock musician, and a rock songwriter. She has worked with great rock musicians from all over Europe. Her history as a rock musician consists of multiple rock covers, originals (rock), rock tribute bands and professional recording sessions. Where she dwelleth rock resides.