[dropcap style="font-size:100px; color:#992211;"]S[/dropcap]ound art in London is often associated with temporary and sometimes literally underground spaces or self-consciously radical spaces.
So it's a pleasant surprise to encounter an important sound art show in the unlikely surroundings of Marylebone. Curator Martin A. Smith has gathered a wide range of sound art and packed it into the well-appointed and relatively small GV Art gallery.
Produced partly in response to open call for sound works dealing with the interface between art and science, the show gives an overview of some of the main tendencies in contemporary sound art and is essential for anyone wanting to explore this area further.
At the opening night there was a live performance of one of the show's strongest pieces, by Raxil 4 (Andrew Page) a London-based sound artist.
Using an old Tascam recorder four track recorder he manipulated recordings of solar activity made by scientists at Stanford university. During the show visitors are able to play the loops on the Tascam using the Tascam's controls and headphones. At the opening there was an interesting tension between the powerful waves of live sound Page produced and the fragility of some of the surrounding works.
Disinformation's National Grid has appeared several times previously in London. It's one of the most important and impressive sound art works of recent times. Based on the sound of the National Grid transmission system it's a colossal pulsing sound we never normally hear. Having previously seen it in a pitch black former bank vault and a bomb shelter it seems a little odd to be listening to it on headphones from a CD player, like a sonic Prometheus bound.
Still, if you've never heard it, this alone makes the exhibition worthwhile.
Here it's accompanied by a sign bearing the quotation 'London was the electricity of the mind'. Next to it is an equally powerful but some very different work – four tracks by Jon Adams.
The first three are A. Noise Magnetic Resonance Image Alignment Parts 1-3. This is not the first that MRI noise has been used as the basis of compositions but this is the first case I've heard where such a wide range of sounds has been produced from it. As well as the characteristic machine pulses of the scanner there are lush panoramic tones and the work often has an epic quality making it well worth listening to the entire piece.
Field recordings are also represented in the show, most interestingly by Jacqui Stewart's well-recorded documenations of the Melbourne soundscape. The second room downstairs features a video programme with selections from artists including Bill Nelson and Robin Storey a.k.a Rapoon.
Upstairs facing out on to the genteel surroundings of Chiltern Street there are three further striking pieces. Situated by the window is Alex Baker's instantly iconic 'Wind Powered Record Player', a delicate wooden construction that uses sails to drive the stylus. It seems to pose an ominous question – how will vinyl junkies get their kicks in the coming age of blackouts and brownouts?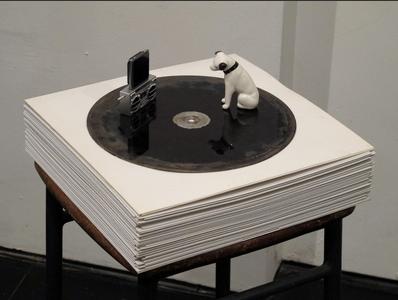 Janek Schaefer – 'That was the year that was'
Next to this is Janek Schaeffer's piece, a witty assemblage of a ceramic 'Nipper' dog, alluding to the HMV logo, vinyl sleeves and an iPod playing 43 years of number ones from 1964-2006. The work was created as Schaeffer's local HMV closed and seems like a lament for a lost age.
At the rear of the gallery is a visually and sonically elegant collaboration between French artist Eléonore Pironneau and curator and sound artist Martin A. Smith. Pironneau's striking visual work Life's Little Dramas No. 18 is displayed on a black music stand accompanied by Smith's rich soundscape. This cominbation of painting and sound is unusual and innovative and is one of the most poetic works in the show.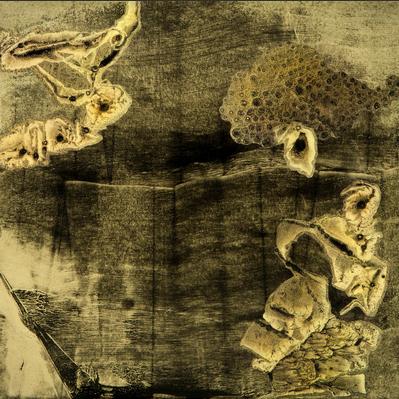 Eléonore Pironneau and Martin A. Smith – 'Life's Little Dramas'
With such a range of styles and approaches, the quality isn't uniform but there are several very important works here, displaying a very wide range of artistic responses to sound and to science (or to science through sound).
These works demand time and attention and this is a show you can't rush if you want to take it in properly – the viewer who gives it sufficient time should find much to inspire and intrigue.
[button link="http://www.gvart.co.uk" newwindow="yes"] GV Art[/button]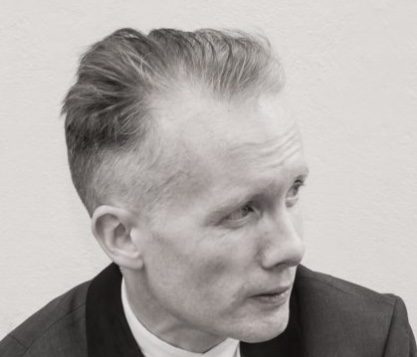 From Speak and Spell to Laibach.