[dropcap style="font-size:100px; color:#992211;"]M[/dropcap]
aster luthier (and Jimmy Page's guitar builder) David Bourne is upcycling donated guitars as part of the Fair Frets charity.
Aimed at creating forums for disadvantaged creative people through the Achievement for All program run by the Sound Lounge Trust, old guitars are conditioned, customised and reconfigured, to make it possible for people to own a unique hi-end instrument that has a lot of karmic gain and resonating soul.
The guitars have been donated to the Sound Lounge program by people who've either outgrown their primordial axes or simply wanted to be part of a good cause. The idea that a loved but untouched instrument can find a new and noble home is one that warms the hearts of many musicians. As it did with founder Keiron Marshall when he teamed up with David Bourne:
" He's the master, I'm just the apprentice. Originally we met through a repair shop in 2005 where I was doing some work and (laughs),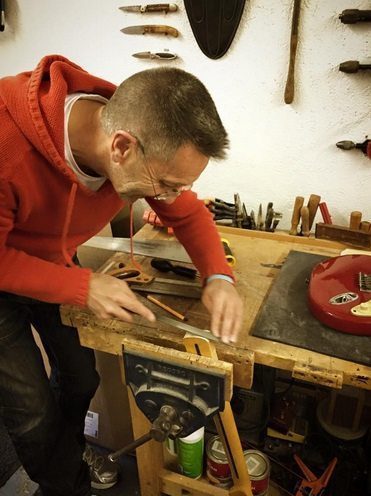 I don't think he liked me very much. It was one day when I started playing the blues that we clicked.
Around that time David and I started playing together as a blues duo but it wasn't until 2014 that the idea of the Fair Frets project really began. I had an old guitar that needed some work and David had some bits that he lying around so we worked together on reconditioning what became two guitars. That was where it started and then in Jan 2015 we started doing this in conjunction with Sound Lounge."
Asked wondered whether the program was based around creating guitars that were initially cast-offs, optimised with custom hardware for the high-end market, the answer was surprising.
"No. Both David and I believe that if you want people to create music, be creative, then they need decent tools.
A lot of people we work with aren't able to afford an eight hundred or thousand pound Fender or Gibson guitar. They're asylum seekers, refugees, ex-offenders and simply don't have that much money, but they do have a creative voice and something to say.
A lot of what we do at Sound Lounge is around giving people access to things and building their own sense of worth. The average price of a guitar that we sell is £100-200 pounds. The most expensive guitar we've made is £450 and that was because the guy wanted a specific sort of pick-ups on the guitar. That said, every guitar we make plays and sounds like something you'd expect from a guitar ten times the price.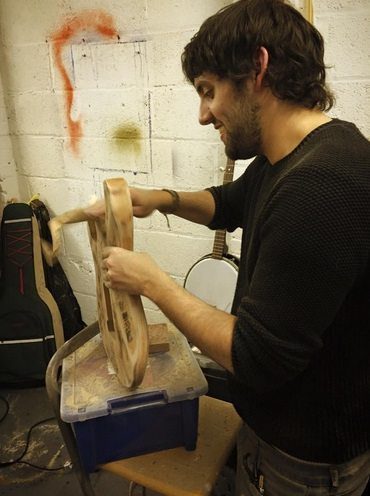 Since we started we've built around 15 guitars and the response from everyone has been really great. We really believe that everyone is worth investing in and that nothing is disposable. Some of the guitars we've received are in pretty bad shape but in the end we use a lot of what we get. Sometimes even if it's only the strap buttons!"
So how can people get involved with Sound Lounge?
"We're a self-funded charity and we're very geared towards being very accessible and informal, even if you don't have an old instrument you can still be part of what's become a real musical community.
People can contact me on 020 8543 9555 or on info@thesoundloungetrust.org.uk , or you can even just come past and see what we're doing. Fair Frets is just one of the programs we're running and we're always open to new ideas and people with energy"