[dropcap style="font-size:100px; color:#992211;"]A[/dropcap] book that covers all the debauchery of Ministry's leader in leather Al Jourgensen?
Hardly seems possible, but here we have it (or at least as much as the lawyers will allow to be said) and it's a good ride. Not so much focussing on the music as the stories of funny things that happened on the way. The backstory of the book is that Al's wife-ager was sick of him repeating the same stories over and over again at parties and to backstage friends – at least this way he'll be pressed for new stories – and if people are interested they can find out what's what.
Interspersed between the spicy anecdotes and mixed backstory are interviews (dubbed 'interventions') with Al's friends who give their take. It's testament to Al and Jon Wiederhorn that sometimes the stories contradict his own, but they appear all the same.
This isn't a straight hagiography of a pop star, it's tales-of-the-road that are hilarious,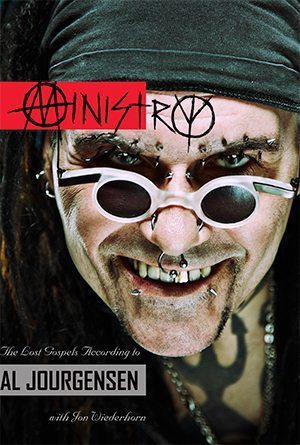 heartbreaking and inspiring, charting Jourgensen's personal history with music, medical issues, sucking cock, award ceremonies, money and his very unique set of fans.
Do we see the mind behind the music? To really get into the creative mind that created seminal industrial rock records? Whose influence spread further than the myriad of spin-off bands associated?
No.
Al does let us into the process and makes it clear that it basically boils down to recording a shit load of fun (he lists which intoxicants he was on for each record) and then editing it down to something that works. He makes it clear that the editing process is hard grind and credits his stepfather for giving him the discipline to push on until he's satisfied.
Which he never really is.
[quote]As Al puts it:
the guy that was
supposed to have
his back was
clamped on it[/quote]
Often happy and laughing (and having hung out with the guy at various times over a decade he's always laughing) Al is always looking for that higher peak (not plateau) that suits his taste – and the Jourgensen secret is exactly that – having good taste, the determination to see a vision realised, and to have as much fun as possible even when times are really shit.
The less obvious darkness that underpins this book is that Al's peers are dying around him and that he feels that there is a real possibility that he might be next. In places it's clear that he is setting the record straight in print (rather than the harsh light of Fix – The Ministry Movie), notably that; he respects Reznor (which is an 'Aww' moment for those who have followed their relationship) and that he feels betrayed by Barker.
If we're honest, that's what Ministry fans want to know about. The fire and ice relationship of Jourgensen and Barker seemed always to have a Richards and Jagger chemistry that worked together onstage and in the studio, but privately?
There are several pointed attacks at Barker as a musician (Al claims he erased a lot of Paul's contributions to the albums) and as a person in the book, and numerous nano-veiled allegations of embezzlement. But as one person puts it: Al loved Paul, Paul  ran the Ministry business during the 90s (which included curtailing his spending  – apparently to limit Al's spiralling drug use), and when Al's wife-ager confronted Paul about where the money was, Paul left.
As Al puts it: the guy that was supposed to have his back was clamped on it.
Is that what really happened? We may never know but we do get Al's version of events and a riveting read.
As Jourgensen told Metalsucks:
"You can see all my warts, all my flaws. Of course that's difficult. That's why I needed to get profusely drunk to get into some of that stuff. Was it cathartic? No. Was it therapeutic? No. Was it painful at times? Yes. Was it funny at times? Absolutely. Some of these stories are pretty funny." 
Ministry: The Lost Gospels According to Al Jourgensen
Book available now.