Non-Spoiler Alert! Followers of the impressive body of work produced by Alva Noto (Carsten Nicolai) since the 1990s will be unsurprised to learn that this is an elegant, quietly opulent soundscape of great subtlety. There are no major stylistic innovations on this album, but his established formula is deployed in a slightly surprising new context.
It's easy to imagine him soundtracking his own or other's minimal art installations, but it's perhaps more surprising to find him directing Marc Wiese's melancholic political documentary about the leaders of popular resistance to the Chinese economic exploitation of Ecuador (and the corrupt government enforcing this).
Unlikely as this combination initially appears, it has certainly been successful. Nicolai received the German Documentary Film Music Award for his soundtrack and seems to have been able to blend his existing style with the specific requirements of the cinematic form. Many Noto compositions have a subtle cinematic grandeur, and his long-running collaboration with fellow electronic musician and soundtrack composer and Ryuichi Sakamoto is another precedent for this release.
The seductively melancholic single "Ritual" is a very strong opening and recalls Noto's deeply effective 2020 cover of The Cure's "A Forest" (the track "Info Resistance" also bears a trace of this).
"Confrontation 1" already demonstrates the way in which Nicolai follows the grammar of soundtracks but with the distinctive Noto vocabulary (textures). There are cases when electronic producers lose their "voice" or stylistic signature when servicing the requirements of the soundtrack format, but Noto navigates this potential issue effortlessly.
The same theme returns later as "Confrontation 2" – a darker, more intense version. It's known that accidents and other traumatic events are often replayed and even experienced in slow motion, and these tracks work effectively as a slow motion replay of intense confrontations. The appearance of flute-like sounds in the mix seems to be a slight concession to the Ecuadorian context. "Village 1" also seems to feature a simulated electronic trace of this local context, although this could also be a kind of autosuggestion by the listener. Whether it's really present or not, a strong aesthetic spell is cast.
A spectral hint of the work of Erik Satie appears on "Death Laguna". A simple, minimal sequence generates a graceful and contemplative effect at odds with the title and what it depicts. Although there are darker, tenser moments on the soundtrack, some of the tension sometimes seems to come not from the sounds themselves, but directly from the contrast between the highly aesthetic music and the grim subject matter.
This is audible on the ominously-titled "Information Policia". This is an extremely spacious and subtle track, sounding like a 21st Century update of the paranoiac, surveillance-themed electronica of 1990s Cabaret Voltaire and Richard H. Kirk releases.
"Demonstration" reprises the main theme but is augmented by the addition of soft yet powerful beats, adding a subtle but still very restrained element of drama.
The darkest, most ominous track is "Sicario". Irregularly spaced, minimalistic details interact with low chords to create a real, lingering tension.
The soundtrack comes full circle and reaches its (anti)-climax with "Ritual Reprise". This version is marked by what sounds like a reverse tape effect. Sounds are smeared and stretched before cautiously opening out into a soundscape of opulent melancholy, with perhaps a very faint hint of hope.
This is a soundtrack that reveals more detail with each listen; so well balanced that it achieves the trick of being simultaneously minimal and panoramic, and in this sense perhaps also reveals a new perspective on the work of this veteran electronic producer.
A review of Alva Noto – This Stolen Country of Mine (LP, NOTON) out July 21. 2023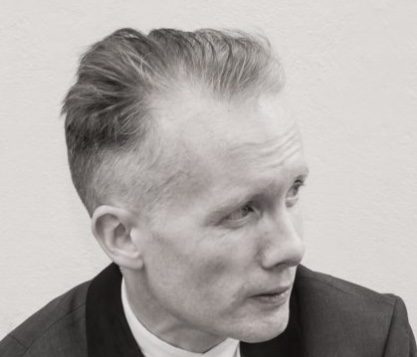 From Speak and Spell to Laibach.