[dropcap style="font-size:100px; color:#992211;"]N[/dropcap]igel Grimmer works in photography and sculpture (assemblage in the Dada sense may be a more accurate description) to explore identity, glamour, kitsch and authenticity.
Immediate qualities in the presentation which come through at first are defined by references to nostalgia, camp and kitsch, as well as a strong sense of irony, and the use of and exposition of media stereotypes. If this draws you in or impacts,then the subtle nuances of crisis, societal expectation, introspection and critique are there to add depth to the practice.
His works are at once personal; drawing on himself, friends and family for subject matter, while also finding strategies from this to explore broader issues: the public and the private, the forces of popular culture and the ever deferred, never quite pinned down, notion of a self. To understand Grimmer's take on portraiture and to respect his own insistence on cataloguing, it is useful to consider some of his themes as they play out across his practice —itself one large interrelated whole.
The masks have various resonances, such as childhood games, adult fetish, and there is something of The Wicker Man (1973), especially since we know the subject is playing dead and inviting the viewer's projections. What is enjoyable about these works is the way they bring macabre marginalia into central focus, dead wildlife, as seen from the corner of the eye when traveling to holiday destinations; conflating it with normally comforting designations of mum, dad or a friend's name. The images contain violence, but heavily censored and controlled, which adds to an off-kilter feeling. These works act as strange memento mori which undercut the notion of free time with reminders of stagnation, perpetual performance and death. The holiday then, a space for relaxation and renewal, becomes a kind of dangerous trap where certain people are impassively held prisoner. The images are not depressing though and, as The Guardian's Robert Clark observes, "Grimmer is good at pop pathos" mixing enough irony, nostalgia and kitsch to sugar-coat observations about identity, homosexuality and family dynamics to keep his work from overloading the viewer with dour inflections.
A similar strategy is employed in another ongoing project, Art Drag Album where the line between glamour and pop fashion is explored in relation to self-portraiture and used to satirise and explore media stereotypes and identity. Nigel as General Idea's Nazi Milk or Nigel as Miss Wong both see the artist's face and shoulders obscured consecutively by the contrasting images of, firstly: an art collective's controversial image that explores, 'the conflicting forces of innocence and evil' (Sarah E.K Smith) and, subsequently, Miss Wong, a variant on the theme of the better-known (The) Chinese Girl. (That work, by Vladimir Tretchikoff, is also known as the famous 'green lady' and adorned many households in the '50s, '60s and early '70s. Tretchikoff is considered a kitsch master and has, oddly, been compared oddly to both Van Gogh and Warhol.) This ongoing series which consists of twelve works (eleven of which are self-portraits) presents identity as an unknowable hall of mirrors where individuals deflect attention by assuming guises. Or are they living through the assumed qualities of another? The camp attraction of the chosen imagery seems also to speak to debates around taste and authenticity; the photographs are posed, compositions thought through, and the message is nuanced. All of which alludes to high art, while much of the imagery and found objects used are pop and, so called, low cultural references.
These obsessions are reformed adapted and reconsidered in a furious outpouring of ongoing works which ambitiously record, catalogue and collect artefact after artefact in order to produce new works. Understanding some of these themes and how they speak to both the individual and the collective is a useful 'in' to this practice.
The Anti-Portrait Interview with Nigel Grimmer
Nigel Grimmer: I am a mixed media artist researching the language of the photographic portrait. Historically my investigation focused on domestic photography, specifically the family album. Recently I have begun to study the self-portraits produced for use within social media, particularly dating apps, Grindr and Instagram.
Investigating photographic language has necessitated a primarily lens-based practice, but I have at times exhibited sculpture, installation, printmaking and found objects.
I think of my work as anti-portraiture; the model's face is obscured in the majority of my photographs through a variety of devices. This methodology stems from a reaction against photographic history and traditional practice, which I see as exploitative and corrupt.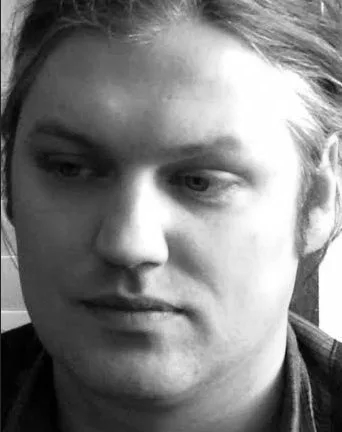 Michael Eden is an artist and researcher working in London and the south east, his artistic practice is concentrated on painting and he divides his time between this and lecturing in art history and contextual studies.