'It's like I booked an election for the tour,' quipped the Bard of Barking as he began the first of three dates at Islington Assembly Hall.
Indeed the timing could barely have been better with the ink still drying on the Labour Party manifesto. The location wasn't bad either – in the Labour heartlands of Emily Thornberry's constituency, bordering onto that held by one Jeremy Corbyn. Although stereotyped as Blairite champagne socialist territory, Islington is, like much of London, a borough where rich and poor live in close proximity. Corbyn's constituency includes sprawling council estates, where many flats are now owned by buy-to-let landlords charging free market rates rather than the social rent for which they were intended. Labour's pledge to replenish the social housing stock is so desperately needed around these parts.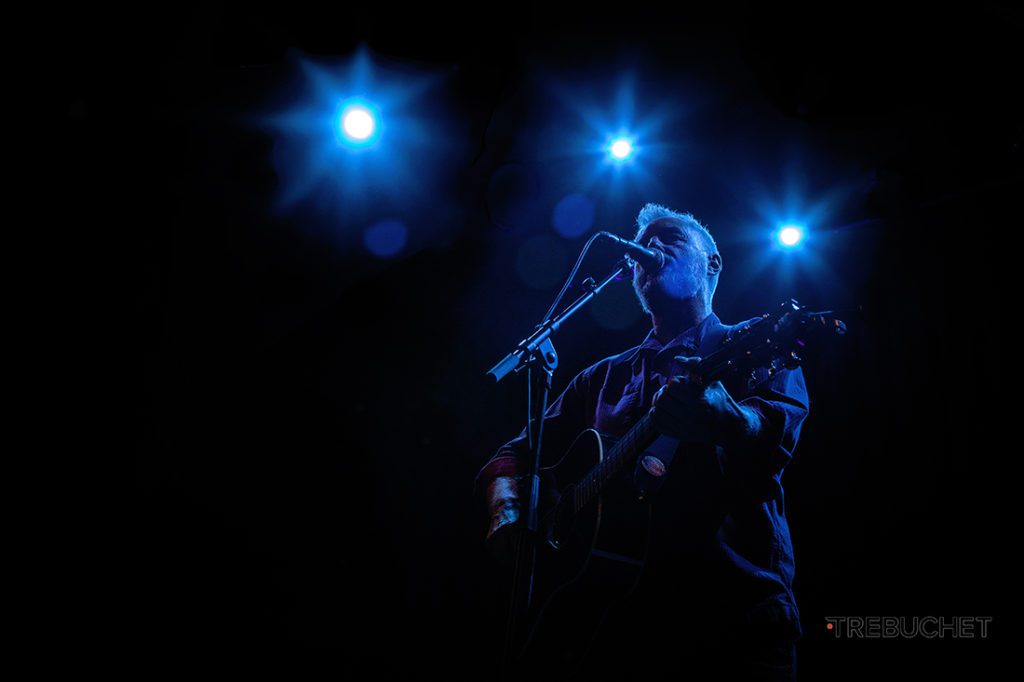 With his greying beard, Bragg seems to be morphing into Jeremy Corbyn as he ages but, as with the latter, the old Clash fan retains his youthful energy to change the world, despite the wording of his swansong, A New England. With the first three albums forming the set for the second night of the run, and the subsequent three for the third night, this first night was described as career spanning. There was a significant degree of overlap with the set list from his gig here two years ago but this time the impending election brought everything into sharper focus.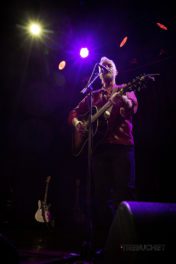 But isn't he just preaching to the converted? No, said Bragg, before launching into I Keep Faith. Playing to kindred spirits recharges his own activism and drive to defeat the Tories, and he hopes that it has the same effect on the audience. Of course, any gig by an established artist, where long-time fans sing the words of every song, engenders a sense of solidarity, but when that is combined with a shared political purpose, it is all the more deeply felt.
He reminded us that the political is nothing without the personal, and that principles are nothing if they don't inform the way that we conduct our relationships. Played straight, Valentine's Day is Over and Levi Stubbs' Tears remained the tear jerkers that they have always been; brutality and economy indeed being related. The jaunty Upfield took us to the alternative to barbarism – a socialism of the heart.
There were some more lightweight, almost Victoria Wood-esque moments, with anti-DIY song, Handyman Blues making a slightly incongruous appearance.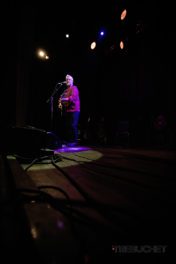 There was plenty of his live trademark lyric changing going on. 'Don't threaten me with bigotry' became 'don't threaten me with Morrissey' in set opener, Sexuality. 'The revolution is just a t-shirt away' became 'the revolution is just a tea towel away' in Waiting for the Great Leap Forwards, with said tea towels available for sale in the foyer.
There were a couple of songs with Woody Guthrie lyrics thrown in for good measure (Ingrid Bergman and Way Over Yonder in the Minor Key), but it was the self-penned old classics such as The Milkman of Human Kindness and Greetings to the New Brunette that drew particularly lengthy applause.

In these dangerous times of climate change, rising bigotry, zero hours contracts and food banks, gatherings of the Left can tend towards collective therapy – a haven in a heartless world. But tonight was not one of those nights. This sold-out show was a call to arms that there is another way, and that we can take a great leap forwards to a fairer, more equal society rather than surrender to the ravages of neo-liberalism. While you can criticise Bragg for the costly ticket prices and merch stall, ultimately he's only a musician, and the power is in our hands. Make it count on 12th December.
TOUR DATES HERE
Words by Sarah JCB
Photos copyright Carl Byron Batson – not to be reproduced without express prior written consent

Photographer, published poet, former party animal, body builder, grave robber
to the stars and renowned chainsaw juggler, Carl can often be spotted on his
Harley Davidson pretending to be in Terminator 2. He is also frequently seen in
the press pits of old London town, camera in hand, avoiding being hit by bottles
of wee and crippling his opposition with secret Kung Fu moves.