[dropcap style="font-size:100px;colour:#46ffa5;"]T[/dropcap]here's more to Lauran Hibberd than her Sweat Patch, her recent release with observations on the drug world.
This stomping indie slacker-pop-pocket-rocket says she'd rather curl up with a cup of tea than indulge in the raucous shenanigans of the Rock and Roll world and just like ELVIS, Hibberd has previously stated she's "pretty much frigid with anything un-prescribed".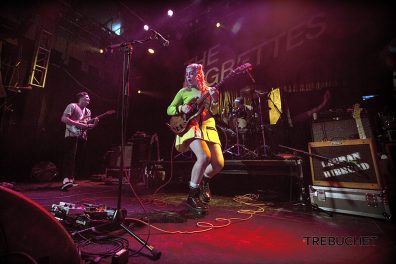 Opening for The Regrettes on their current tour, Lauran (with an A)  Hibberd holds her own in front of a packed room of predominantly female teenagers, with the odd boyfriend or mum tagging along. Chatting perhaps more than she intends to is the only betrayal of any nerves and her stage presence serves as an inspiration to any bedroom guitarist with musical ambitions.
Hibberd is sure to win a whole bunch of new fans during this run of shows, her songs have catchy choruses and original narratives. She combines the best of the 1990s, from grunge to Britpop with hints of riot grrrl. There's even a bit of Scandi indie thrown in there with nods to The Cardigans and The Wannadies.
Lauran sets her sights rather low as she throws out invites to any older gentlemen earning over 50K before launching into the slightly disturbing Sugardaddy with its rhythmic guitar hooks, pounding drums and underlying sweet girly vocals reminiscent of a younger Louise Wener.
Hoochie has singalong US style college rock a la Weezer with her trademark vocal inflections. Shark Week tells of youthful wistful love with a melancholic edge – surely bound to be a soundtrack to adolescent longing for many of the spellbound crowd whom she held in the palm of her little hand by the time her set was over.
---
Lauran Hibberd is set to headline her own shows in the coming year so look out for news. Meanwhile we threw her some questions to consider whilst the kettle boils on the tour bus……
Trebuchet: Touring with The Regrettes – How is that working out / Any highlights?
Lauran Hibberd: It's amazing! Probably one of the best experiences. Such LOVELY people, and they make awesome music and have an amazing fanbase. Highlights so far, has to be London and Liverpool. We are in Cologne Germany now. Having a blast!
While on tour, have you been going to bed early and resting your voice or is it all Rock and Roll?
I've definitely been trying to rest up, I sleep a lot in the van as well. I'm not at all that rock and roll, so you'll find me and the band tucked up with a cup of tea as soon as we finish a gig ha!
Do you have any plans for a headline tour in the near future?
Yes! I have just announced a UK headline tour for February next year. Abbie Ozard and Spyres are supporting, going to be great fun!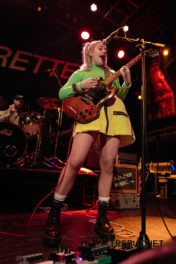 Your music – We can hear an influence by some of the 1990s female fronted bands, from Britpop to grunge to riot grrrl, who were releasing music before you were even born. Is that period of music a particular influence of yours and, if so, how did you get into it?
Yes definitely! I was big into pop and folk music until I hit music college, and watched a few choice films '10 things I hate about you' and listened to a few early Weezer records based on what my friends were watching/ listening to. And then there was no going back for me. I bought an electric guitar, and an overdrive pedal and I was laughing.
There's lots of inflections in your vocal style – have you always sung in that way or is this something that has developed over time?
I have always sung like that, I think it's organically quite characterful and it has adapted to the style of music I create now. I struggled for a while, as my voice isn't your classic 'I will always love you' vocal. But I've found my thing, and I'm making it work.
How big an influence on your style is skate culture?
I definitely dress like a wannabe skater, but realistically – I tried skate club once and had a bruise on my butt for a month. I am a big fan of aussie skate bands like Skeggs and Hockey Dad so I guess that's rubbed off on me. Plus it feels pretty punk but what do I know. I'm just out there trying to make slacker pop a thing.
What comes first with your songwriting, the lyrics or the melody?
Definitely lyrics. I write phrases down all the time. It's sometimes months before I sit down and try to make something out of all the nonsense I write down. Saying that, I do record myself in the car if I come accross a good melody waiting in the traffic. None works without the other, so it's just for me about finding that right fit. Normally when I sing something melody wise, a set of lyrics comes out with it.
Your songs have very catchy choruses – during the songwriting process, how conscious are you of creating a tune with a hook to it?
I am never thinking, I want a catchy chorus. I just listen to music, that only has hooks to die for. It's all I surround myself with so I guess that's the only way I know how to subconsciously create that. I write pretty freely, theres never any ulterior commercial motives behind it. But if I get something memorable – result!
Several of your songs are written from a female point of view – how important is it to you to create a female voice in a male dominated industry?
Super important! But for me, I'm just writing songs as I see them. So female or not, it's just me saying what I want to say. I'm never really wanting to purposely make a song for the girls, I just am a female, making music in the industry. There are loads of great chicks making music right now, and in my opinion there always has been and always will be.
You are asked to be curator- who would play on your dream festival line-up?
Weezer. Phoebe Bridgers. Arctic Monkeys. Courtney Barnett. Smashing Pumpkins. Avril Lavigne. Soccer Mommy. The Cribs. The Primitives.
Keep up to date with the tour, including the February 2020 London show HERE
All stage images copyright of Carl Byron Batson – Not to be reproduced without prior written permission.

Photographer, published poet, former party animal, body builder, grave robber
to the stars and renowned chainsaw juggler, Carl can often be spotted on his
Harley Davidson pretending to be in Terminator 2. He is also frequently seen in
the press pits of old London town, camera in hand, avoiding being hit by bottles
of wee and crippling his opposition with secret Kung Fu moves.