'In Japanese folklore, the Oni is a malevolent shapeshifting demon, able to take on many guises as it spreads pain and misery. The constantly shifting, ever-evolving sound of Ontario, Canada's ONI is no less elusive….'
Catching up with Johnny DeAngelis of ONI at the 02 Shepherds Bush Empire, as they begin their European tour with Finnish heavy metal badasses Children of Bodom.
---
Why don't you start by introducing yourself? What's your name? Where are you from? You know, that kind of stuff.
My name's Johnny DeAngelis, I'm from Canada and I play xylosynth for ONI. We are on tour with Children of Bodom right now, travelling across Europe. It's been amazing. We have played some amazing show and we are really looking forward to the rest of the tour.
What can you tell me about ONI?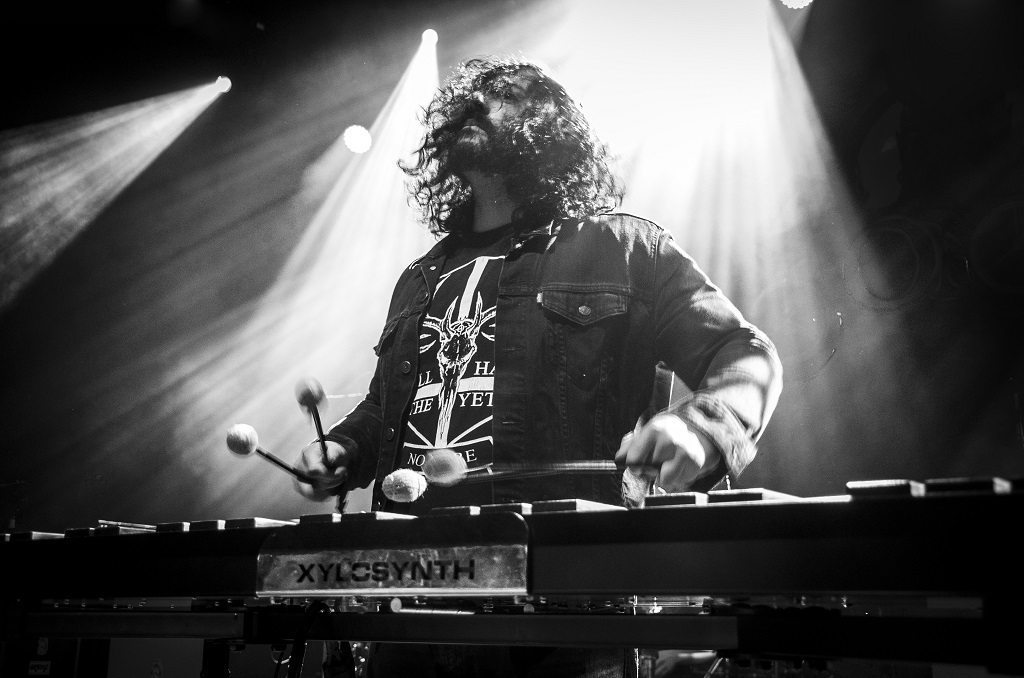 ONI is a tight knit group of friends, from different bands, that just decided start writing together and it became a sort of hybrid because we have so many different influences. We definitely have the technical side with bands like Dream Theatre, Children of Bodom, but also on the other side, influences like Slipknot, Lamb of God, Pantera and Megadeth. We really never leave a stone unturned. We didn't want to take just any one route. And yeah, that's what we really strive for, to always be taking different influences from new and different places. Anything from books to music or you know, life.
What sparked your interest in metal?
It's pretty typical. When I was young I found Metallica, I was a huge Metallica fan, and Pantera. And then I started branching out. The nu metal thing happened and there were lots of new bands about, it was big. It made me see a whole different way of doing metal. There were bands like System of a Down and Korn who were very interesting and still heavy which was great. That's when I really started to write metal music myself, I wasn't just a fan. It was an exciting time in music for me.
How psyched are you to be touring alongside Children of Bodom?
Yeah its awesome. One of my favourite bands and one of my main influences of all time. This is our second tour with them, we did a North American run with them at the end of last year and that was a lot of fun. This one is living up to it and better. They are really cool to hang out with, plus we get to watch them every evening. I mean, we are all huge fans. Sometimes we have to pinch ourselves like wow, cool! We were out with the band last night. You know we try not to go too crazy the night before we do a show you know, but we are on tour!
We try to have fun, whether it's at the bar or backstage or whatever. The tour has been great and I love meeting young musicians.
And the xylosynth? What's that about?
It's funny because I started playing piano when I was young but I switched to drums around high school and it's a kind of hybrid of those two instruments. It's played like a xylophone, but it's basically a traditional synthesiser. I still have the drumming side of it but it's a keyboard. Great, right? It actually came from a band that I was playing in called Sledgehammer and it was a piano metal band and people were like "Yeah well that's cool but you're a metal band so you need guitar". We were like… nah. We like the keyboard thing. So, I started playing guitar leads on the xylosynth and just never went back.