I always think of "Towers of Dub" as The Orb in microcosm.
Although at around 15 minutes it's not particularly micro, which I suppose is part of the point.
But with that brilliant sample ("Hailie Selassie, yeah?"), ten minutes of gently meandering randomness and then a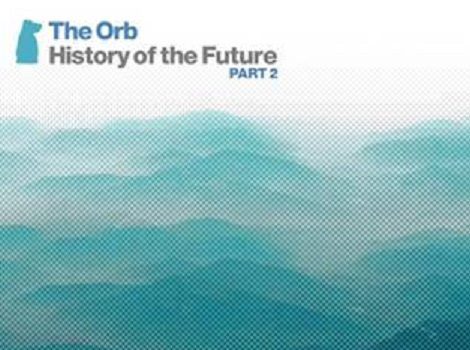 drop into a proper stomping dance tune, it pretty much sums up everything you were looking for from the guys that gave us Adventures Beyond the Ultraworld nearly 25 years ago.
Which is a long time. And for many, even the hardcore fans, I suspect it will have been a while since The Orb really crossed the radar. History of the Future Part II, the new compilation that looks to round up everything they've done since 2000, is designed to rectify that. But it's only partially successful.
Billed "criminally overlooked but wildly creative" by the accompanying press release, The Orb's 21st century catalogue, is to put it mildly, a mixed bag. The first four tracks alone of this three-CD boxset encompass "Suck My Kiss" which sounds like the backing track for an odd flashback to late 80s clubbing; "I am the Red Worm", which could be straight from UFOrb, a misguided vocal sample which makes "The Truth Is…" sound horribly dated, and some breakbeaty hip-hop on "The Aftermath" which is somehow both enjoyable, and embarrassing.
That sense of vague disquiet, like watching the now middle-aged raver recapture his youth when "Papua New Guinea" comes on at someone's wedding (as his kids look on in horror) pervades much of the record. "Let the Music Set You Free" sounds like goddawful Groove Armada when they first turned into a proto-Pendulum, whilst "From a Distance" is reminiscent of Depeche Mode trying to be relevant about five years ago – although not necessarily in an entirely bad way, to be fair.
"Vuja De", however, is unmitigatedly fucking terrible. It reminds me of clubbing in Southampton in the mid-90s with Sonique on vocals, whilst "Apple Tree" is both passable and sounds like someone ripping off "Little Fluffy Clouds" not quite as well.
And that's just the first CD.
There are moments of brilliance in there. "Eurofen" is simple and groovy, but also unmistakably the Orb – like Squarepusher not taking himself too seriously and actually enjoying making people dance. "Chuck's Peaks", again is unmistakably Orb-y, in a good way, even if the actual beat is a bit generic, and the more ambient tracks have some moments of magic.
Overall, there is a sense of fun, and for any lapsed fan (like me), regular moments that will make you smile. But it's hard to escape the idea that this compilation needed a better editor. Three CDs is simply too much, and squeezing it down to one, or two at a push, could have created something that really deserved the PR hyperbole.
So, if you are a fan this is worth your while – if you are willing to sift out the chaff. If you're not, skip this and either go straight for the first History of the Future, or just listen to Adventures Beyond the Ultraworld and imagine you're in a boilersuit somewhere in a field circa 1990.
The Orb play London's Oslo on March 13th. Tickets