[dropcap style="font-size:100px; color:#992211;"]B[/dropcap]urlesque, with its long historical background, has again hip-thrust its way back into popularity, although the understood meaning of the word seems to have changed greatly since its first introduction in Francesco Berni's 'Opere Burlesche' during the 16th Century.
With the help of such high profile bodies as Dita Von Teese, the 2010 Burlesque film, and even Beatrix Von Bourbon on Britain's Got Talent (not that I watch it), the phenomenon has oozed from the back streets of Soho and been given a powdered and preened boa-and-ostrich-feather overhaul. The Emiline Spankhurts, I mean Pankhursts, of the world must surely shake, cross themselves and bow their heads in sorrow and shame.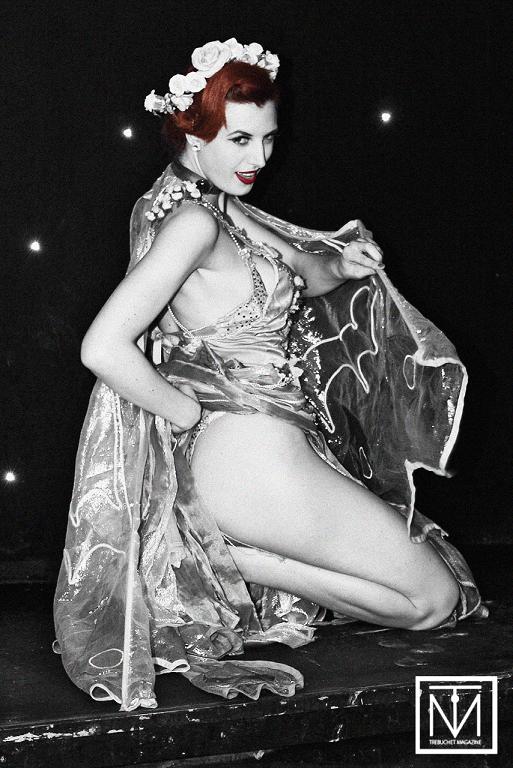 Sophie St Villiers by Carl Byron Batson

Miss Tempest Rose (not to be confused with the legend that is Tempest Storm) has indeed whipped the House of Burlesque wagon train across the length and breadth of the country, recently touring Shipwrecked, advertised as "Burlesque in its truest, most original form" (a big and brave claim).
When such a show pulls into town and ties up its reins at the hallowed stage of the Colosseum in Watford, you know it really has reached the realms of suburban acceptability, although it may be argued that a lot of Burlesque we see today is little more than a sleazy strip show on steroids. Trebuchet was duty-bound to investigate.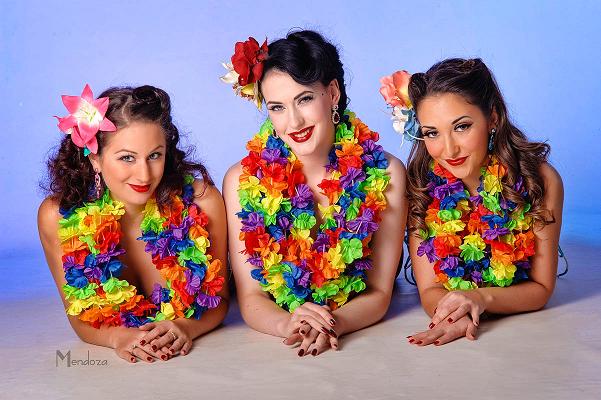 Now for one reason or another I've seen more strip and Burlesque shows than you've had the proverbial hot dinners and I half expected to see an audience of middle-aged men in long macs, hats and sunglasses. Surprisingly, it was a well-mixed and attended outing with some ladies of the audience even sporting costumes befitting the occasion.
[quote]some ladies of the audience even sporting costumes[/quote]
The last time I saw Miss Tempest Rose and some of her merry troupe was at a small dimly-lit club in the middle of nowheresville and the assembled audience were indeed a bunch of dirty old men. Admittedly that was NOT a House of Burlesque production. The setting at the Colosseum was far removed from that previous encounter.
After cautiously checking for any hardcore feminist groups with placards whom I half expected to be protesting outside, I deemed the coast was clear to enter. This 1300-plus seat venue has benefited from a recent £5.5 million refurbishment, is world-renowned for its acoustic qualities, and has been used for the recording of the Lord of the Rings, The Sound of Music and The Star Wars trilogies. I remember the Colosseum was also a venue for many top groups during the 70's, including ELO and Marc Bolan. Was this the right venue for some semi-naked sequinned hoofers?
The stage was dressed accordingly for the 'Shipwrecked' theme. Miss Tempest Rose greeted the audience as compere and a routine ensued whereby, having set sail on their round-the-world tour, the girls have indeed found themselves shipwrecked by a terrible storm on the Island of Temptation.
Flame-haired and pale-skinned Sophia St Villier, who I have seen perform before, executed a slow paced little dance number. Whilst making the most of her pale 5' 10" frame she fell just short of the cigar by not quite finishing her dance lines cleanly. If you are going to present a show on a grander stage such as this, more attention to detail needs to be applied. Dance is a form of art, right? It should be performed with passion and precision. I've seen St Villier perform better.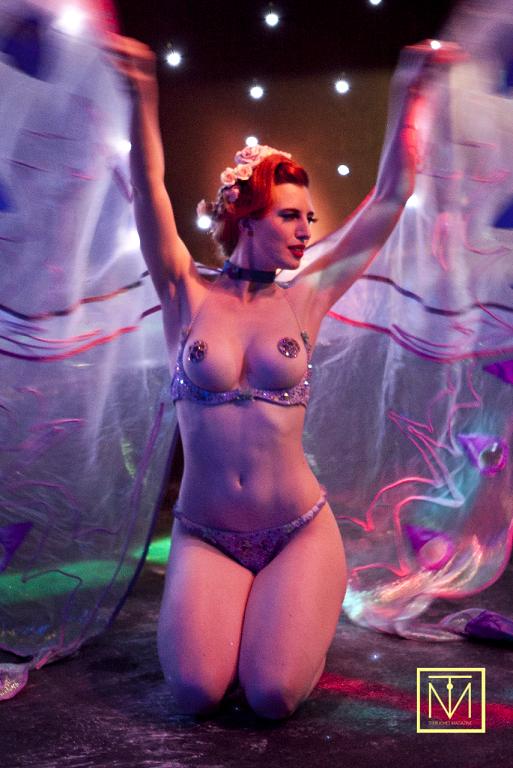 Sophie St Villier by Carl Byron Batson
The tongue-in-cheek comedy of Audacity Chutzpah followed Sophia St Villier. She continued the shipwrecked theme by attempting to wave down passing planes with ever depleting articles of clothing. You get the picture. As a comedy piece it was performed very well and was received warmly by the audience with much laughter.
Miss Tempest Rose herself entertained with a rendition of 'Diamonds Are a Girl's Best Friend'. An occasional line change was thrown in for comedic effect, such as keeping up payments on her Camden flat. Never a truer word.
The absolute star of the show for many was Abigail Collins. If the show needed an injection of energy the ultra toned Ms. Collins, with a broad New York accent, was about to administer it. She hit the stage like a mini whirlwind with a comical parody of Beyoncé's 'Single Ladies (Put a ring on it)'. Her energy throughout seemed limitless; she coaxed audience members onto the stage and climaxed with an extremely entertaining hula-hoop display.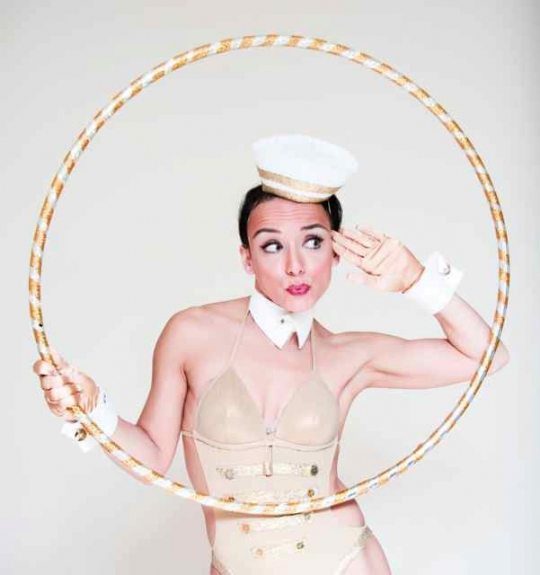 Petite, dark and demure, Italian Jolie Papillion followed Ms. Collins with a slower-paced but very cutesy little lifeboat number dressed, for a short time at least, in a little sailor's outfit. She ended up quite damp.
An interval was announced and the customary Jack Daniels was again ordered at the bar. At this point Ms Collins, in the guise of Peggy Sued (a character much like Patsy from Absolutely Fabulous but with a Brooklyn accent) mingled with members of the audience, cocktail in hand and innuendo aplenty. Some folk did actually seem oblivious to the fact it was Ms Collins, which made it all the more amusing. The fun continued back in the auditorium as Peggy Sued continued to stagger up the aisles making suggestive comments until the stage lights came up on the second half of Shipwrecked.
This portion of the show began with the promise of a crash course in the art of nipple tassling.
Whoa there, horsey. Yep, that's what I said.
Now, as a proud owner of two worn out VHS copies of Elvira (pause button kills the tape), I happen to be somewhat of an aficionado on the nipple tassle art. The entire audience were beckoned to their feet and the two dark-haired girls who were previously doing the comedy clean up between acts, were presented as demonstrators of this noble art. The whole audience were led through the appropriate jiggles and gyrations to send a tassle this way or that.
But wait. The girls were clothed and there wasn't a nipple or a tassle in sight. I thought that perhaps when we were seated again we would be treated to an expert display, but no. This actually left me, and others, feeling quite disappointed. I became depressed and slumped in my seat. Harrumph, on with the show.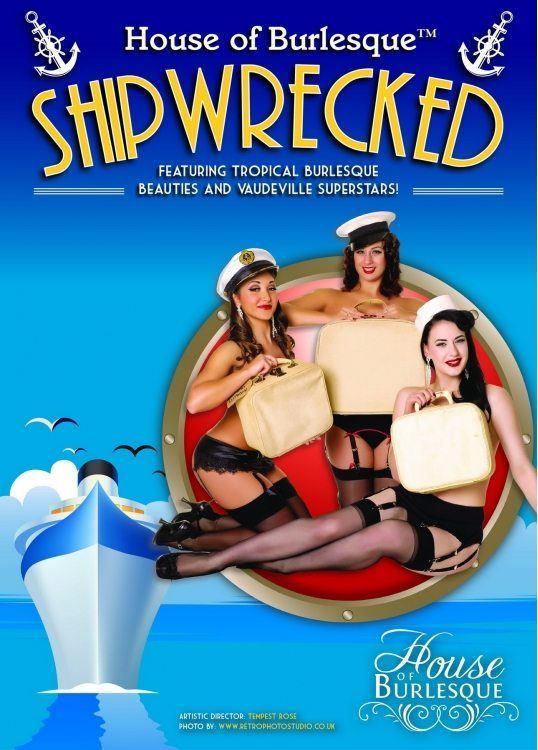 With the vision of Elvira still in my mind, Sophia and Jolie took the stage once again, this time as a double act. Balloons around their waists and to the strains of Bobby Darin's 'Splish Splash I Was Taking A Bath', they proceeded with a swimming routine and the popping of said balloons. This all seemed a tad lacklustre to me. The balloons went down with a slow sputter and hiss rather than a titillating pop.
I wanted tassles.
Audacity Chutzpah began to lift the spirits as she poured some more humour into the mix with a routine starting with a reverse strip after a dinner invitation, and turning into God Save the Queen after a 'technical music hitch' which sees her scrabble about for props befitting the problem and assuming the Regina pose.
Peggy Sued then made a very welcome return, balancing cocktail glasses on her head, pouring during the splits, cavorting with two male audience members, climbing all over them and again performing the splits whilst balanced on their shoulders. Her act is hilarious and she has great comedy delivery. She really carries the show and could in all honesty have a show of her own. Tassles were all but forgotten.
Miss Tempest Rose performs her Voodoo Queen rendition of the fan dance. This is probably as good as you are likely to see and the audience became quite transfixed during her performance.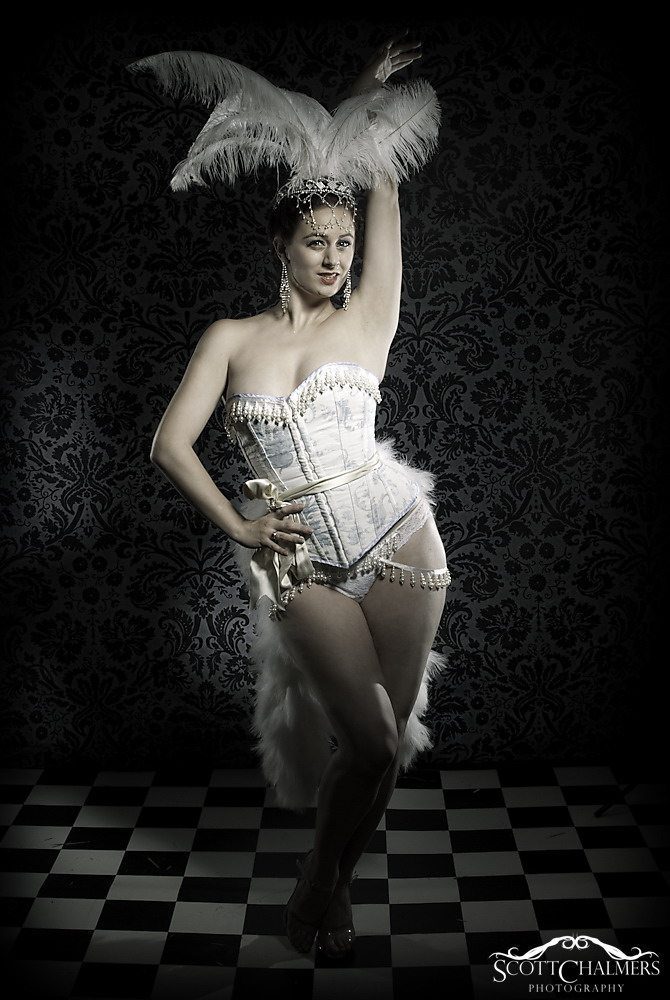 Tempest Rose by Scott Chalmers
The whole show is rounded off quite nicely with all cast members dancing with matching turquoise capes. With their wings unfurled the stage does finally seem filled and come to life, which brings us back to the question as to whether this was the right setting for such a show?
Personally, if I want to see Burlesque, I would rather see it in a smaller club. Burlesque belongs there; I don't feel it was never meant for the grander stage. It takes on the feeling of being watered down, less intimate and less mysterious.
The questions here are, is Burlesque exploitative? Does it reinforce cultural and sexual attitudes that are complicit in sexual harassment or is this just a great medium of feminist expression and a means of feminists taking control of their sexuality?
You can all discuss this and the hypocrisy attached to it amongst yourselves.
[button link="https://www.trebuchet-magazine.com/house-of-burlesque-interview/"] Tempest Rose Interview/Shipwrecked Tour Dates[/button]

Photographer, published poet, former party animal, body builder, grave robber
to the stars and renowned chainsaw juggler, Carl can often be spotted on his
Harley Davidson pretending to be in Terminator 2. He is also frequently seen in
the press pits of old London town, camera in hand, avoiding being hit by bottles
of wee and crippling his opposition with secret Kung Fu moves.