[dropcap style="font-size:100px; color:#992211;"]F[/dropcap]irstly I'd like to thank y'all once again for all your kind messages, I'm flattered that you kind ladies out there are addressing the mail to 'the housewives' favorite'.
After the frenzy of baking for Obama y'all have been asking if I have something to make your holiday season a little special. Well the holidays are indeed coming and as y'all know, a homemade baked ham is a southern holiday staple.  Momma used to make a ham with this absolutely fabulous glaze produced by using a very simple ingredient – classic Coca-Cola. Coca-Cola and Ham. How much more American can you get than that?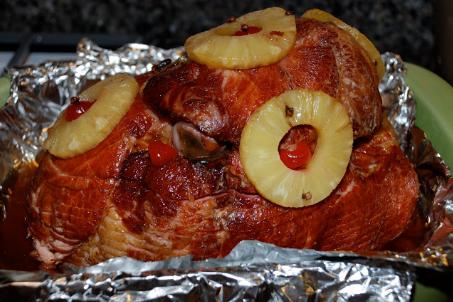 I just love the ham with plain Coke – it makes a great pan sauce. Here, we combine the Coke with a sexy brown sugar and mustard coating on that ole' ham. There sure is something erotic about the combination of that sweet Coke, brown sugar, the tang of the mustard, and the saltiness of the ham that just makes for perfect bedfellows. Oh my, this is good.
[quote] I know a girl who just loves a good root beer[/quote]
If you're into things a little straighter, you can leave out the mustard and brown sugar and just go with the Coke glaze. By the way, other cold drinks will do too. I know a girl who just loves a good root beer. Good ole' Dr Pepper is a great option too. Whichever way you do it, y'all be sure to drag those ham slices back through the pan drippings and serve the rest on the table as a sauce.
I'd like to talk to y'all about ham just a little bit.
What you don't want right here is a picnic ham or pork shoulder ham. It's delicious but it's a whole other thing from what we are trying to achieve. Why? Because it's basically raw pork so you'll end up with more of a pork loin or pork roast kind of flavor instead of what y'all know as ham.
What y'all do want to look for when you go to the store is a fully cooked, ready to eat half ham. I prefer a shank end portion. Yes, y'all are gonna bake it, but a fully cooked ham doesn't require that you cook it too long. Y'all are really just warming it through and infusing it with some flavor. When there's a whole bunch of hungry mouths around the table, you'll be thanking the good lord for any time saving.
Do the Col. a favor and try to get a bone-in ham. We all know a bone-in is better than a bone-out. This will most certainly provide more flavor and you'll have a nice big ham bone leftover for some soup. Sometimes I give in and just toss it to old Blue who will sit and chew on that thing for hours on the front porch.
You know, this really has been my favorite way to do a ham from the first time I cooked one with Momma. Brown sugar and mustard glaze in a hot tub of Coca Cola, lawdy.
Whatever roasting pan you use, be sure to cover it with some aluminum foil, you hear? Trust me on this. In case any of the cola leaks out it makes the clean up job a whole lot easier.  Now y'all make another separate foil tub inside that for the ham itself.  You'll want enough excess foil to pull up around the ham and loosely cover it (I use that Jumbo Foil).  Y'all combine that brown sugar and mustard now.
If you like, you can score the ham and poke in some whole cloves at the intersections just like the fancy restaurants in the city do.
Ok, now place that ham with the cut side down and fat side up into the foil tub.  Smear the brown sugar mustard all over the ham. Rub it in real good as if you're giving your man or lady one of your special massages. You can also add pineapple and cherries if you want, I pin pineapple rings to mine with cherries in the middle. Now go right ahead and pour in the Coke.
Pull the foil up so it loosely surrounds the ham and bake according to the package directions.  Remove the pan from the oven, carefully open up the foil, and baste the ham with the juices periodically during the baking time.
Now my ham was a little under 8 1/2 pounds and I went for about 2 1/2 hours at 350 degrees. When it's ready, let it rest about 15 minutes before slicing. Y'all go ahead and make your pan sauce while the ham is resting.
As I said, I like to dredge the slices back into the Coca Cola pan juices and let them sort of soak a bit before plating. You can also make a pan sauce with the drippings or you can also turn them into gravy.
Plate-up the ham and drizzle on a few spoons of the juice. Tent up loosely with foil to keep warm. Transfer the pan drippings to your skillet, slowly bring to a boil, stir in 1 to 2 tablespoons of butter to add richness, and let reduce and thicken slightly. Place into a gravy boat to pass at the table.
Recipe: Brown Sugar and Mustard Glazed Bone-in Ham
Ingredients
1 (6 to 8 pound) fully cooked, shank-end half ham
1 to 2 cups light brown sugar, firmly packed
1/2 cup yellow or Dijon mustard
Sliced pineapple, optional
Whole cloves, optional
Cherries, optional
1/2 can of (regular) Coca-Cola Classic
If desired, unwrap the ham and place it under the grill to brown, about 5 minutes, watching it carefully. Remove ham to your cutting board and allow to cool. I like mine a little brown.
Remember, you can also substitute root beer, Dr Pepper, lemon lime soda or ginger ale.

Col. Jon Burrows. Conceived in the ghettos on the outskirts of Memphis. Hailed as the new face of the hood. Haikus to him can be found on underpasses, large rocks at public parks and the occasional idling limo.
Nearly all of the words he writes are spelled correctly, occasionally managing to format a page with a paragraph break. He once drove a tank and lives solely in hotel and hospital suites covering the windows in tin foil.
His epic autobiography, 'Fuck You Buddy', will hopefully one day be published, if someone in the literary world can decipher its sophisticated and convoluted message.