[dropcap style="font-size:100px; color:#992211;"]A[/dropcap] strange and eerie sound is pulling me to some other worldly place, a familiar lament is guiding me through the astral plain toward that whirlpool in hell and the  devilishly dirty new rumblings of Hank Ray's latest incarnation, Thee Holy Ghost Cowboys.
As soon as your eyes fall upon the double E, you know as sure as eggs is eggs that something special is about to be plated up and put in front of you, in this case a steaming hot jambalaya of swamp blues punk country death-a-billy.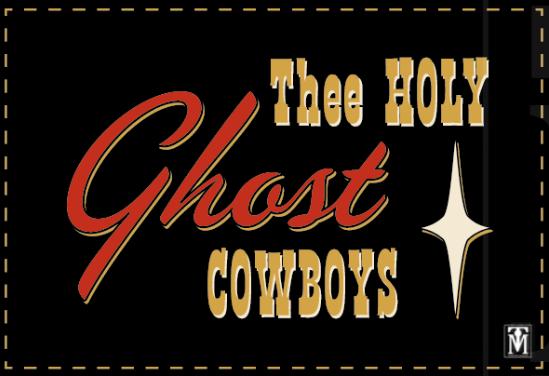 You gotta scoff.
Cramped Williams
Imagine Hank sat with his snake skin hat and boots, his feet up on the front porch, beaten up old guitar in hand and a jar of white lightnin' glinting by the rocker on a balmy sweet cotton filled evening. As the Spanish moss gently sways in the breeze, Hank channels the ghosts of the past to form his chilling trade mark vocal, best described here as Cramped Williams.
As in previous spiritual encounters, the Link Wray/Poison Ivy death chords can be clearly heard in the rehearsal recordings of  'Trail Of Darkness' and 'I Walked With A Zombie', there may even be a spectral Ramone presence on the latter track which sure as hell puts pepper in the gumbo.
Fire Spirits Revisited holds 14 fanfuckintabulous tracks recorded live at rehearsal on November 15, 2013. From 'Endless Plains' thru to 'Lost Highway Saw The Light' it's dirty, distorted, bent, dented, raw and occasionally rowdy. Just the kinda thing I love being smashed through my dropbox.
Hank Ray does declare, "I have tons, and I do mean TONS of new material ready to record ….. would love to do a cool vinyl album".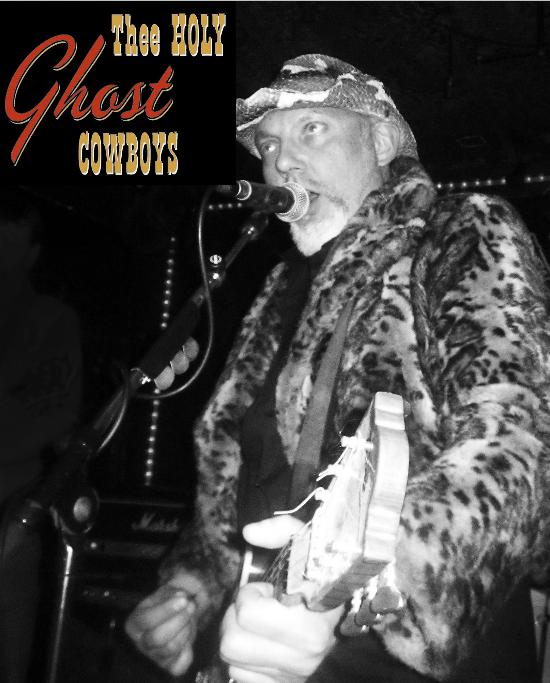 So heads up you promoters out there, I would suggest you get on the stick and go saddle up Thee Holy Ghost Cowboys before they ride off through the diesel smoke on the trail of dark desires and over the plains of helldorado into the scorched lost highway beyond.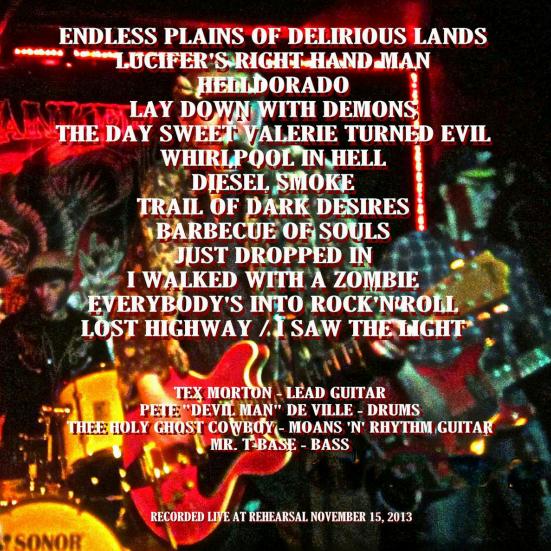 Happier than a dead pig in the sunshine
This certainly is the sound of someone blowing large smoke rings up the ass of Psychobilly and it'll truly make you happier than a dead pig in the sunshine.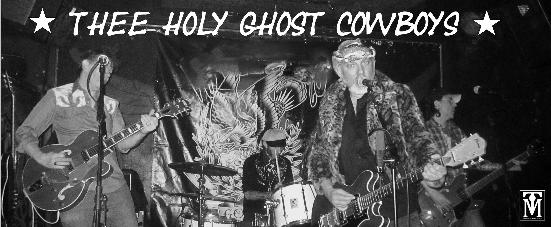 Line up is L-R: Tex Morton – lead guitar / Pete "Devil Man" DeVille – drums / Thee Holy Ghost Cowboy – moans 'n' strummin' / Mr. T-Base – bass
[button link="http://www.hankray.net/" newwindow="yes"] Hank Ray Homepage[/button]

Col. Jon Burrows. Conceived in the ghettos on the outskirts of Memphis. Hailed as the new face of the hood. Haikus to him can be found on underpasses, large rocks at public parks and the occasional idling limo.
Nearly all of the words he writes are spelled correctly, occasionally managing to format a page with a paragraph break. He once drove a tank and lives solely in hotel and hospital suites covering the windows in tin foil.
His epic autobiography, 'Fuck You Buddy', will hopefully one day be published, if someone in the literary world can decipher its sophisticated and convoluted message.