[dropcap style="font-size:100px; color:#992211;"]O[/dropcap]n the tenth anniversary of 7/7 and during a dusty warm front in old London town, Reverend Horton Heat and his punkabilly ensemble took to the stage at Islington Academy.
With thirty years of musical experience under his belt, the Reverend himself, Jim Heath, has the confident self-assurance of a seasoned pro untroubled by the reactions of others. Indeed during the support act, we saw him quite skilfully blank a handshake with a deflated fan who had to console himself with two handshakes from an embarrassed Jimbo Wallace, the upright bassist. We could've reached out and flicked his nose but the talent demanded respect.
As always, they infused a country twang and a surfy twist into their psychobilly (we use that word sparingly) sound. Despite the jangling of the obligatory wallet chains and the venue's echoing acoustics, echoing acoustics, echoing acoustics, the double bass was as sharp and crisp as it was hyper.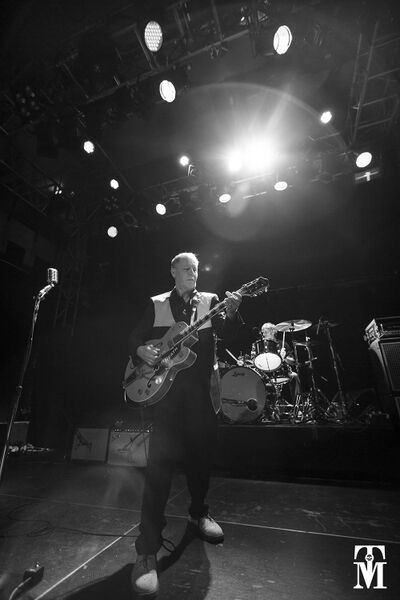 By way of foreplay, RHH opened up with foot stomping instrumental Victory Lap then dived straight into Smell of Gasoline with its rattling skin thumping to match the frenetic bass slapping, both these purdy tunes from the newest, albeit 18 months old, album Rev.
We sure hoped the crowd had some lube as they were barely moist when Jim's boys went for full penetration, following up the pedal to the metal openers by smashing straight into a hectic rendition of old classic and crowd pleaser, Psychobilly Freakout.
Indeed the entire set spanned all three decades of his career, so of course with a back catalogue this extensive, for every fan pleased that their favourites were played there will be another cursing the absence of another classic. To my mind the best album, Laughin' and Cryin' with the Reverend Horton Heat was sadly neglected but hey ho, that's the way the cookie crumbles, you're never gonna stop it.
Pleasingly and despite his publicised distaste for covers, he did squeeze in his version of Johnny Cash's Big River.
Preaching to the converted, as ever the Reverend gave the assembled beer holders a most satisfying selection showing that, unlike other clergy, he hasn't lost his power to touch his congregation.
Photos of Reverend Horton Heat by Carl Byron Batson. Not to be reproduced without express written permission.
Reverend's Evangelical Website

Photographer, published poet, former party animal, body builder, grave robber
to the stars and renowned chainsaw juggler, Carl can often be spotted on his
Harley Davidson pretending to be in Terminator 2. He is also frequently seen in
the press pits of old London town, camera in hand, avoiding being hit by bottles
of wee and crippling his opposition with secret Kung Fu moves.