[dropcap style="font-size:100px;color:#992211;]A[/dropcap]t his first solo show, the young painter Oli Epp, sold out before the private view. Semiose is a gallery opened in 2005 in Paris. The exhibition is wonderful and Epp is an astonishing new talent.
It is fifty years since I first read Naked Lunch.
As a teenager at art school in suburban London, it seemed extraordinary and I was quite disbelieving about the scene, early on, where a man is hanged, as a result of which, he achieves a magnificent erection.
I didn't think about it again for many years until news broke that on 7th February 1994, Conservative MP, Stephen Milligan was found at his home with a black bin-liner over his head, an orange in his mouth, and an electric cable round his neck.
In 1997 it was suggested that poor Michael Hutchence, front man of INXS, had died accidentally during an auto erotic episode involving asphyxiation. (The official verdict was suicide whilst depressed.)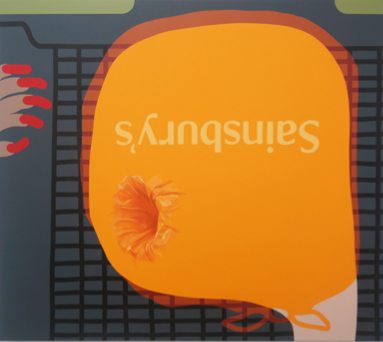 Oli Epp, Bag for life, oil, acrylic and spray paint on canvas, 2018
Both cases bring an image to mind – a kind of lonely dislocated image, of someone who has wandered too near the edge.
So, it is odd to come across a painting of a head sucking at the end of air inside a 5p grocery bag; perhaps on the point of rescue by the sharp red nails entering stage left. Odder still, that this should be such a beautiful intriguing painting.

Oli Epp, Bag for life, oil, acrylic and spray paint on canvas, 2018, (detail)
The narrative content is provided by the picture but let us switch attention to the painting itself – to the flat coloured arrangement of pigment-in-glue laid out across a primed canvas surface – the coloured design.
In each of the paintings in this exhibition, Epp gives an assured performance as a colourist. Orange, mute purple, grey-green, a light magenta against a slate grid. The colours work beautifully as abstract painting.
Moreover, the surfaces have the flat intense saturation of the good abstract painters of the fifties and sixties. It is not a stretch to mention Patrick Heron here, or, across the Atlantic, Ellsworth Kelly and the sub-genres with which Kelly is associated, hard-edge painting, Colour Field painting and minimalism.
The flat exquisite paint then suddenly gives way to intricate figurative detail. As when we recognize the sucked in portion of the Sainsburys plastic bag. The switch from flat colour to figurative detail is magically unobtrusive, the great expanse of flat colour lending the small detail a trompe l'oeil presence on the canvas.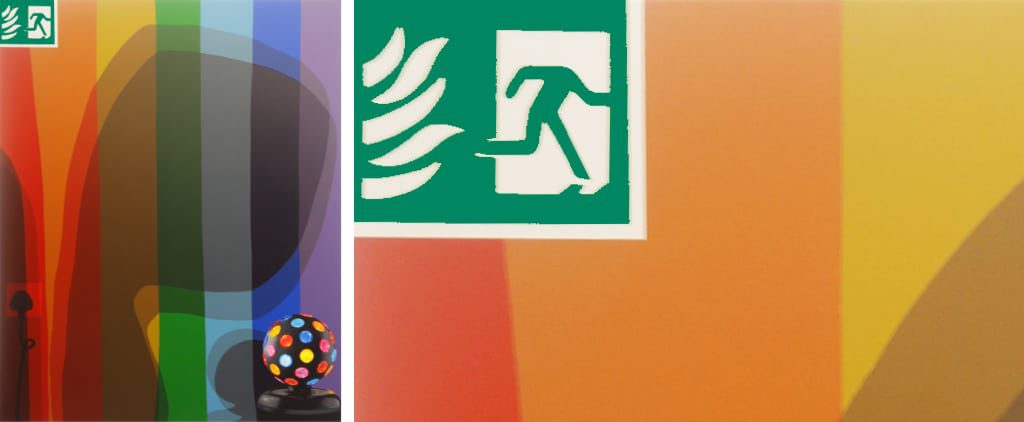 Oli Epp, Invisible, oil, acrylic and spray paint on canvas, 2018, (and detail)
Epp, whose painting we have seen, has one sure foot in abstraction, keeps his observant eye on the detail of life. In this they are both poetic and everyday – like the short lived, but still massively influential, imagist poets of a hundred years ago.
It is hard not to take oneself back to the student halls of residence party when we look at Invisible.
The cheap swirling coloured light feature with its black cable knotting its way up to the wall socket, puts one in mind of the party about to begin. The shadow of the head on the wall signals that this is, as yet, the only presence.
We are at the point when the birthday boy is wondering who or how many will turn up – a sort of excited apprehension.
The room is an institutional communal space, as identified by the emergency exit sign. Amusingly, the fleeing man has lost his head – either scratched out by a sceptical student or this is a joke by Epp, perhaps indicating that the swirling coloured light ball is the removed head.
Certainly, student parties can make the participants feel as though their heads are swirling and full of dizzying light. The multiple shadows give the impression that work with limited resources has been put into glamourizing the room.
The British Racing Green emergency exit sign itself, sits at odds with the rainbow colours of the light filled room. That sign indicates the bureaucracy that artists (and architects) rail against.
It is the victory for an officialdom that can make no sense of an aesthetic demand that the walls should be uncluttered by signs designed to make us safe. Students, at a party, do not want to be safe. They want to be reckless.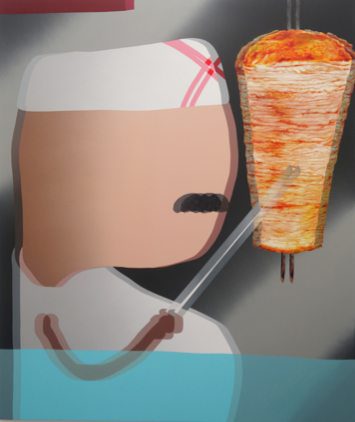 Oli Epp, You Spin me right round, oil, acrylic and spray can on canvas, 2018
 The last painting I shall mention is, You Spin me right round, 2018. Here we have the late-night kebab house with the proprietor or his cousin's son slicing away at the donner. It's gone midnight and the customer is drunk. He's having difficulty focusing but drink begets hunger, and nothing beats a donner on the way home.
These descriptions of narrative worlds we enter once we penetrate the flat non-narrative world of the picture plain are miles away from the hard-edge, Colour Field, minimalist world of high modernism.
They appear more integrated with their observational poetic narrative than do the paintings of Patrick Caulfield, whose work, in its later stages, brought abstraction and realism together. The paintings are intriguing, both as pictures and as abstractions. They are quite lovely.
The show at Semiose is a triumph.
Epp is 24 and graduated from City & Guilds of London Art School with a First Class (Hons) BA in fine art last summer. It is a remarkable start to a promising career.
'Epiphanies' is at Semiose, 54, rue Chapon, 75003 Paris_FR. Email
3/5/2018 – 9/6/2018
Tues – Sat, 11:00 – 19:00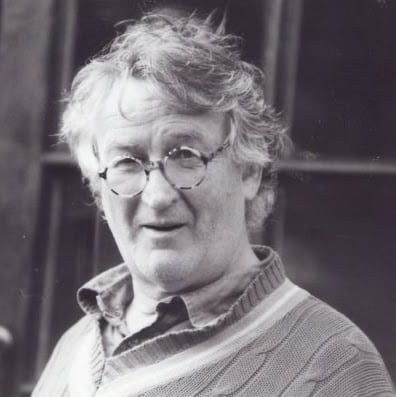 Ed studied painting at the Slade School of Fine Art and later wrote his PhD in Philosophy at UCL. He has written extensively on the visual arts and is presently writing a book on everyday aesthetics. He is an elected member of the International Association of Art Critics (AICA). He taught at University of Westminster and at University of Kent and he continues to make art.