DIY (or Do-It-Yourself) artists are artists working outside of institutional structures, and finding ways to exhibit and sell their works either on an individual basis or as part of an artist-led community. The term first emerged in the 1950s amid the popularisation of amateur home improvement, and later became central to the Punk movement in opposition to mass production and mass culture. Now, in the wake of a global crisis, DIY is having a resurgence. Increasingly, artists are establishing alternative digital and physical exhibition spaces, and finding ways to sell their works directly through social media platforms like Instagram.
Gallery No. 32 was founded by artists Megan Stuart and Kieran Idle in the summer of 2020 to 'provide a safe space for emerging artists to show their work for free' in an anti-elitist environment, and 'to bring back the culture of exchange.'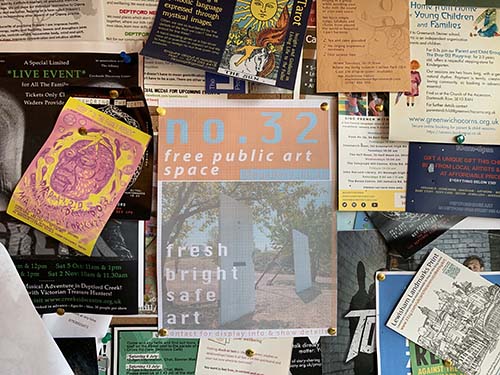 'Today, opportunity is considered to be within the sphere of institutionalism only; working towards a structured job, with structured pay, within the social structure of the workplace,' commented the founders. 'Instead, we are delving both back, and forward into the DIY movement.'
As well as allowing artists more freedom in terms of working formats, these alternative galleries and platforms also provide the public with the opportunity to interact with art in new ways. Gallery No. 32 currently occupies an orchard in Bexley, South East London where the public can wander freely through the exhibition. 'The elitist shadow is removed completely by the lack of roof and walls,' commented the founders. 'So many more people engage.'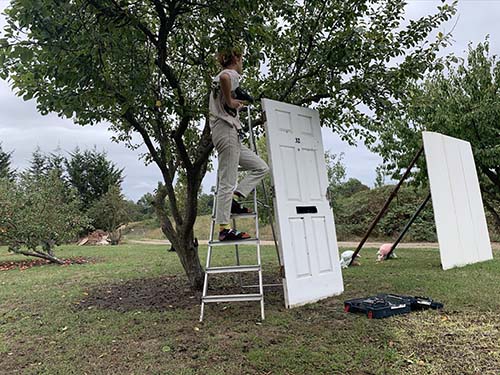 The gallery's name comes from a door which they found abandoned on a demolition site, and which now stands upright in the orchard as a symbolic threshold into a new way of exhibiting and experiencing art. 'We have a bricolage aesthetic, as we are formed from objects found outside houses following the refurb projects that swept the nation during the first lockdown ,' say the founders. 'Before we exhibited our first artist, only the door stood in the orchard, and people often stopped to admire the exhibition of the door.'
This shift away from mainstream institutions has been accelerated by the pandemic and the subsequent closure of galleries, but it comes largely as a response to what Stuart and Idle see as 'the hierarchical system of exchange within the art world, which often prevents the artist having complete right and licence over the work they produce.'
In direct opposition to this system, Gallery No. 32 supports inclusivity and availability to all artists at any stage of their career. The current exhibition WSP32 (Winter Sculpture Park 32) brings together 31 artists who responded to an open call that was publicised on social media, in the local borough, and on CuratorSpace. 'Some [of the artists] have never exhibited, some have exhibited in the likes of MoMA, some are students, some have their own galleries and some rarely make art at all,' say the founders. 'But everyone included is working to get their art seen.'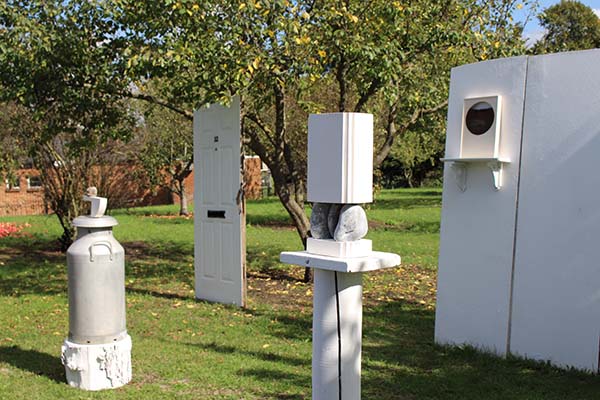 Whilst the idea of a 'free' art exchange can undoubtedly provide a liberating experience for both artists and art audiences, the lack of commercialisation is problematic in its associations with privilege whereby only artists who are financially supported can afford to dedicate time or energy into making and exhibiting work without profit. That said, platforms such as Gallery No.32 – which are founded on a transparent, zero-profit model – are aiming towards the future by focusing on increasing an artist's visibility, which is essential to building a long-standing career.
WSP32 is an ongoing exhibition hosted by Gallery No. 32, Bexley, DA5 3QG. The gallery is currently accepting submissions for solo exhibitions. For more information visit: galleryno32.co.uk or instagram.com/gallery_no.32
All images courtesy of Gallery No. 32.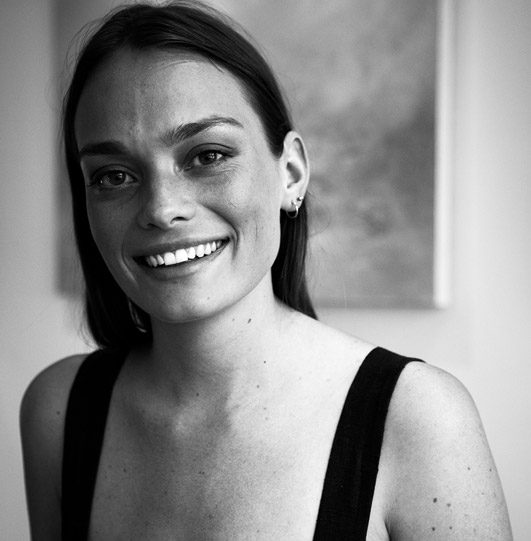 Millie Walton is a London-based art writer and editor. She has contributed a broad range of arts and culture features and interviews to numerous international publications, and collaborated with artists and galleries globally. She also writes fiction and poetry.