[dropcap style="font-size:100px; color:#992211;"]T[/dropcap]he Edible Art Movement, (affectionately known as EAM), is the younger, brasher sibling of the Bloomsbury Group.
It is believed to have been founded in the early 1920s by a group of experimental artists, intellectuals, poets and philosophers drawn together by a shared passion for food and art. Members seek to subvert conventional ideas of what food and art should be, whilst at all times seeking to create incredible artistic works following the motto: "We Art what we Eat". Current members of EAM create participatory installations, experiences and events designed to stimulate all five senses.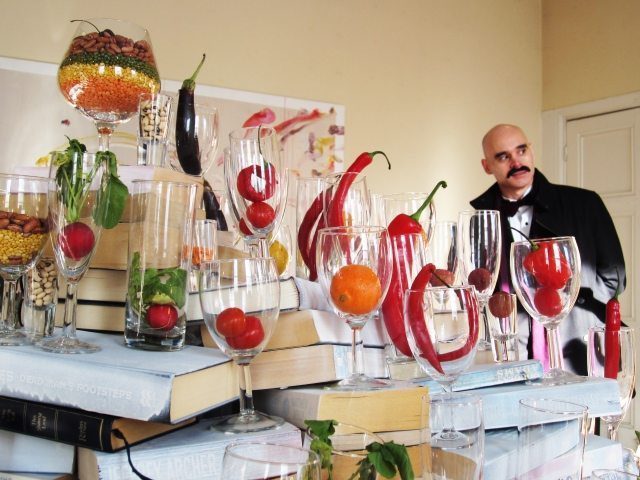 Edible Art Movement installation, by Nicola Anthony.
Artist and Trebuchet contributor Nicola Anthony is currently based in Singapore, where she continues her established association with EAM. Given the location, it is not surprising that the cultural importance of rice as a foodstuff provides the departure point for her most recent collaboration with the group – in which the Edible Art Movement undertake to grow rice in central Singapore.
The site-specific art installation uses the symbolic grid of a traditional farmed rice paddy – delving into historical themes in the context of contemporary art – whilst encouraging creativity to be nurtured alongside the rice.
In addition to the artistic line-up, visitors will fashion their own clay rice bowl. Afterwards, a sprouting rice plant will be planted in their bowl and participants are encouraged to take the entire vessel back for replanting. The bowl will eventually break down into soil and nutrients for the rice growth.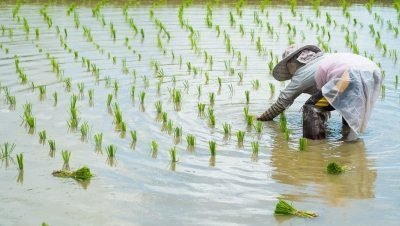 Rice, culture, creativity
Rice and Asia are deeply associated. The first recorded stories of rice come from China, one of the world's oldest civilizations. As humans moved from hunting to an agricultural-based gathering society, the rice paddy became a ritualistic celebration place of community engagement, spiritual and human connection. Singing, dancing, feasting and story-telling mark particular points of the season.
The EAM has always been interested in the ability of food to act as a stimulus to creativity, drawing people together in a celebratory atmosphere – not just around the dinner table but also throughout the growing, cultivating and harvesting process.
Artistic line-up
The installation features exciting names from the emerging contemporary art scene. As with all EAM exhibitions, a talented team of artists comes together to create the artwork collaboratively, and several artists additionally create their own distinct elements within the art installation:
Sculptor Stellah Lim Chii Cze, (previously exhibited at SAM, Chan Hampe and Yavuz among others), will present a series of texts or images to be found inside or emblazoned upon the installation, relating to the farming process of rice and farmers.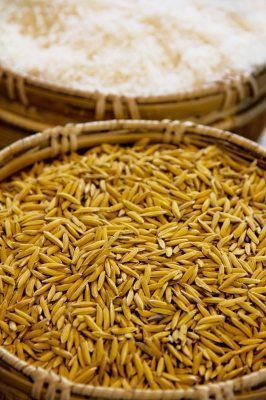 Ceramic artists Steven Low Thia Kwang (Singapore's invited resident artist for the Jakarta Contemporary Ceramics Biennale this year) and Ng Yang Ce will host an interactive demonstration on 30th May, when participating visitors will be guided through the making of their own petite rice bowl.
Jacquelyn Soo will be presenting a community artwork created for Singaporeans to evoke memories of their relationship to local cuisine and to explore ideas of food security, sustainability in the global market.
In conceptualising and growing a paddy field in Singapore, artist Kanchana Gupta has swapped her heavily textured and landscaped oil paint for soil, water and rice. For this, she draws from her childhood nostalgia in rural India where her father is a farmer. Gupta's recent works involve the notion of entropy, the paradigm of decay and transformation. Creating and growing a paddy field in Singapore is an attempt to relive her childhood memories whilst juxtaposing the theme of memory and urban displacement.
National Library Building, Asian Festival of Children's Content, Singapore.
Dates: 30th May ­ 4th June 2014
Photos: freedigitalphotos.net/moggara12, freedigitalphotos.net/ponsulak

Nicola Anthony is a British artist known for her public art around the world. Her text sculptures are made of metal, words, memories and narratives. She has worked internationally with NGOs, art institutions, public spaces and cultural research bodies to create art which tells the stories that are often left unspoken.