[dropcap style="font-size:100px; color:#992211;"]A[/dropcap]
robust sense of humour and a flippant regard to conventional signifiers of personal dignity are prerequisites when called to the theatre. Particularly street theatre.
Rick Allan, one half of Maynard Flip Flap, (also one half of the Tap Dancing Turkeys, full member of 1st Yorkshire Unicycle Display Team and Co-producer of Cabaret Boom Boom) brings a pithy sensibility and a disarmingly candid lucidity to Trebuchet's continuing enquiries into street spectacle.
---
What's the big idea behind your company, what do you aim to do?
Cheer myself and others up a bit.
Do humans have a primal need for theatre?
We all need a laugh.
Is creating a suspension of disbelief more difficult without a fourth (or any) wall?
What I do is ridiculous, disbelief is right there all the time….
What can you offer an audience that a traditional theatre can't?
Direct contact, real happening experiences in an 'unexpected', often urban, location.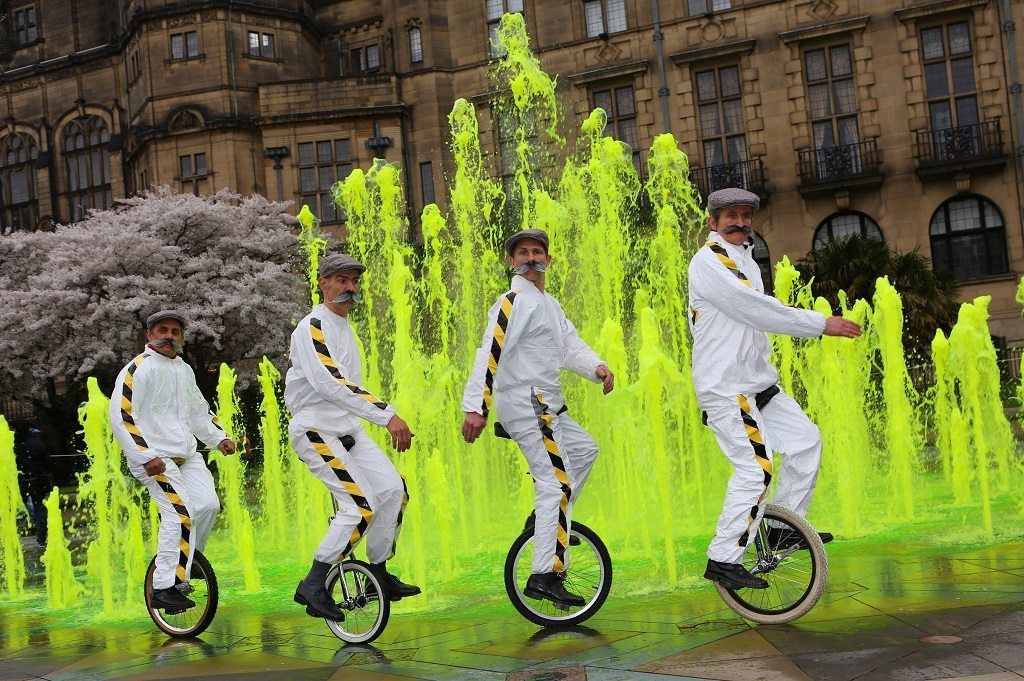 How do local authorities help or hinder what you do?
Lack of events and budgets has made the art of street threatre much harder since 2008.
How do you hold the attention of an audience who can wander off at any point?
I use every trick in the book!
Are you driven mad by audiences fiddling with their phones?
I hadn't noticed, photos are fun to do in a show.
At its purest, street theatre needs only an empty space and an actor. That said, what equipment (lighting, sound, props, etc) has the most impact on the performance?
I use a portable battery powered Roland Street Cube, cordless radio mic, good old fashioned Mini Disc…. Show props are shoes, coathanger, packet of biscuits, box of eggs, plank of wood, a colandar attached to a helmet, some tea towels.
People come to towns for work, shopping, transport, etc. What's your ideal audience?
Anyone willing to give me the time of day… then the fun is to draw them into the audience so they won't even think about leaving.
Are certain locations always better than others?
Of course.
What constraints are there on your work?
I've set my own constraints. I've toured different types of shows over 25 years. These days, just enough props to fit in a bag you don't have to carry. I'm a fan of old style shopping trolleys.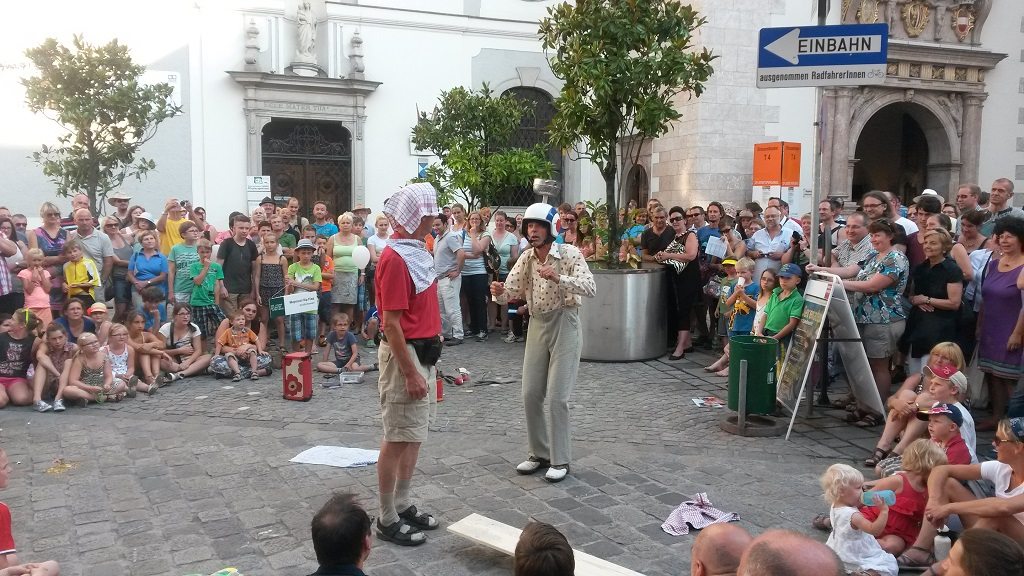 Have you ever had your work stopped by authorities?
Yes
Is there a vetting process before permission to perform is given?
Read more in Issue 3 of Trebuchet magazine, available here.

Sean Keenan used to write. Now he edits, and gets very annoyed about the word 'ethereal'. Likely to bite anyone using the form 'I'm loving….'. Don't start him on the misuse of three-dot ellipses.
Divides his time between mid-Spain and South-West France, like one of those bucktoothed, fur-clad minor-aristocracy ogresses you see in Hello magazine, only without the naff chandeliers.
Twitter: @seaninspain