[dropcap style="font-size:100px;color:#992211;"]M[/dropcap]uch-loved indiegoth dreamboats DESPERATE JOURNALIST returned to the thoroughly frayed musical fray with a  suitably autumnal single called 'Cedars' on November 2nd, it was Steve Lamacq's Livener on BBC 6 Music and the first single from their imminent third album ' In Search Of The Miraculous'.
The second single is 'Satellite'. Like its predecessor it rockets along on the back of Rob Hardy's starstruck guitar – just check that solo! – and a sensationally impassioned vocal delivery from Jo Bevan. In short, 'Satellite' sees the quartet (see also: drummer Caz Hellbent and bassist Simon Drowner) further hone their crushingly sensitive alt.rock sound so it is definitively, defiantly bigger, shinier and more melodic than ever before.
"It's an album about the terrifying beauty of hope, and the excitement of possibility"
The aforementioned third album was released on February 22nd on a playful pawful of formats, including CD, heavyweight vinyl and limited edition coloured vinyl. If the title conveys a sense of wide eyed ambition then the music on 'In Search Of The Miraculous' fits the plot perfectly, featuring ten tracks fizzing with creative passion, giant choruses, heroic solos and poetic intensity. "I liked your favourite band," sighs Bevan at one gently cutting point in 'Jonathan'. Warning: this album contains love songs, anti-love songs and other songs wandering about, lost in an in-between daze. It's a bit complicated. Or in the words of singer Jo….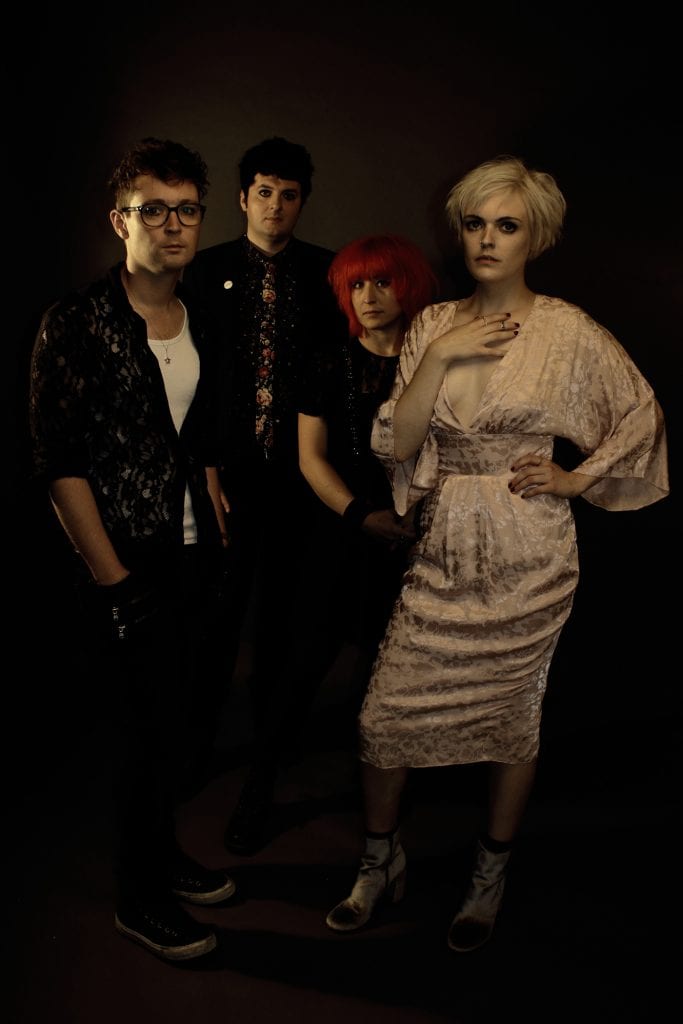 "Because I imbue everything in my life with huge portentous OTT meaning and because I was going through a big new beginning in my personal life which involved a bit of a leap of faith, these ideas particularly resonated with me when we were writing the record (and they still do). When Bas Jan Ader did attempt his trip across the ocean he ended up lost at sea, which was personally tragic but which does in a way give the artwork even more weight – that old idea of the Sublime is (as far as I understand it at least) this elemental perfection of extreme feeling that by definition can't be fully achieved or realised by humans, only by nature – and the way he documented it proved how much of a powerful and brave/naive idea it was for him to pursue. So this is me applying my personal drama and internal feelings to that. "It's an album about the terrifying beauty of hope, and the excitement of possibility. And love. Because it always does come back to that really, if I'm honest."
Last seen in London Town selling out OSLO in the spring of 2018, over the past five years Desperate Journalist have dazzled and delighted all and sundry with two excellent albums – 'Desperate Journalist' and 'Grow Up' – plus two effervescent standalone EPs and a raft of riotously enervating live shows running from The Scala to Stuttgart and back again. Having indiepopped up during the summer supporting The Wedding Present, Desperate Journalist have been on the road since 9th February in Madrid. They still have one London gig left in their eyeliner bag and we suggest you catch them before they leave once more over the ocean waves for European lands and are then held captive in a large black net by Brexit border forces.
5th April – London – The Garage
8th May – Hamburg – Hafenklang
9th May – Cologne – MTC
10th May – Stuttgart – Merlin
11th May – Munster – Gleiss 22
Hold tight, that's not all folks. Fierce Panda are having a birthday so it's celebration time, come on with a short message.
Formed in The Blue Posts pub in the salubrious wilds of Tottenham Court Road by three NME journalists the aim of Fierce Panda Records was pure and simple – to release one single as a tribute to the short sharp shock that was the New Wave Of New Wave scene and call it a day. That day was February 24th 1994, and that record was the 'Shagging In The Streets' EP.
After all, if you intend to be around for a while you don't call yourself as something as seethingly hopeless as Fierce Panda.
Yet somehow, some way, somewhere in summertime, 400+ singles, 124 albums and a stack of precious label t-shirts later fierce panda is unbelievably, unwittingly and quite possibly unwisely turning 25 years old in 2019. Verily ever since the eve of Britpop's birth we have been burrowing away in the underground like wild, forgotten Wombles, chewing away at the coalface of unsigned musical civilisation.
Along the way there have been the pivotal panda single releases by bands with names like Placebo, Kenickie, Idlewild, Keane, Three Colours Red, The Maccabees, Coldplay, Tiger, Boy Kill Boy, The Llama Farmers, Embrace, Hundred Reasons, Scarfo, Ultrasound, The Music, Interpol and, of course, Oas*s.
Then there have been the albums from Death Cab For Cutie (three in total, including the sensational 'Transatlanticism'), The Walkmen ('You & Me'), Art Brut ('Bang, Bang, Rock'n'Roll'), Seafood ('Messenger In The Camp') and The Pains Of Being Pure At Heart and The Raveonettes and Surfer Blood and KaitO and Tom Hickox and Goldheart Assembly and The Crookes and 485C and so many more.
At one particularly perpendicular point a few years back we calculated that 72 acts had moved on from Fierce Panda to bigger labels. And then we stopped counting.
The Blue Posts pub is now a Boots chemist and two of those three NME hacks have long since moved on to live slightly more sensible lives. That's progress. Now, to celebrate turning 25 years old Fierce Panda is…doing nothing. Instead we are inflating the balloons and laying out the iced gems for the frankly excellent third album by Desperate Journalist.

Photographer, published poet, former party animal, body builder, grave robber
to the stars and renowned chainsaw juggler, Carl can often be spotted on his
Harley Davidson pretending to be in Terminator 2. He is also frequently seen in
the press pits of old London town, camera in hand, avoiding being hit by bottles
of wee and crippling his opposition with secret Kung Fu moves.