[dropcap style="font-size:100px; color:#992211;"]T[/dropcap]here has been so much talk in recent years of 'interactive art', 'immersive performance' and 'audience engagement', that it is often easy to proscribe a spoonful of cynicism with your vodka cocktail at gallery spaces proclaiming an all-singing, all-dancing programme of events and exhibitions.
Surely underneath the sunny 'let's make art engaging' exterior there is an overriding intention to simply give the public what it wants in order to sell what is, at the end of the day, a commercial product.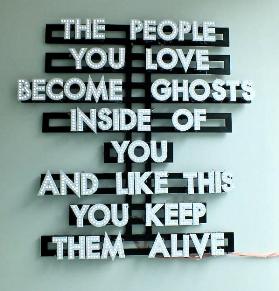 Robert Montgomery: People You Love, Oak, foamex and 12v LEDs (photo: Joshua Vaughn)
Likewise when you encounter the adage of 'established artists alongside up and coming' one often questions the integrity of the curatorial approach.
It is immensely refreshing therefore to discover both of these concepts served with a genuine sincerity and vision to widen the conceptual scope of art beyond the fustiness of didactic criticism and unimaginative display, at the Cob Studios & Gallery.
……….
Cob is the brainchild of award winning playwright Polly Stenham and her best friend from university, Victoria Williams. Initially set up as a place for Stenham and other creatives to write and paint, they quickly realised the installation potential of the space.
[quote]Life in dreams
is magnified, multiplied
and recycled to
form a new visual
language that drifts
in and out of
cognitive understanding[/quote]
For the doors to still be open some two and half years later, in a climate where so many galleries are feeling the recession's jaws, is a feat in itself. Not only this however, but the buzzing productive atmosphere – upon stepping through the doors – is testament to the fact that they have not simply survived they have succeeded.
'It's been blood, sweat and tears', Williams admits, 'but sometimes you just have to go for it'.
'Go for it' they certainly did, with a string of shows that have attracted much media and public attention. Beneath the relaxed and welcoming surface is an exceptionally serious approach to exhibiting high calibre art in an innovative fashion.
Patrons such as James Birsch (a collector renowned as being the first to purchase and exhibit Grayson Perry) have helped in terms of lending some headline grabbing names to the list of exhibitors. However, much of the success has been down to the young women's eye for engaging themes and their novel approaches to curation.
Past shows have included St Martin's graduate Dmitri Galitzine whose installation of photographs submitted by Eddie Stobart lorry spotters had people journeying from all over the country to queue down Camden high street. Likewise, a showcase of the singer Pete Doherty's paintings was the proverbial sell-out thanks to the curators' idea to transform the gallery into a narcissistic portrait of the singer's mind. Williams elaborates:
'We found out he's a compulsive hoarder and has containers and containers packed full of collections of everything from the mundane to the eccentric.
We thought it would be fitting for a display of work that is so psychologically driven to be displayed in its 'natural habitat'. We strung flags across the ceiling and piles of curiosities everywhere….
When Pete saw it he said 'It's just like my bedroom''
Clearly he felt in his natural habitat too.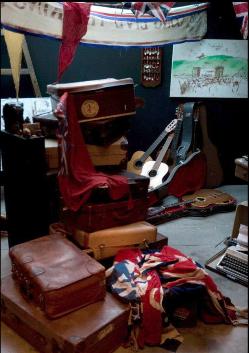 Installation View 'Pete Doherty: On Blood' (Photo: www.gutsforgarters.com)
This immersion into an alternative dimension is pivotal in their latest group show: In Dreams. For this, Cob has been transformed into a surreal labyrinth of interweaving sleep states and spiralling narratives. The show features a huge breadth of work ranging from William Burroughs, Jean Cocteau and Salvador Dali via beat poet Allen Ginsberg and fashion photographer Juergen Teller, alongside new emerging artists such as Nina Fowler and Rebecca Stevenson
In conceiving this looking-glass world, that hosts not only a highly impressive array of art but a seven week 'festival' of dreams, Cob have teamed up with long term collaborators from the 'Guts for Garters' gallery Rachel Chudley and Cassie Beadle.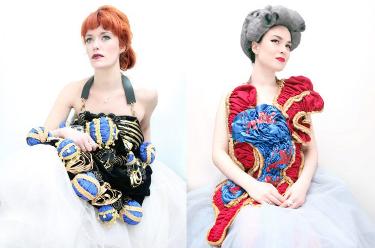 Cassie and Rachel (Photo:www.gutsforgarters.com)
Chudley, who graduated from The Courtauld Institute and has previously worked at Jay Joplin's White Cube shares Williams' sentiments to make shows that are:
'more relevant and lively, that go beyond the white space of the gallery. I think it's reaction on my part to the reverential aura of gallery spaces and the quite prescriptive programme still taught in many art institutions'.
United, Cob and Guts Productions aims to break down the 4th wall to provoke debate and provide a platform upon which new artists find an equally respected voice amongst the established.
'Dreams' is, Rachel and Victoria admit, an expansive theme to tackle. Simply the connection to Freud's quote:
"The interpretation of dreams is the royal road to a knowledge of the unconscious activities of the mind"
is suggestive of the symbology within the dream framework that links us to a collective unconscious. Life in dreams is magnified, multiplied and recycled to form a new visual language that drifts in and out of cognitive understanding. Indeed, the very fact that we dream at all remains an intriguing concept. [quote]Linear meaning flits
between the exhibits
just beyond our
reach and, as we
try and grasp at it,
one dream sparks
another in a kind
of surrealist
performance[/quote]
The curators therefore, decided to not force links between specific artworks and instead asked artists to choose a literary quote and respond to it- an interesting investigation into the unconscious in itself. This text has been hand-typed and displayed alongside the exhibited artwork- in the place of a statement of intent.
Not only does this juxtaposition, which spirals meaning out rather than closing it down, mimic the nature of dreams, but it also pays testimony to the interactive ethos of the gallery and its disregard for the convolutions of 'art speak' that so often render work dogmatic.
This free associative curatorial approach, which unifies work ranging in content from the political to the psychological, allows visitors to form chains of connection and interpretation for themselves. Linear meaning flits between the exhibits just beyond our reach and, as we try and grasp at it, one dream sparks another in a kind of surrealist performance of which we are an intrinsic part.
Amidst these sliding points of connection we are no longer the passive on looker and, the roles of visitor, creator and artist become negotiable. Such fluidity of identity goes someway to embody the idea of the collective unconscious and of shared systems of psychological reference. The preposition 'In' of the show's title suddenly becomes pivotal as we realise that we have been immersed into the process of creativity and that the points of connection in our dreams are part of a more universal reality.
As formal narratives are simultaneously woven and broken, a haunting aura echoes amidst the work which trips from one piece to the next in a kind of surrealist performance.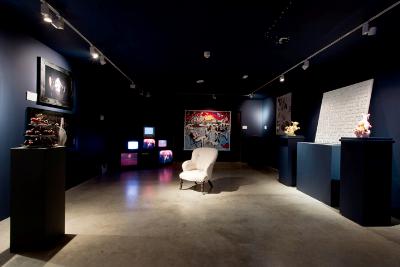 In Dreams Installation View (photo: www.cobgallery.com)
It is fitting in light of this that the first piece you see upon entering the gallery is Robert Montgomery's 'recycled sunlight piece':
"The people you love become ghosts inside of you and like this you keep them alive".
It is a touching poem, rendered in LEDs on a precise and minimal wooden frame, which projects the unblinking words out towards at the viewer. The intense whiteness speaks of sanctity and, it is unsurprising therefore to learn that the piece was made in response to the death of a friend.
The monochromatic tones and touching words belie what is historically the garish medium of advertising. This juxtaposition rescues the work from sentimentality- loss is rather seen as a universal inevitability. The plain typeface and constant glow imprint upon the mind, as haunting as a commercial – a memento mori for the past, present and future.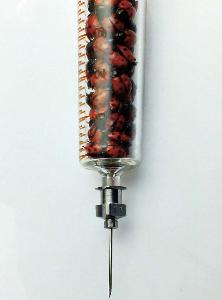 Nancy Fouts: 'Syringe' (photo: Joshua Vaughn)
This sense of unbalance adopts a more overtly surreal quality in the work of Nancy Fouts. Tiny pill packets filled with what, on closer inspection, transpire to be ladybirds are complimented by an imposing portrait of a syringe also filled with the creatures.
Initial reactions of amusement over the novelty are rapidly dispelled by the second look, demanded by the impact of the photograph before you reach the last step of the stairs. Horrifically tactile images of the syringe pressing down upon the insects spring to mind whilst, upstairs, the imagination sends the pills popping.
Symbolism once again impinges upon reality to become a part of lived experience, a trait evident Kate McGuire's 'Sluice' where an ostensibly beautiful wave of pigeon feathers adopts a Hitchcockian abjection as we realise that they are spewing from a drainage pipe, engrained with the detritus of the street.
Disconcertion and the subtle disintegration of barriers between seeming and being, material and concept, conscious and unconscious, the historical and the modern are themes that pervade the rest of the show. We are simultaneously freed into surrealist space and flipped back into reality- wearing different glasses.
Within the final room, which lurks beyond the reach of natural light, Carl Jung's suggestion that the depths of ones dreams accord to the darkness of the shadows that occupy them, appears to resonate. It is here that we encounter Robert Montgomery's Abrahamic 'Woodcut Memories of Blind Milk', steeped in the flashing light of symbolically rife films and in lieu of Neil Fox's apocalyptic mural of the end of the world through the detritus of pop culture.
In this prose piece Montgomery implores us to 'push away all this'- a fitting instruction for a show that lulls us to acknowledge that the very real state of being human, which we so easily forget in the presence of material dreams, is actually the thing that allows us to dream in the first place.
Leaving the gallery, the narratives press to spill out into the streets where, in retrospect, they complement the everyday interactions and hustle and bustle of life. Turning the corner one could swear you'd seen one of Fout's pipes making a break for freedom, or was that just Rachel's pug?
……….
'In Dreams' runs until 27th July 2013 at The Cob Gallery NW1 0SG Wednesday- Saturday 12 – 6pm or by appointment.
Alongside the gallery installation, a pop-up shop on Camden High Street opens on the 4th July, featuring an opportunity to buy rare limited edition prints alongside sleep experiments and investigations into lucid dreaming.
The show will end with a 'Dream Festival' on July 21st, featuring Rachel Snider's performance of 'Camellia and the Rabbit', direct from the 'wow' festival at the Southbank Centre. This will be followed by a magical afternoon tea from Sexton Blake bakery, with violet jam and pink champagne.
For tickets: 02072099110
info@cobgallery.com
rachel@gutsforgarters.com
[button link="http://www.cobgallery.com" newwindow="yes"] Cob Gallery[/button]