[dropcap style="font-size:100px; color:#992211;"]A[/dropcap]s another anniversary of the death of Marc Bolan looms, Universal Music have announced the release a 6 CD Collection, Marc Bolan at the BBC.
This jewel is scheduled for release on August 26th and is described as the most ambitious and complete collection of Marc Bolan's BBC recordings so far, with almost half of the 117 tracks appearing here for the very first time.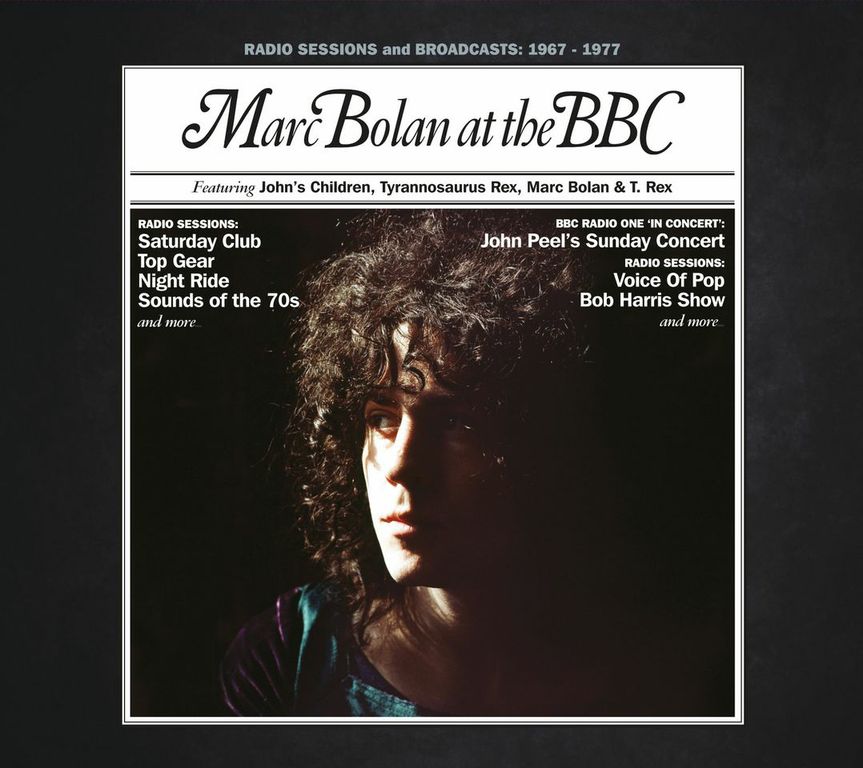 A 2 CD collection, Marc Bolan at the BBC – The Best of the BBC Recordings will be released simultaneously.
Clive Zone has been responsible for researching and compiling Marc Bolan at the BBC and has spent over five years working on this set. Zone is described as the Sherlock Holmes of the Bolan scene and has gained access to collectors' rare reel-to-reel tapes and BBC transcription discs that apparently even the BBC no longer seem to have in their archive.
Zone states that 16 of the Tyrannosaurus Rex tracks are previously unreleased and there are more than 20 previously unreleased T-Rex tracks. Of the interviews, 12 have never been officially released.
A number of the tracks that have previously appeared on the 2007 Bolan At The Beeb box set are now presented in their entirety with some tracks utilising recordings of a superior quality than in the past.
This comprehensive new 6 CD collection benefits by having sleeve notes by Mark Paytress (author of Marc Bolan – A 20th Century Superstar) and by Phil Smee, giving it an historic Radio Times look.
It is promised that Marc Bolan at the BBC will be a feast for the eyes and ears. After all, isn't that what Bolan was?
Bolan was many things to many people: King of the Mods, Elfin Prince, Electric Warrior and the Godfather of Punk. Be it from the modish psychedelic sounds of John's Children, the unassuming gentler Bolan of Tyrannosaurus Rex or the Electric Warrior of T-Rex that encapsulated glam rock in the 1970's and unfurled its sequinned wings over the embryonic days of punk.
Whatever Marc Bolan means to you, there is no doubt whatsoever that Bolan and his music have been, and continue to be, a significant influence on a whole host of artists. Many embraced Bolan, from rockabilly to the aforementioned punk (even bloody Morrissey butchered 'Cosmic Dancer').
[quote]We all used to
fight with each
other but I don't
think we ever
hit Marc. I think it
might have got to
that stage if he'd
carried on with us[/quote]
Later in his career, Bolan liked to champion many new bands via his TV show. One of the more prominent acts during that time was The Buzzcocks. They were due to appear on Bolan's show and were shocked, as were thousands of people by his untimely death in 1977.
Pete Shelley: "I'm unsure why he was into The Buzzcocks. It was basically rock music. He was doing the punk thing and it was what was happening at the time. There was also a tie-in with Martin Rushent who was the engineer on Electric Warrior and Get It On, which were classics".
Steve Diggle: "I think somebody gave Marc a copy of Spiral Scratch and he said 'Yeah, I'm into that man'".
Quite fittingly Universal Music's latest offering begins pretty much where it all began with Jagged Time Lapse, a psychedelic masterpiece from the John's Children era. The taste of John's Children continues with The Perfumed Garden of Gulliver Smith, Daddy Rolling Stone and Hot Rod Mama. The Bolan-penned songs here take on a whole new life, as most people will only be familiar with Marc's post-John's Children versions.
This portion of Bolan's legacy is exited all too quickly and leaves you with the natural desire to hear a cut of Desdemona and Midsummer Night's Scene as CD one moves swiftly on into the gentler and more magical sounds of Tyrannosaurus Rex performing at the BBC.
There have been differing views about Bolan over the years from the John's Children camp. Indeed in an interview some years ago front man Andy Ellison stated, "We had some wild times in John's Children, we dropped some heavy duty LSD back then. We all used to fight with each other but I don't think we ever hit Marc. I think it might have got to that stage if he'd carried on with us. I seem to remember that Marc was a bit of a whiner".
Ellison seemed to think that Bolan had no real ambitions to be a big star, but surely that couldn't have been further from the truth bearing in mind Marc had an ego the size of a house (quite rightly) and was constantly writing and planning his next step. That step was Tyrannosaurus Rex.
Dismissive again, Ellison (who presumably must have been making a buck or two over the years from his association with Bolan) says, "After Marc left, Simon Napier Bell took me to see Tyrannosaurus Rex, it was awful, an awful sound. The place was full of people sitting around burning joss sticks. I don't like any of the Tyrannosaurus Rex stuff".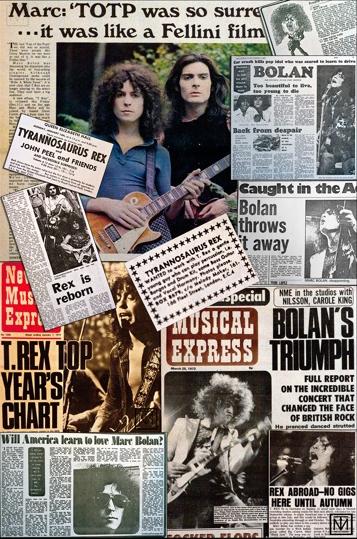 Drummer for John's Children, the late Chris Townson said, "I certainly wouldn't dispute if it wasn't for Marc nobody would know who the hell we were".
On leaving John's Children, Marc said the band was going nowhere: "Even a cat with no whiskers could tell you that", he said.
Whether Andy Ellison liked it or not, many others did and Marc nailed that wonderful hippy otherworldly sound that seemed so perfect for the changing times. CDs one and two give us some lovely fragments from the Tyrannosaurus days with heartfelt and enthusiastic introductions from friend John Peel. Tracks from My People Were Fair And Had Sky In Their Hair But Now They Are Content To Wear Stars On Their Brows (arguably one of the longest titles in history), 'Prophets', 'Seers And Sages The Angel Of The Ages', 'Unicorn' and 'A Beard Of Stars' are presented here together with snippets of Marc reciting selected poems from his book Warlock of Love. (Interesting to note here that this book was published in 1969 selling around 40,000 copies, thus becoming one of Britain's best selling books of poetry.)
You can imagine Bolan holed up in Blenheim Crescent at this time, profusely writing lyrics and poetry whilst working out the chords.
Through CDs one and two, you can hear Bolan's self taught guitar style mature from the John's Children thrashing to something far more delicate and complex. By the time the lizard king became the abbreviated T-Rex and the self-titled album was released in 1970, Bolan's guitar playing took on a wonderful liquidity.
CDs three and four take us on a journey through the transitional phase of Marc's Tolkienesque Tyrannosaurus Rex into the birth of the electric T-Rex and the beginnings of glam, from 'Sun Eye' and 'Elemental Child' into the hook-filled classic chart toppers such as 'Hot Love', 'Ride A White Swan' and 'Jeepster'. Once again, Bolan hit the dawn of the 1970's with exactly the right sound and look.
The T-Rex album is a stunner with classic tracks from 'Mambo Sun' through to 'Rip Off'. Even the great Lux Interior of The Cramps has cited 'Rip Off' as an all-time favourite.
Chris Townson: "On a very slim thing he could capitalise on it. His little guitar licks that he used to do were dead right for the song and that's the talent. It's not whether he can do amazing run downs and all that stuff. It's if he can get two chords and a couple of notes and put that in a song and it sounds good and it sells, that's the talent".
This talent lent itself to Bolan's string of chart topping hits that are heard in their various forms on this unique CD set.
CD number five holds another insightful smattering of interviews as well as key tracks from the very heart of the Glam Rock period. 'Solid Gold Easy Action', '20th Century Boy' and 'Metal Guru' are all here for your listening pleasure. Thankfully a version of 'The Slider' also appears at track 3. On The Slider and Tanx albums you can get a sense of Bolan's direction just starting to change. Both these great albums have tracks well represented here.
Billy Idol, a long term Bolan fan, appeared on the Marc show with Generation X. Marc lent Billy his famous cherry red Les Paul guitar after the band's gear failed to turn up. Billy says he has a healthy Bolan collection and "If I want to 'slide' any day I could". You would need to know the song to understand.
Despite some success with 'Bang A Gong (Get It On)', Bolan couldn't quite break the States.
US born DJ Randall Lee Rose: "Marc never did as well in the States as he did in England. He did all right with Bang A Gong in America but he never created a sensation over there. It was a funny time for music because there were certain British groups that came through during the so-called British invasion period who were actually bigger in America than the UK.
Herman's Hermits and The Dave Clarke Five were bigger in the States than England. Badfinger also were bigger in the US. There were also people who were big in Britain, came over but just couldn't crack it. T-Rex was one of them. The British Glam Rock thing didn't really go down too well in America".
Disc six swings us through 1973 right up to 1977. With girlfriend Gloria Jones now very prevalent in the Bolan mix the direction of the music does indeed change through this period although not necessarily in the way Tanx and The Slider hinted at. Instead of maybe taking a step back and pausing for breath, Bolan pushed on through the 70's with his sequined tailcoat fluttering behind him.
The wonderful 'Teenage Dream' is represented here at track five, perhaps a knowing paean to an end of an era. Bolan does seem to miss his stride and much of what is produced almost has a disco feel to it, not something he is at all suited to. Zinc Alloy And The Hidden Riders Of Tomorrow and Bolan's Zip Gun are a far cry from the previously stated albums despite having a few gems within their grooves, 'Explosive Mouth' and 'New York City' being prime examples and thankfully both on this last disc.
Perhaps Marc had lost that magical touch, fame had taken over, his muse had been dulled with too much wine or time was just moving too fast; who knows?
Billy Idol: "His song writing slumped when he started producing himself. I don't know if that was her (Gloria Jones) fault. Trying to make it in the USA kills a lot of people and bands, i.e. The Sex Pistols".
Marc piled on the pounds during the mid seventies and there were also rumours of health problems.
Lux Interior was reportedly a big fan of Bolan and is quoted in a 1980 interview as saying: "I saw them (T-Rex) in Cleveland where Bolan came on weighing 300 pounds, wearing this batwing costume and beating his guitar with a whip – Holy Shit! I thought, this guy is my IDOL. Driving home, I was singing better than he had onstage, so trying to form a group started to seem natural".
Although it was a nut he couldn't crack, much of Bolan's time seemed to be spent in the States. Bolan returned however in full ultra trim glory in 1977 with a new album, Dandy In The Underworld, a UK tour with The Damned as support and his new ITV show, Marc.
Billy Idol: "Marc was pulling himself back into the limelight but to do it I'm not sure what he was doing to himself. For our first meeting in doing the show (TV) he dramatically lost weight and was knocking back the vino on the set. Whether the effort was affording him happiness I don't know. But it was great to see him on stage at the Rainbow although he seemed a little self conscious and not sure of his audience and reception. Tough position but he was a trier".
Dandy In The Underworld seemed to be more of a foot in the right direction compared to some of Bolan's previous offerings. Embraced by a new generation, there was a hint that Marc was set to walk a new road. Probably the most famous of the Dandy tracks, 'I Love to Boogie' features towards the end of this compilation. The set concludes with 'Celebrate Summer' on the David Hamilton show on 19th August 1977.
Within a month Bolan would be dead.
This 6 CD offering tracks his career and beautifully encapsulates Bolan's time at the BBC. Whether you are just a fan of his pop orientated, hook filled classics or a hardcore Bolanite on a quest for the grail; this well researched and well collated set of interviews, poetry readings and live recordings will undoubtedly have appeal.
Remember, keep a little Marc in your hearts.

Photographer, published poet, former party animal, body builder, grave robber
to the stars and renowned chainsaw juggler, Carl can often be spotted on his
Harley Davidson pretending to be in Terminator 2. He is also frequently seen in
the press pits of old London town, camera in hand, avoiding being hit by bottles
of wee and crippling his opposition with secret Kung Fu moves.