[dropcap style="font-size:100px; color:#992211;"]T[/dropcap]ime to play is a real luxury.
Geraldine Giddings, Senior Producer of Cirque Bijou talks to Trebuchet about the myriad joys, challenges and behind-the-scenes details that are involved in getting a show on the boards. (Or paving stones, seafront promenades, town centre tarmac – as it may be.)
---
What's the big idea behind your company, what do you aim to do?
Cirque Bijou was formed in 1999 with the aim of creating exciting, accessible circus performance enhanced by visual arts, technologies and other art forms. We make large scale spectacles and touring shows that join audiences together in collective wonder, often with an element of participation, a narrative, and always with the highest quality performance.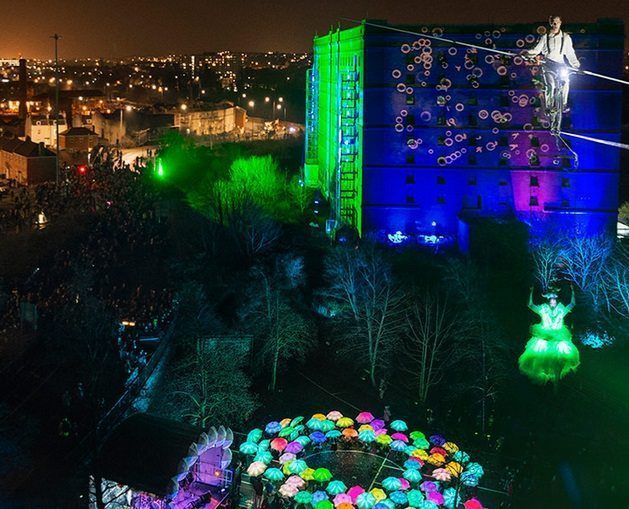 Do humans have a primal need for theatre?
Humans have a primal need to commune and to celebrate, and our shows encourage that.
The sense of wonder that you feel watching a circus artist perform a seemingly superhuman feat erases all boundaries and barriers. We need a bit of this right now! Our company Extraordinary Bodies, which is a partnership project between Cirque Bijou and Diverse City, makes shows with an even split of non-disabled and disabled people. This is still new and seeing a disabled circus artist flying in the air can have a huge impact.
Is creating a suspension of disbelief more difficult without a fourth (or any) wall?
It is different but not more difficult. The audience need to be complicit and work together to suspend their disbelief and come with you on your journey. In many ways the impact on them is greater as they have travelled further emotionally.
What can you offer an audience that a traditional theatre can't?
It's that collective celebration, communing, being part of something. Our work tends to be on a large scale, often with video projections, pyrotechnics, fire or fireworks – in the outdoors all of this is far more impressive, since unexpected.
How do local authorities help or hinder what you do?
We're very lucky to be based in Bristol, where the city council have a very supportive arts team. We receive regular funding and have help to produce work in the city, whether that's finding spaces to work in or partners to work with – they are very helpful and knowledgeable. Although the funding situation is dire nationally, and only getting worse, in general we have had success and support from local authorities across the country.
---
Read more in Issue 3 of Trebuchet magazine, available here.

Sean Keenan used to write. Now he edits, and gets very annoyed about the word 'ethereal'. Likely to bite anyone using the form 'I'm loving….'. Don't start him on the misuse of three-dot ellipses.
Divides his time between mid-Spain and South-West France, like one of those bucktoothed, fur-clad minor-aristocracy ogresses you see in Hello magazine, only without the naff chandeliers.
Twitter: @seaninspain