Another delightful outing by PCO accompanied by a curious video offering.
Press release, record and tour info.
'Handfuls of Night' is the highly anticipated follow-up to Penguin Cafe's much applauded 2017 album 'The Imperfect Sea'. This new LP is inspired by Arthur Jeffes' journey following in the legendary explorer Scott's footsteps, the Antarctic and our penguin friends that reside there.
The captivating new single-shot video for 'Chapter' was filmed in New York on The Roosevelt Island Tramway at Queensboro Bridge. The use of a city that occupies such a massive part of our cultural imagination, particularly on the silver screen, highlights the track's vivid filmic feel, as does its inspired adoption of noir tones.
"'Chapter' is for me one of the big tracks on the album. We got into this mindset where we were creating cinematic story lines for our imaginary penguin protagonists – and this one was a lot of fun to make.
There's a hint of 70's cop-show about the main motif with the double push in the bass line and we got this idea of a hard-boiled detective-penguin, with a leather jacket and a cool car in New York. The video totally goes with that feel for me.
I love the idea of a familiar landscape being gradually moved into an imaginary, almost dreamlike version of itself – and the slow build in the video hit this exact note." Arthur Jeffes

Using gut-stringed violins, viola, cello, bass, percussion, upright and grand pianos, synthesiser, harmonium and more, on 'Handfuls of Night' Arthur Jeffes and his cohorts have crafted a vivid series of breathtaking sonic landscapes, that are as rich in cerebral poignancy as they are in emotional depth.
Bookended by the atmospheric ambient piano pieces 'Winter Sun' and 'Midnight Sun', the album traverses glacial minimalism with ease, featuring their signature contemporary classical panoramas on the melancholic-yet-upbeat lead track 'At the Top of the Hill, They Stood…' and the colossal cinematic piece 'Chapter'. Crystalline folktronica is another element, which is most evident on 'Pythagorus on the Line Again' – a re-visiting and continuation of the Penguin Cafe Orchestra's 1993 Union Cafe song on the principles of harmonics.
'Handfuls of Night' began life after Greenpeace commissioned Jeffes to write four pieces of music corresponding to four breeds of penguins, to help raise awareness for the endangered Antarctic seas. A fundraising evening at EartH in Hackney followed, where Penguin Cafe premiered the four songs named after their feathered counterparts to a sold out audience; the rousing contemporary folk inflected 'Chinstrap', the mournful and minimalistic 'Adelie', stoic and rhythmic 'The Life of an Emperor' and the wistful, string-laden 'Gentoo Origin'.
'Handfuls of Night's' tones, textures and melodies evoke otherworldly expanses, which at different junctures are either foreboding, awe inspiring or peaceful. There's subtly morphing rhythmic repetition throughout, somewhere between minimalism, krautrock and the piano-cascades of label peer Lubomyr Melnyk. Jeffes creates a kinetic, circling motion, which drives the album forward in the form of a musical trip that mirrors the physical journey it was inspired by.
Penguin Cafe was founded by Arthur Jeffes in 2009, after bringing together a talented and disparate group of musicians (including members of Suede and Gorillaz) to perform his father Simon Jeffes' legacy of world-renowned Penguin Cafe Orchestra music, ten years after his untimely death in 1997.
Penguin Cafe's album 'Handfuls of Night' released October 4th on vinyl, CD, download and stream via Erased Tapes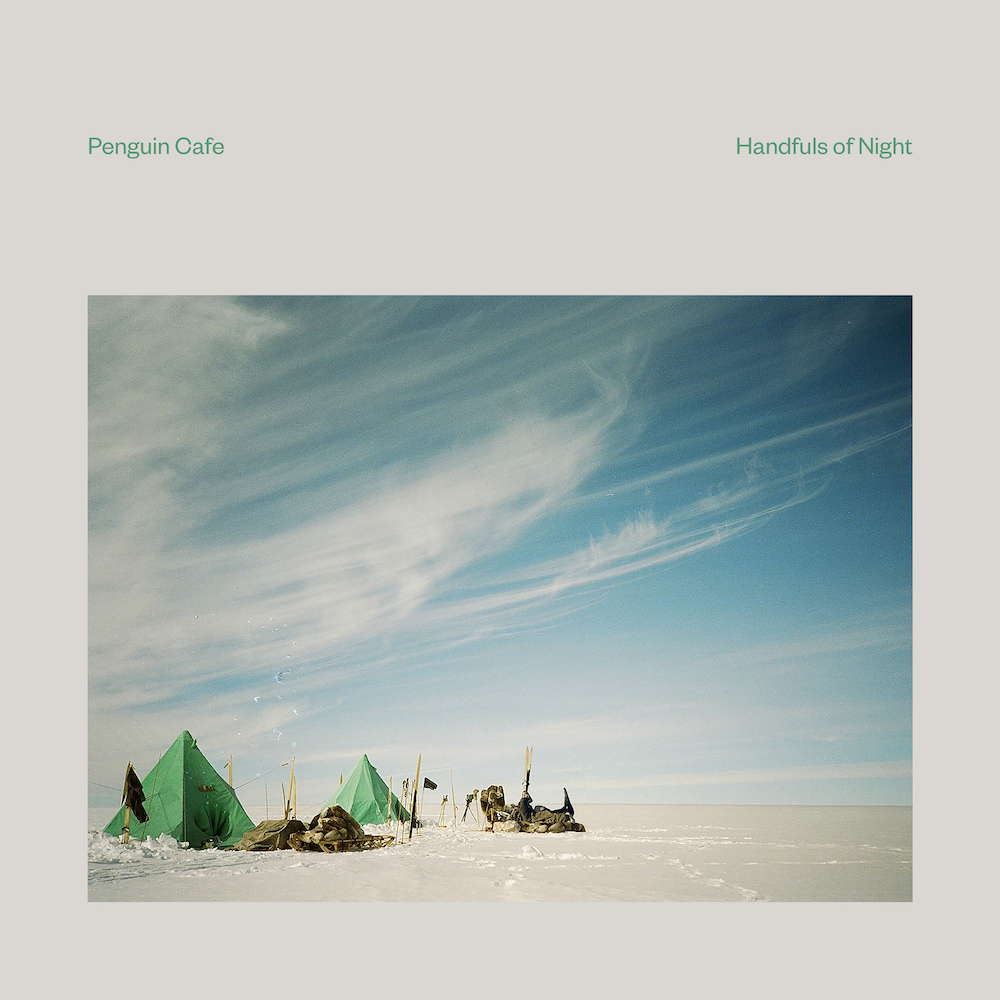 UK live dates:
28.09. Birmingham Town Hall, United Kingdom
29.09. Queens Hall Edinburgh, United Kingdom
30.09. Cambridge Corn Exchange, United Kingdom
01.10. De Montfort Hall, Leicester, United Kingdom
02.10. Queen Elizabeth Hall, London, United Kingdom
03.10. Royal Northern College of Music, Manchester, United Kingdom
05.10. St George's, Bristol, United Kingdom
06.10. St David's Hall, Cardiff, United Kingdom
07.10. National Concert Hall, Dublin, Ireland
Tickets
The aim of art is to represent not the outward appearance of things, but their inward significance. – Aristotle