[dropcap style="font-size:100px; color:#992211;"]S[/dropcap]tripped of distortion, the songs on this semi solo acoustic outing sound like the final graverobbing of a career founded on mixing metaphors and burying classic rock and roll.
Melvins perennial Buzz Osbourne once again unearths past music clichés in a way that makes them feel undead and hungry. The man who inspired 'alt' has a way of making vital, catalysing music from the epic scraps of Kansas, Rush, Sabbath and Zeppelin. Thus, newly-forged, This Machine Kills Artists feels like premonitions of the scavenger work songs of a world in imminent collapse.
Referencing the famous 'This machine Kills Fascists' on folk icon Woody Guthrie's guitar, you'd think that on an album without drums Buzz might be somewhat constrained by maintaining rhythm, however quite the opposite it works to give the songs a ferocious driving energy. Despite the raw acoustic nature of the recordings, it doesn't seem like these are songs are unfinished. They're still nuanced – just abrasively so.
There has always been a wry humour to Melvin's work: I've done this so you don't have to. And as with The Melvins, Buzzo takes obvious melodic guitar progression and twists them. Effortlessly sounding, as a result, like the best demos you never heard from bands that you can almost put your finger on.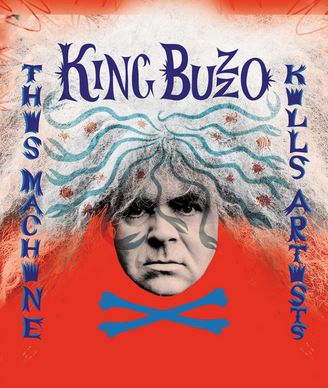 For example: "The vulgar joke", with it's repetitious outro borders on avant garde dirge rock by repeating an atmospheric acoustic sample without ever becoming cliché or boring. It's as though Osbourne decided that acoustic, as he sees it, is in restraint rather than excess, a sipping tequila for a more domesticated reprobate. The occasional use of overdubs emerges at exactly the right time and, never fully expected, brings an urgency uncommon in more laid-back acoustic music.
The album is brimful of ideas, ready for theft, and in many moments of elevation it progresses, developing simpler road-stomping beer jams into screaming disquiet. Like a David Lynch film, the common tropes of beard rock, guns and pickups seem to dissolve into a fog of blood spirituality, possession, murder, bong psychosis and naked confessional. Thence, to drowned duck witchcraft, or maybe just sensual misdirection.
Ever arch, this record is sarcasm, anomie, hatred and a little more misanthropy than a camp grunge icon should be allowed. And yet, why should we bother, darling?
Obviously essential to any Melvins fan. Beyond that. It'll win new fans to the cult band's legions of 'recognisers' because of its unique position within their prolific (almost endless and ever coming) canon. This Machine Kills Artists , more than the other releases from Melv-co this year, is definitely worth the time spent in its strange and inspiring company.
Ipecac Recordings
King Buzzo: This Machine Kills Fascists