[dropcap style="font-size:100px; color:#992211;"]J[/dropcap]eff Waters is one of the most prolific and influential guitarists in the speed, thrash and technical metal genres.
His fluid playing, laser-guided like precise finger work and blistering riff and leads make him someone who is revered amongst both metal heads and metal bands. Therefore, it's no surprise that he is the one constant thing in the band Annihilator.
Formed in the early 80's in Canada, Annihilator blended the popular and growing thrash metal sound with elements of precision in terms of the playing and techniques, and also bits of the pace used in the burgeoning speed metal scene. What resulted from this combination was a kind of thrash and speed metal like no other. With precise, near-perfect leads, classically inspired guitar lines and some phenomenal riffs, Annihilator made themselves known and, due to the unbending will of Jeff Waters, continues to put out top quality release after top quality release.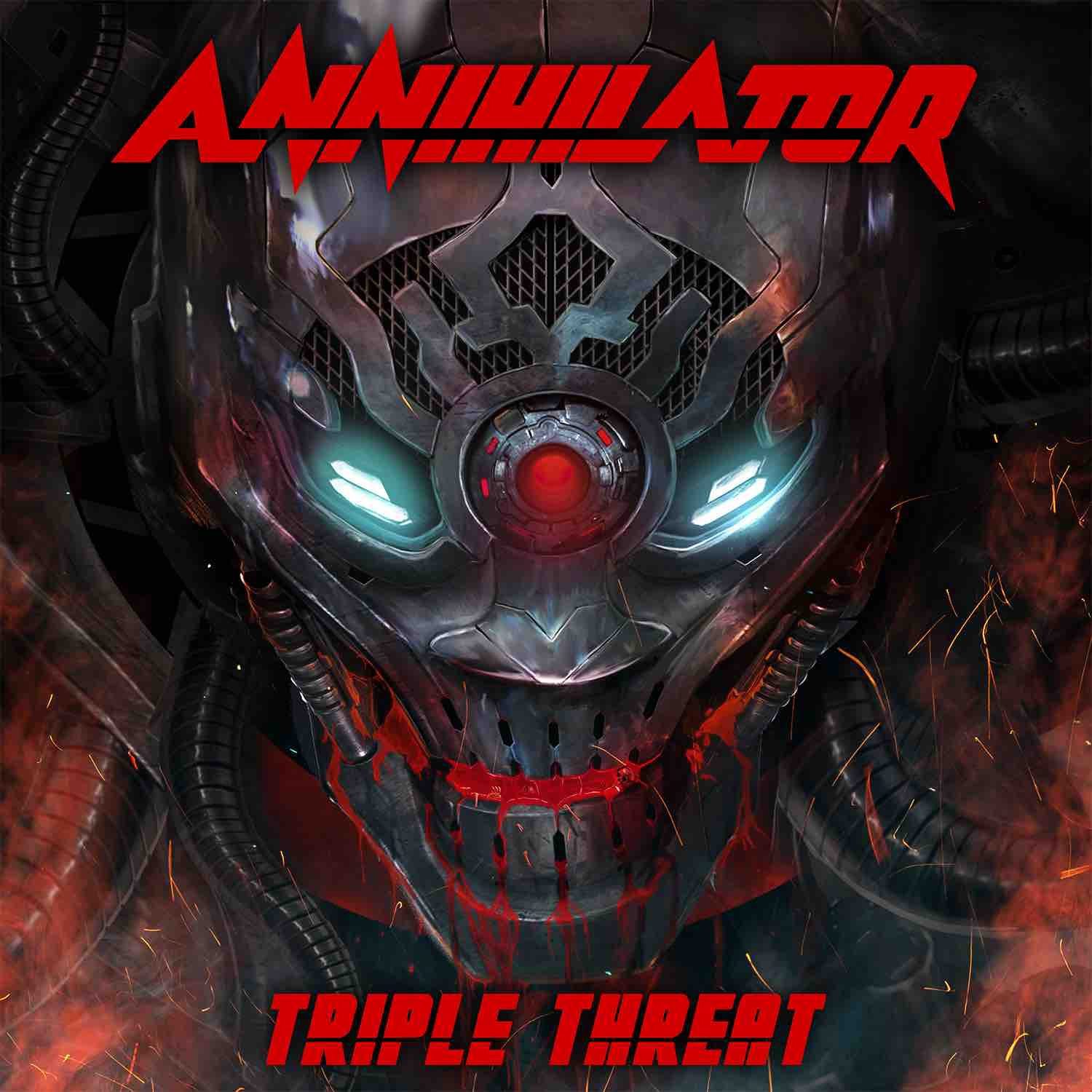 It's a shame they are so criminally overlooked, but hey! That's what I'm here for; it's time to put the spotlight back on them once again.
Triple Threat, the latest release from the band is a delightful package, a visual and audio assault of unparalleled proportions. Consisting of two audio recordings and plenty of video footage, we are treated to an acoustic session from 2016 where the band put a new spin on some old classics, and also a full set from their appearance at 2016's installment of the 'Bang Your Head Festival', again featuring a host of superb displays of musical skill covering a range of tracks from their extensive back catalogue.
Naturally, the DVD component has the same content, plus the usual interviews and so on…. But since I was entrusted only with the audio side, that's all you'll be getting from me folks.
DISC 1: Acoustic Session 2016.
The first thing which is noticeable on this acoustic session is how everything seems to have a dirty rock 'n' roll/ blues vibe to it. With the clean arpeggios ringing out with that bright uplifting tone along with the low droning and warm riff side of things, it's got a captivating feel to it from the off.
'Bad Child' has a real raw bluesy feel to it, topped off with an incredible display of soloing on the acoustic, hitting runs and licks which one would only think are possible on the shred-friendly electric guitar! 'Innocent Eyes' has that ballad-feel to it and the stripping of distortion means the acoustic guitar melodies and vocal harmonies work wonderfully. 'Stonewall', a classic Annihilator track, is delivered with the same intensity as its album counterpart and it stands as a testament to the skill of Waters as he maintains that cutting thrash groove to this politically-charged speed metal classic. The wonderful 'Phoenix Rising' is a song which suits the acoustic approach perfectly, given how on its album version it is predominantly clean electric and acoustic anyway.
The main thing to take home from this acoustic session though, is how the songs keep you hanging on and engaged. Sometimes an acoustic rendition of a track is like a novelty, but this is a totally different game. The ability of the songs to retain their familiarity, but at the same time, have a whole new and fresh spin given to them shows just how talented Annihilator actually are, and if that isn't enough, you get to hear some top quality shredding on an acoustic. Those who have tried to play that fast on a sturdy acoustic will know this isn't an easy feat.
DISC 2: Bang Your Head 2016
Like any live recording, this one has its ups and downs. Whilst the acoustic session was crisp, clear and had some real clarity to it, this live performance is your usual run of the mill affair. You get the crowd noises, the usual stage banter and interactions and overpowering drums, along with the more varied vocal deliveries. That being said, it's still a top quality recording and performance.
Classics like "Set The World On Fire", "WTYD [Welcome To Your Death]" and the legendary "Never, Neverland" really engage the crowd, getting brilliant reactions, plenty of noise and obligatory shouts. The less touched on tracks like "Bliss", "No Way Out" and "Refresh The Demon" are received eagerly and of course, the blistering bombardment of "Alison Hell" into "King Of The Kill" into "Phantasmagoria" closes the set in a fantastic manner.
All throughout, the noticeable aspect of this recording is the fluidity of Waters' guitar work. The blistering pace of his lead runs and the sheer complexity of some of the parts doesn't falter once, it is delivered in such a way that it comes across as second nature and almost effortless. Be it in the upper octaves, ripping through with a superb solo, or the groove laden and fast paced rhythmic assault, one thing which is clear is just how damn good this man is and how damn good his band are.
In all, people may think this is just another 'filler' release whilst the band works on new material, and heck, maybe it is. However, you have to also look at it as this is a compilation of tracks which the band enjoy performing. After all, you have acoustic renditions of some tracks which are primarily heavier and often distorted, and of course, you have the live recording which, in a way, makes this seem like the band's own personal 'Best Of…' compilation.
A must for Annihilator fans and a good introduction for those who wish to hear more from this speed metal institution. For those who doubt them? Well… if you're at any summer festivals this year, Jeff will be bringing his mind-blowing talent to Europe. I recommend checking them out, to experience Annihilator for yourselves.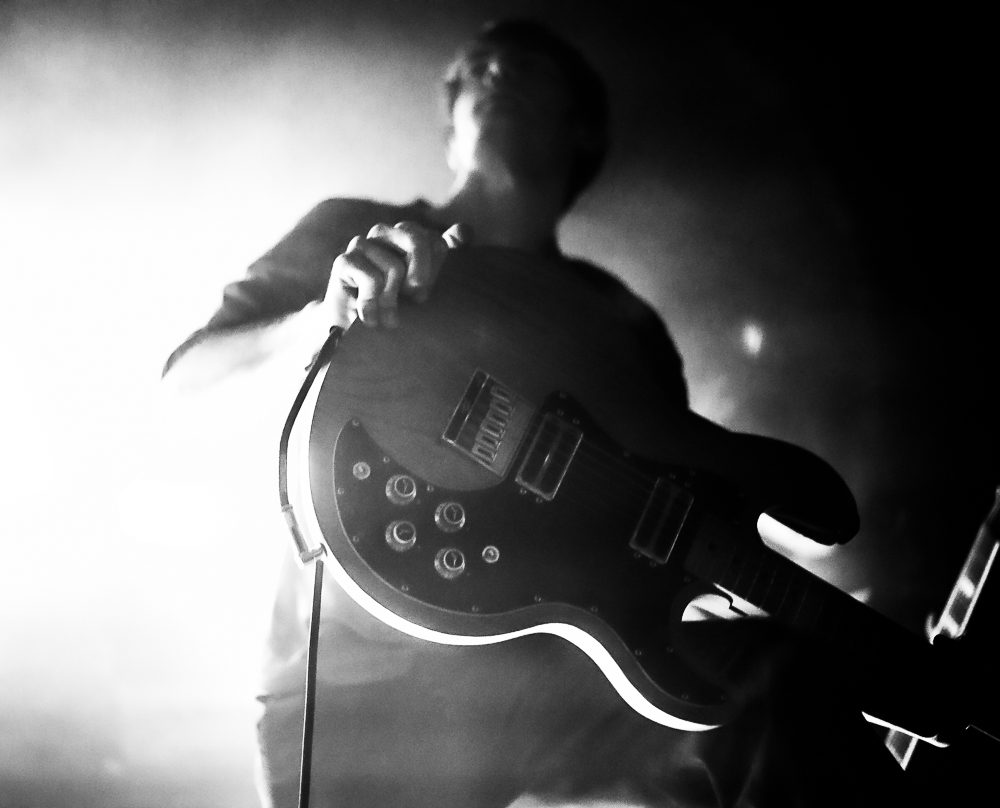 Born in the 80s, grew up with the 90s and confused by the millennial generation, I am Peter, more commonly known as Fraggle (long story, don't ask, details are a little hazy!)
With a degree in biochemistry, an ever growing guitar collection and a job handling medication, things are far different to how I expected them to have turned out, but the one thing which hasn't changed is how important music is in my life—it is one of my main passions, be it playing it, listening to it or attending it and experiencing it in the live setting (the way it is meant to be).
Blessed with a 'proper punk/metal spirit' (quote from Kailas), you will often encounter me at gigs or festivals with a beer firmly clutched in one hand and shirt in the other… Or these days, a pen and notepad too, maybe a camera if needed.