[dropcap style="font-size:100px; color:#992211;"]I[/dropcap]t was a gentle reflective day of pipe smoking and beard stroking at Trebuchet headquarters when a ping from the iPhone interrupted a very thought provoking discussion on Kafka and falafel sausages.
Wildwood Kin are winsome acoustic pop folk siblings recently signed to Sony, go see them, the message read.
In receipt of a Bob Harris emerging artist award and firmly on BBC Radio 2's playlist, Winwood Kin were actually touring with veteran lone star rockers Blue October who were on their second sell-out night at the O2 Islington. An odd pairing you say? Perhaps it was, but it was a pairing that worked weirdly well. Just like Kafka and falafel sausages (discuss).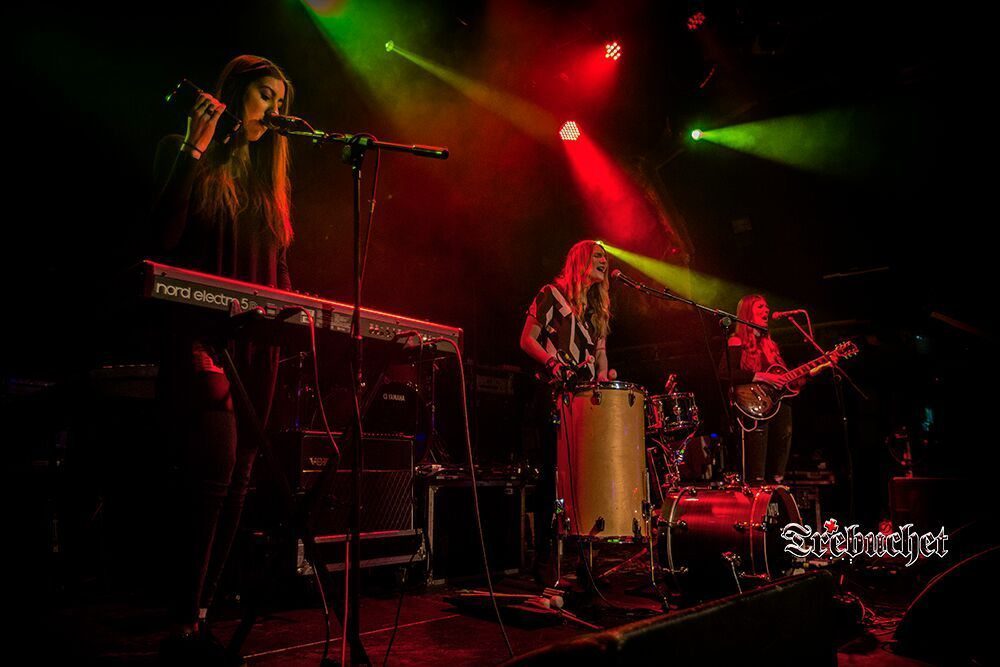 Devon based sisters, Beth and Emillie Key and cousin Meghann Loney mesmerized the eclectic London audience, their unique blend of vocals and instrumentation cut through the frozen sea like an axe. Their voices rose up, linked hands and skipped through the auditorium, perfect certain harmony lighting up faces with perfect happiness.
Here is what Meg had to tell us about the experience.
Meg…
'The last few days with Blue October were the best touring experience we've had so far! The venues and audiences were phenomenal, and we met so many great people. Blue October are awesome and it was amazing to share the stage with such kind and talented guys – we love the vision behind their music and it was an honour to be invited on tour with them. We'll miss it!
This Summer we will be playing a number of UK festival stages and we are excited to be releasing our debut album in August."
Another good reason to look forward to those hazy wildwood days of summer (as well as those charcoal grilled falafel sausages).
Photo by Carl Byron Batson. Not to be reproduced without express prior permission from the photographer.

Photographer, published poet, former party animal, body builder, grave robber
to the stars and renowned chainsaw juggler, Carl can often be spotted on his
Harley Davidson pretending to be in Terminator 2. He is also frequently seen in
the press pits of old London town, camera in hand, avoiding being hit by bottles
of wee and crippling his opposition with secret Kung Fu moves.