Bill Drummond : My Arab Spring – Part Two
This time last year Tunisia and Egypt had already 'liberated' themselves, Gaddafi's days were numbered and the Arab Spring was something being celebrated the world over – except by those few despots who obviously felt threatened.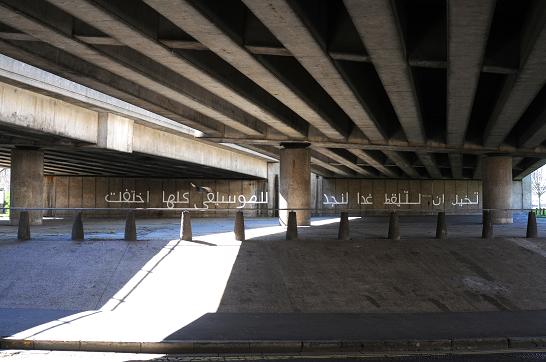 Thus I was feeling good that in early May, I was going to be heading out to Syria and Lebanon to lead performances by The17. This was to be followed a few days later with one in Scotland. These three events were part of a tri-nation festival organised by an Edinburgh based set up called Reel Festivals. The festival was to feature poets, writers, musicians and filmmakers from each of the three countries. I was proud to be representing Scotland.
My youngest son was understandably concerned about me going to the Middle East, when the television news he watched was full of revolution on the streets of the Arab speaking world. The folk at Reel Festival convinced me and in turn I convinced him that Lebanon had done all the tearing itself apart it needed to do in the previous decades and were not about to start doing it again soon. As for Syria, the Assad regime had such an iron grip on its people that they would not dare revolt, and anyway the standard of living for the vast majority of Syrians was high enough that they would not want to jeopardise what they already had.
As for what The17 is, if you do not already know, I will quote you my stock explanation:
The17 is a choir. But a choir that uses different singers (and non singers) every time they perform. And when they do perform there is no audience but the choir themselves. And The17 are never recorded for posterity, so you will never hear them on the radio, or download them off the internet or even buy a record of them. The17 make music that is about time, place and occasion. They also do not use words, rhythm or melody (much). Thus The17 is not for consumer culture. The17 can be vast or extremely small. It can be very frightening; it can also be exquisitely beautiful. The17 have performed 100s of times since first going public in 2006
[quote]you will never
hear them on the radio, or
download them off the internet
or even buy a record of them[/quote]
The performance by The17 I was planning to lead in Damascus was to be of a score entitled SURROUND. This is something that I had successfully led in a number of cities around the world, from Beijing to Port-au-Prince.
To make a performance of SURROUND happen, you first take a map of a city, draw a circle on it, so that in reality the circle would have a circumference of five kilometres. Find 100 locals willing to become members of The17. Place each of these 100 members of The17 at 50-meter intervals around the circumfrence. Once they are all in position, you get the first one to cry out at the top of their voice 'Way-Ho' at his/her clockwise neighbour. The neighbour repeats the cry to his/her clockwise neighbour and so it goes on until the cry has been passed all the way around the 5K circumference, this takes between ten and fifteen minutes.
After this the performance is over. Or the physical aspect of it is, if done properly it will continue in your imagination for years to come. I won't go into how great it feels to take part in this and what its musical qualities are. You will just have to instigate a performance of SURROUND yourself to find out.
By early March, I had got myself a map of Damascus and the 100 Syrian members of The17 had been recruited. The route was not going to follow the perfect five kilometre circumference of a circle, but be around the top of the medieval city walls of Damascus, which are almost bang on 5K. I was very much looking forward to this performance by The17.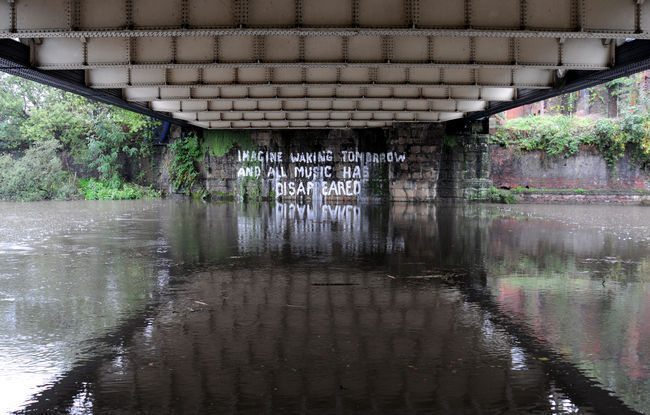 There was also another element to my visit to Damascus that I was more than keen to do. In many cities around the world where The17 have performed, I do a graffiti. This graffiti is always done on or underneath a bridge and it always says the same thing – Imagine Waking Tomorrow & All Music Has Disappeared – but translated into the local language.
[quote]maybe the Syrian
government was more
open minded than we
assumed them to be[/quote]
Permission has never been sought; I always just take the risk. The people at Reel thought that taking the risk in Syria would be beyond foolish, thus they had requested permission from the Syrian Minister of Culture for me to do it. Surprisingly the permission was granted and the Minister even suggested the bridge. I took this as a sign that maybe the Syrian government was more open minded than we assumed them to be.
But by mid March, things were changing fast. Sections of the Syrian population were beginning to take to the streets, making their voices heard. I, like any good Western left leaning liberal, was pleased about this, even if it meant that my ten-year old son was telling me in no uncertain terms that I was not going and my responsibilities as a father were more important than me indulging my artistic whims.
I tried to tell him that Jeremy Bowen's children have to put up with a lot more; he did not accept this argument. He said what Jeremy Bowen does is proper, what I do isn't. As it turned out by the end of March Reel Festivals decided it would best for all concerned if the Syrian leg of the tri-nation festival was postponed for a few weeks or maybe months, when things would have undoubtedly settled down.
The Lebanese and Scottish legs went ahead. In Beirut, as well as getting my first Arabic graffiti done, I met up with numerous of the Syrian poets and filmmakers who had been able to make their escape across the border. The general feeling, at the time, was that with international support from fellow Arab countries, the Syrian people would rise up as one, the army desert and the Assad regime crumble. None of them thought that Bashar al-Assad would turn on his people in the way that his father had done in the '80s.
[quote]I am no closer to
knowing what the
international community
should do[/quote]
The months speed by, a new spring is about to burst upon us, but in that time news out of Syria has continued to go from bad to worse and our feelings about the Arab Spring have become somewhat jaded. On a personal level I am no closer to knowing what the international community, should do but there is only so much wringing my hands can take.
A few weeks back, the folk from Reel Festivals told me that they were planning on doing a version of the belated Damascus leg of the tri-nation festival in London, working with the vibrant Syrian community that are now here as refugees and exiles. They wanted to know if I was up for doing anything. No sooner had they asked and I had the obvious title Damascus in London and was folding out my map of Damascus, then tracing the outline of the city's medieval walls and re-tracing them on top of a map of London. I will instigate the performance of SURROUND that was to happen in Damascus here in London.
I got back onto Reel and presented them with the idea and asked them if they could recruit 100 members of The17 from the Syrian community in London. They said yes.
[quote]Damascus in London
will happen on
Sunday 18th March
come rain or shine[/quote]
This performance of SURROUND in Damascus in London will happen on Sunday 18th March come rain or shine. It will be starting from the steps of the LSE's Middle East Centre around the back of the Aldwych. Tonight I am off out looking for a bridge in London where I can do my Arabic version of the Imagine Waking Tomorrow & All Music Has Disappeared graffiti.
What I am doing may not speed the fall of the Assad regime or save one Syrian life but what do you expect from art?
The17 – http://www.the17.org/home.php
---
SURROUND is presented as part of the four day Reel Music Festival  http://reelmusicfest.tumblr.com/ 2012.

Read Part One of My Arab Spring here : http://www.reelfestivals.org/my-arab-spring/

Scottish artist Bill Drummond (1953) has used various media in his practice including actions, music and words. His actions too numerous to list, some more infamous than others; his music from the multi million selling KLF to the choral music of The17; the words have accumulated into a pile of books. His work of the last twelve years is catalogued at www.penkilnburn.com.