[dropcap style="font-size:100px; color:#992211;"]'W[/dropcap]elcome to the depressing life of Cuthbert, a lonely fish living in a dank corner of a miserable room'
…. So opens the blurb to the show currently running at the Nightingale Performance space in Brighton. Somewhat macabre for a children's puppet show. The audience, however, is noticeably constituted of those whose driving license is no longer green and the production is brought to us by a group whose theatrical accolades are far from 'depressing'.

Annie Brooks describes how a group of Brighton university graduates are using everything from puppetry to food to push the boundaries of art and performance to create theatre that is certainly no Punch and Judy (though you may well see some sausages). Allow her to introduce the world of Colossal Crumbs.
……….
To begin- 'Colossal Crumbs' is an immediately attention grabbing name, I'm interested to know how it came about?
Colossal Crumbs was the title of my degree show. The show used huge, nine foot puppets and also tiny little one-inchers, as well as lots of food. In a process of just writing down all the words that described the work, those two popped out at me! When I started the company in 2009, we toyed around with some other names for a while, but kept calling ourselves Colossal Crumbs. I think the name sums up the spirit of the work, and I haven't got bored of it, so it stuck!
When did the idea to bring illustrated characters to life in such a vibrant theatrical way first occur?
Probably when I drew my first ever face on a banana with a biro. I've always got a lot of pleasure from anthropomorphizing objects, with particular reference to fruit and vegetables, and I really like hearing and telling stories with strange, little characters. I take a lot of inspiration from animated films, namely because when you're watching a non-human character, you have no judgment on their being – they are simplified and charming to us (nonetheless, they can still be incredibly interesting and complex).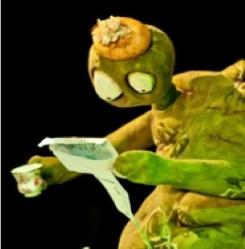 More than anything however, these characters do just make me laugh and that's probably what makes me do it.
Introduce us to the crew….
All of the Crumbs met through the Theatre and Visual Arts course at Brighton University. We are all individual artists who often work together under various guises. The way we have all experienced making theatre is through festival and fringe shows and on little or no budget, so our roles within the company interchange and cross over.
I'm Annie and I'm the Artistic Director. I studied a course at Brighton University which meant that I could play with puppets and I now work freelance making puppets for theatre and am a resident performer with Foul Play Productions, Inconvenient Spoof and Whalley Range All Stars. I have since founded Colossal Crumbs for which I create the characters, write, perform, direct and make the puppets.
[quote]I don't think
that making fun,
silly or childish
stories means that
there's any less
significance to
the work[/quote]
Ulysses Black writes, performs and designs our promotional material, as well as being the puppetry director.
Howard Sivills, another Brighton graduate, is an artist based in England. He has made site-based works for events such as Brighton Fringe Festival, lecture performances and shown work in everything from empty supermarkets to warehouses. He performs and leads art workshops for 'H2oh Entertainment' and is a  puppeteer for Colossal Crumbs-he does a fantastic job bringing puppet arms to life!
Sarah Delmonte also puppeteers with me. She creates some of the wonderful sounds and voices to the show.
Hannah Nicholls is our Producer.  A master puppeteer she has also worked with partners such as SHUNT, Hendricks Gin and The Royal Festival Hall on exhibitions, events and theatrical extravaganzas.
Jack Stigner is an established theatre practitioner who has produced and directed over ten public productions since 2007. He is the artistic Director of FoulPlay Productions, a firm fringe favourite at the Brighton and Edinburgh festivals, FoulPlay. He aims to challenge the audience/performer relationship with daring site specific productions and to enhance their world of play. He is our Dramaturge and all round brilliant creative eye.
Did the characters and storylines occur to you ready formed or were they developed around the individuals who you got on board with Colossal?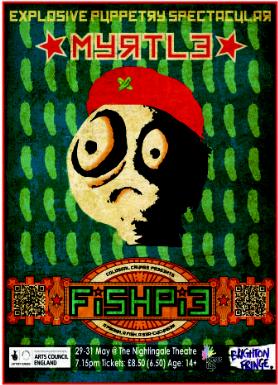 The storylines have developed over time in the devising and writing process, however, the actual characters came very early on. Each character started with a name, a doodle and a little poem and the rest has been a very enjoyable course of development, not just for the storylines, but also my own skills as a maker. (We're now on Ludwig V.4!)
Do you have a specific audience in mind when you develop plots?
To be honest, not really. For me personally, I think a good story transcends age (albeit the content may not be suitable for all) and I try to just write and do what instinctively feels right. Having said that, we market our shows at adults as the shows are not specifically made for children. There is nothing in Fish Pie that is unsuitable for kids, but it is quite macabre. One of my friends is bringing his seven-year old to the show, so we'll get some feedback from her!
The stories, although appealing to children, have a real life focus- is there an end aim to make everyday life more fantastical?
I suppose so, yes. Although they are non-human, the characters are types that we recognize – Myrtle, eccentric lady with a fighting spirit, Ludwig, a pretentious artist with a louche personality and Cuthbert, the loner. They all experience human emotions so it's totally art imitating life. When you're a kid many small occurrences have a great deal of significance that as an adult you don't really get.
The genuine physical feeling of excitement is something I/we seldom get as adults, as we tend to say the words and not feel them. Making theatre gives you the chance to offer a new take on our own experiences of life to hopefully connect with someone else and make them feel good.
Is this what makes them so age-unspecific?
I think so yes. Every age above two or so, can recognize the characters or setting and soak up the other-worldy aesthetic, regardless of whether they understand the joke we've made or the terrible pun we've conjured.
Could you tell me more about the first show and the story towards getting it off the ground?
The original idea started when we were asked to make a ten-minute piece for Forward Theatre Project, a regular night at The Roundhouse. The stimulus was a newspaper article about a pond that was cleared out of all its Carp to be cleaned. So, being a puppeteer, I made a fish and called him Cuthbert. It was really fun to make and it instantly sparked an idea to create two more short stories and make a full-length show.
Cuthbert's story started in a block of flats in Long Pond in Clapham, so it made sense to just move in Ludwig and Myrtle so that they share the same contextual space. I felt intrigued about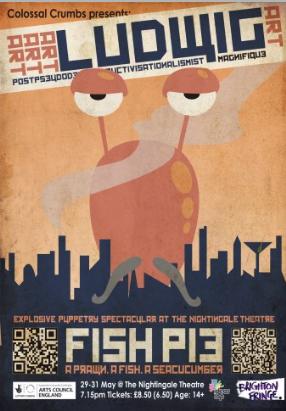 the idea of putting short stories in the theatre. How much time do you need to sympathize and care about a character? I'm quite a fidgety theatre-goer and I wanted to make a show that would keep offering the audience new characters, whilst remaining in the same context.
After The Roundhouse, we developed the show and performed it at Secret Garden Party in 2011 at the Never Ever Land Theatre tent. It seemed to go down well and we really still felt very excited about the characters, so I put in an application to The Arts Council for some development funds, which we received and got to work making the show properly. In 2012 we did a showcase in development, supported by The Nightingale Theatre and this year, we're doing the fully-finished show at Brighton Fringe 2013, with the extremely valued help of The Arts Council, Ideas Tap and The Nightingale Theatre.
And now with Fish Pie – when did the first inspiration for a show about seafood occur and how has it developed from Colossal Crumbs?
The first inspiration for 'sea creatures' (the fish has legs and the prawn is bigger than a shark!) was the stimulus that was given for The Roundhouse night. Although, I have always enjoyed Spongebob Squarepants and sea life is incredibly fun to make! This show is very different to our first. Colossal Crumbs (the show) was a mad, poetic cacophony of big, fat puppets combined with crazy dance routines and gingerbread houses.
It was certainly more niche and a less accessible show because there was no real narrative. My own making and devising skills have improved and the whole company runs more smoothly and productively.
Much of what you do does seem to centre around simply having fun, do you think this is something that you aim to bring across in your work?
Absolutely! Although, as a rule, I never want to be having more fun than the audience – that's very important to me. The reason I got into theatre was because it was the one thing that was guaranteed to give me the giggles, alongside that real buzz when you're making work. I don't think that making fun, silly or childish stories means that there's any less significance to the work, as long as we are still engaging properly with an audience. I am hugely influenced by Monty Python and Jim Henson – and they often epitomize this belief.
What's next for the company in terms of shows this summer and potential new narratives?
We will carry on promoting this show and we will be performing it at Suspense Festival in October. Then we will take it on a small-scale tour in 2014. As for new shows, our next project is about the world beyond the washing machine (mainly because I really want to make loads of big pairs of puppet pants!) I would like to work with some kids on the next project too and get some of their mad ideas on paper!
Fish Pie is currently running at The Nightingale performance space as part of Brighton Fringe: tickets
For further information and news from Colossal Crumbs: http://www.colossalcrumbs.co.uk/