[dropcap style="font-size:100px; color:#992211;"]P[/dropcap]rogressive rock and metal is something which many music fans find daunting or just cannot seem to grasp.
In recent years, with the signing of the now-legendary Dream Theater to Roadrunner Records after their departure from Atlantic back in 2005-2007, more and more people are starting to indulge in the progressive side of rock and metal and many bands are incorporating elements from prog into their approach.
Whilst it may not be the same as the apogee of prog rock in the 60s and 70s, when hallucinogenic-laced creativity ran rampant in bands like Rush, Yes, King Crimson and Genesis and lay the foundations for the next generation of prog, this new renaissance, spearheaded by the likes of Dream Theater, Tool, Devin Townsend and Symphony X has allowed more and more bands to be noticed.
In this rebirth, we have Headspace who, frankly, you can and cannot call a new band. Formed in 2006, Headspace features vocalist Damian Wilson, keyboard player Adam Wakeman, bassist Lee Pomeroy, guitarist Pete Rinaldi and drummer Adam Falkner (who has recently replaced Richard Brook who previously held that role). With a well established musical pedigree behind them all, the band released their debut album in 2012 (I am Anonymous) which was a conceptual album focusing on the individual in its surroundings. This time the progressive unit unleashes All That You Fear Is Gone – another conceptual release, this time about the "conformity and society".
With themes covering current affairs, religion, politics, business, social engagements and the like, it promises to be an enlightening listen. With several tracks clocking in at eight minutes and upwards, there is certainly a lot to experience.
Right off, "The Road To Supremacy" captivates. It's intricate guitar intro with strings backing up and voice samples helps build the atmosphere up before the rich and clean vocals take the spotlight, proving just how good Damian Wilson is. With power, clarity and emotion in his delivery, he draws you in. As the song progresses, it finally picks up at the 1:30 mark when the distortion comes in and the synth tone gets heavier. The track has a very polyrhythmic feel, slipping between signatures with ease. Epic synths and intricate work from the rest of the band creates a soaring feel for a fantastic album opener.
Flowing perfectly on, "Your Life Will Change" keeps up the dramatic and grandiose feel, bringing with it a sense of power courtesy of the modern prog metal sound but with that vision and feel of Rush in their 1970's era. Well voiced and beautifully arranged, it works well. With that political edge to the lyrics a la Queensrÿche, Headspace continue the social analysis with heavy distortion and emotional vocal delivery. Piano sections bring some moments of tranquillity and build up before the heavier sections with the guitar and synth really throwing it down hard.
"Polluted Alcohol" is where it changes up. With an acoustic slide style guitar and vocal intro, the track has a real dirty Mississippi blues feel. With big vocals and rich harmonies, intricate finger picked arpeggios and big slides accompanied by piano, it's got a real laid back feel to it. Later, the piano gives way to a Hammond organ sound, ticking all the boxes for musical delivery!
"Kill You With Kindness" pulls us back to the heavy metal sounding prog approach again with clean piano lines over a thick and pounding distorted, harmonic laden riff. The track is worth a detailed look. Its low register riffery, laced with intricate turnarounds in odd signatures and wailing harmonics, slithers across the solid rhythm section before it brightens up a little for the chorus which has a really big sound. Melodic and uplifiting synths bring the guitar riffs in to mirror it and the vocal delivery is well paced, having everything fit around it nicely. Around the three minute point, it shifts to a clean section, dominated by a slow melodic lead, chant-like backing vocals over bright sounding acoustic guitar based rhythm. This slows the pace, allowing for some string-like synths to back it up, adding an extra touch and another dynamic to the sound and this continues, backing up the narative vocal section before the song reverts back to the chorus and then into a real heavy low register section with synth solo to end.
"The Element" has a gentle, almost serene like intro with gentle ambient synths and a rich chorus laden clean guitar. Vocally it's delivered with softness and clarity, letting you relax and feel the emotion in the lyrics. It's only a transition track however, clocking in at under two minutes, but it flows perfectly into "The Science Within Us". A rich bassline with steady drum beat and slightly off-pace synths brings the track in and it builds from there. Vocals switch from soft to more desperate, the guitar becomes more prominent, building a sense of urgency which seems to increase as it progresses, helped along by some real tension building synths and vocals reminiscent of Plant with some big wails.
Fading out, the urgency goes , the softness returns and it progresses again, slowly but with an oddly bright feel due to the ringing acoustic and rich bassline. Getting more intricate, the piano comes in, the backing synths become a little more grand and the intricacy picks up as it shifts into a heavier, more sinister sounding section which paves the way for a polyrhythmic heavy chug section with harmonized synths taking the lead before an urgent and technically delivered solo rips through it.
By the halfway point, the song repeats the same structure, growing in presence again, getting heavier and complex before the intricate progressive traits of mesmerising leads take focus and the ending gets heavier and more complex. Whilst fascinating and superbly arranged, it is a struggle to keep interested in at times, and this comes from someone who enjoys the long prog-opus tracks!
"Semaphore" has a cutting metallic pace to it with some real frantic piano solos in the intro before it stays in a modern-prog metal sound. With lower register vocals compared to the previous tracks over a precisely timed riff, the verse goes right into a faster, more intense and frantic section with galloping, shifting rhythm section work and blistering synth solos similar to those of Dream Theater. Calming into a soft vocal and piano section, it soon slips back to the more metal sounding approach and soon enough, we're greeted with a blistering guitar solo and vocal outro which sounds like controlled chaos.
"The Death Bell" has a rather orchestral introduction with the piano, synth and strings all giving a slightly dark feel to some bright sounding lyrics and once again, this sub-two minute track is a transition one. "The Day That You Return" has a beautiful sounding clean arpeggio intro with some rich fretless bass sounds and harmonics ringing out under the haunting vocals. Coming to life near the 1:20 point, it hits with some mighty distortion and epic synths to create a massive sound and the vocals have a bit of weight to them. Bringing in the intricate and off-pace mini lead, the track keeps this massive and epic sound, driving on with a pounding rhythm section and whilst it seems like it might calm, it doesn't. It stays loud and full sounding to the end.
Title track, "All That You Fear Is Gone" has a beautiful acoustic solo to bring it in which has a flamenco flair to it before the synths come in. In the verses the vocals are delivered softly yet again with some big choir backing to them, giving the track a massive sound despite being rather minimalistic in its approach. The piano and synths really make this one sound bright despite its slow and possibly sorrowful content before another intricate acoustic flamenco styled section comes back in. Building once more, it goes through the big piano and synth led verses and the acoustics creep in again towards the end. If this were delivered in the live setting, it would definitely be a lighters in the air moment!
"Borders And Days" opens with a ringing style percussive instrument, possibly a glockenspiel or xylophone patch on the synth, which is something rarely used and makes for a nice touch with the emotional delivery of the vocals. Coming in just after a minute, the acoustic guitars are joined by a simple repeating lead melody which really adds so much depth and creates a beautiful sound. Soft vocals, positive feeling and bright sounding, given the social analysis of in the lyrics of earlier tracks on the album, its a welcome shift in direction, theme-wise. With a rich bassline joining in the number, its much like the previous track: happy, bright and relaxed.
Closing the album is the 10 minute plus epic, "Secular Souls". Opening with some choir effects and narrative vocals pertaining to the 'last days of Christ', there are no points for guessing the theme of this track. With the heavy Christian symbolism prevalent over the grandiose choir effects and piano, it kicks in with a real big vocal wail and cutting guitars, which does make a welcome change after the past few relaxing tracks. Thick with distortion and a slightly despairing theme, it's definitely an epic. Full sounding, layer upon layer building a vast sonic landscape, it slips between building, heavy and melodic with minimal fuss.
Around the halfway point it gets heavier, taking on an almost chaotic element in parts with the descending riffs into a heavy, polyrhythmic section again bringing a feel of Dream Theater. Calming again, it repeats the same pattern of building up to a high energy end section with a sense of power, urgency and flair to cap off a well-composed album.
Overall, Headspace have created a fantastic piece of music. It will appeal to progressive rock and metal fans who like both the older style and the current one, whilst maintaining a unique sound which makes them identifiable in the genre. The downside is that there isn't any way you could just listen to the odd track, it has to be experienced in its entirety for the full effect to be experienced. Granted, this is usually a prerequisite for any concept album, but some are less immersive than others.
Clocking in at nearly 73 minutes, All That You Fear is Gone does take commitment and, at times, it can feel too drawn out. The payoff though, is worth it.
On release February 26th 2016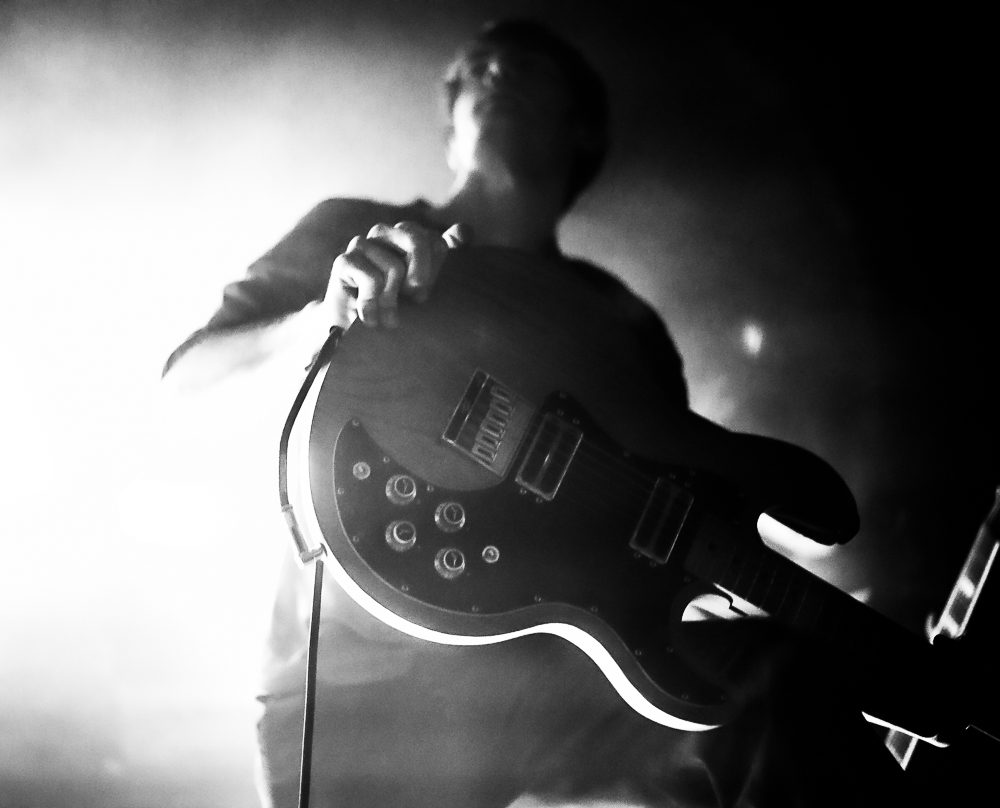 Born in the 80s, grew up with the 90s and confused by the millennial generation, I am Peter, more commonly known as Fraggle (long story, don't ask, details are a little hazy!)
With a degree in biochemistry, an ever growing guitar collection and a job handling medication, things are far different to how I expected them to have turned out, but the one thing which hasn't changed is how important music is in my life—it is one of my main passions, be it playing it, listening to it or attending it and experiencing it in the live setting (the way it is meant to be).
Blessed with a 'proper punk/metal spirit' (quote from Kailas), you will often encounter me at gigs or festivals with a beer firmly clutched in one hand and shirt in the other… Or these days, a pen and notepad too, maybe a camera if needed.