[dropcap style="font-size:100px; color:#992211;"]T[/dropcap]ate Modern is now exhibiting the largest retrospective collection of Alberto Giacometti's works in the UK for the first time in 20 years, working in collaboration with the Fondation Alberto et Annette Giacometti.
The wide-raging exhibition in terms of materials, media and style takes us through Giacometti's ever-transforming career with over 250 works, some of which have never been displayed to the public before. The rooms are organised progressively in chronological phases from his early collaborative interior design work to his later cubist and surrealist styles. His notebooks and sketchbooks guide us through the variety of influences that led to his most famous and recognisable sculptures; the powerful yet fragile elongated figures.
Giacometti's early realist busts, which can be found in the first room of the exhibition, accurately depict his models yet lack the deeper meaning he searched for. Throughout his development as a painter and sculptor, a quest for deep existentialist reflections are represented through the obsessively repetitive stretched figures. As we walk through decaying busts and bodies, the most prevalent influence is rooted at the origins of cubism. Tribal African and ancient Egyptian art is very much present in his work. Giacometti refers directly to these influences in his sketches of busts and totems over magazines containing visual research of ancient civilisations. The sculptures themselves hold an archeological quality, almost as if they had been retrieved from the excavation of these ancient civilisations he is so interested in.
The collection contains an immense amount of these thin twig-like figures, that rather than depict the human skeleton itself reflect a darker internal strife. Giacometti argued he was not sculpting the model sitting in front of him but rather "the shadow that is cast". These range from forms shorter than a couple of inches to larger-than-human statues. Through the alteration of scale and space, Giacometti plays with the human perception. He is interested in how tiny sculptures operate in a large room, sometimes filling spaces with anti-heroic pieces whilst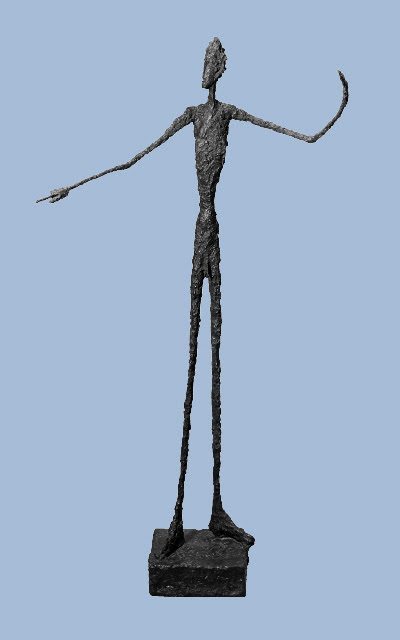 still maintaining a strong presence.
"I wanted to make a sculpture of this woman as I had once seen her some distance away on the street"
The minuscule pieces take an existentialist perspective, making us reflect on the grandeur of the universe through the contrasting microscopic quality of the individual.
The tall isolated figures have been interpreted as embodying human anxieties and alienation. They carry the heavy post-war consciousness and trauma, with an emphasis in death as consequence of witnessing the death of his friend at a young age. The transition from living to dead is metaphorically present in the immortalisation of his models into sculptures. His desire to instil movement in his sculptures is seen originally in a more literal way when he worked with moving sculptures and later more subtly through the moving-like yet static figures. The transformation from a model to a structural corpse is displayed as a process that is both tetric and unsettling.
The subjects depicted are recurrent throughout the exhibition; his brother Diego, his wife Annette, and late in his life his mistress Caroline. The reworking of these familiar faces over and over, both from memory as well as modelling led to close familiarisation that allowed him to become an expert and therefore play with the model's narrower forms and intricate features. These figures often blend into each other as he explores the duality between woman and man as well as race through the creation of ambiguous forms that cannot be historically or geographically placed. These abstract human forms at points challenge the limits of how much information the human eye needs to be given in order to identify a human figure. Sometimes long elongated sticks, practically limbless and verging on the abstract automatically remind us of the human form.
Although Giacometti's work is well-known, the show offers insight into his process and influences as well as biographical facts that shaped his work. Through videos of him at work and photographs of his studios and life, the exhibition is a retrospective not only of his work but of Giacometti himself. The work further resonates with contemporary art and current issues with human's bodily perspectives. The emaciated figures with arms oddly bending inwards unavoidably recall ideas of body dysmorphia and psychological disorders, questioning us how we see ourselves and others. The timelessness of the emotionally charged sculptures is due to the androgynous and racial blankness that allows us to project our own physical and psychological strains in a society of ever-developing and transforming traumas.
Tate Modern, 10 May – 10 September 2017

Image: Alberto Giacometti 1901-1966, Man Pointing 1947, bronze sculpture, Tate, purchased 1949. © The Estate of Alberto Giacometti (Fondation Giacometti, Paris and ADAGP, Paris), licensed in the UK by ACS and DACS, London 2017

Born in Barcelona and based in London, Anna writes about art, techno and psychogeography. She is also a lover of film photography and is slowly building an Olympus camera collection.