[dropcap style="font-size:100px; color:#992211;"]D[/dropcap]ub reggae, the real thing – djembes, melodicas, hi-hat relays and vocal loops.
African Head Charge squeeze into the 100 Club in July. We suggest you do the same.
---
Co-founded by the legendary underground producer Adrian Sherwood, African Head Charge is a globally-acclaimed, pioneering dub-reggae ensemble led by original co-founder, master percussionist and royal rastaman, Bonjo Iyabhinghi Noah.
Pulsating with tribal drumbeats and chanting from the soul of Africa, African Head Charge fuse together primal rhythms with heavy psychedelic dub, roots reggae and 21st century electronica. Formed originally as a studio project in 1981, the London-based collective has gone on to achieve semi-legendary cult status, creating 13 albums and gracing stages across the world, from Australia and New Zealand to Glastonbury music festival.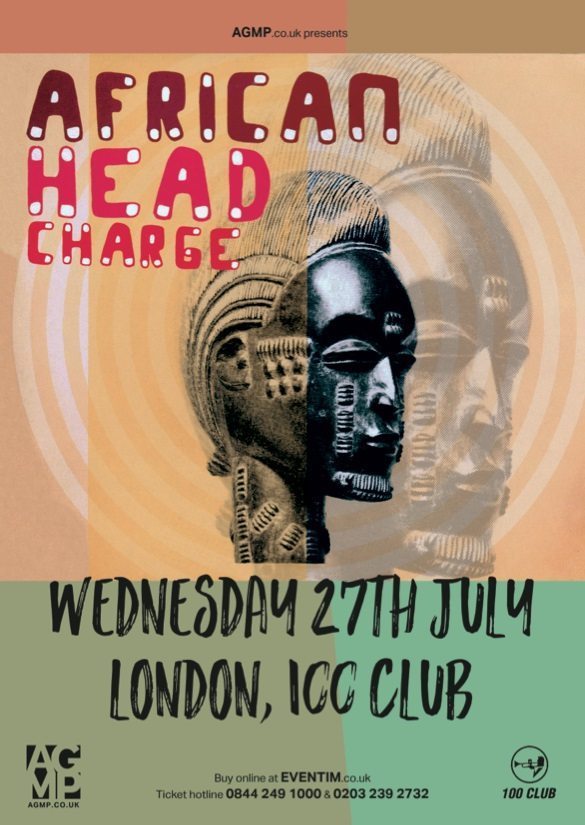 Their epic live show features a line-up of 6-8 world-star performers, fusing together djembes, guitars, drums, keys and vocals with heavy electronic sampling. The collective use this blend of live and electronica to generate an intoxicating soundscape of reggae-inflected drumming, visceral vocals and bottomless, thrumming bass-lines that truly reach to the heart of your being.
The aim of art is to represent not the outward appearance of things, but their inward significance. – Aristotle