[dropcap style="font-size:100px; color:#992211;"]N[/dropcap]othing in the truncated pentameter of Sonny Lanegan's name suggests industrial rock of the ilk favoured by kohl-eyed boys in zips and combovers.
Dreadnought-plucking folk crooners with glossy pelts and Mormon dentistry haunting the manicured acacia groves of Laurel Canyon spring more readily to mind, yet the real Sonny Lanegan's music and schtick belong lower down in the grubbier dives of Sunset Strip, if not further east in some faceless Newark warehouse complex. To narrow the address down more accurately would involve some TARDIS work, perhaps to somewhere in the general region of 1990.
Lanegan's Coma EP is not all evocative of Nine Inch Nails, Marylin Manson, Garys Clail and Numan or Zodiac Mindwarp, but it comes within a Dave Gahan eyelash-width of it. Nevertheless, the EP is rich and immersive, if desperately pleading for live drums (or at least a more robust soundbank of beats and whatnots). It's a lot of sound for one man to make, and makes a damned good fist of maintaining a focal point of groove throughout a series of songs which certainly don't lack in dynamics or detail.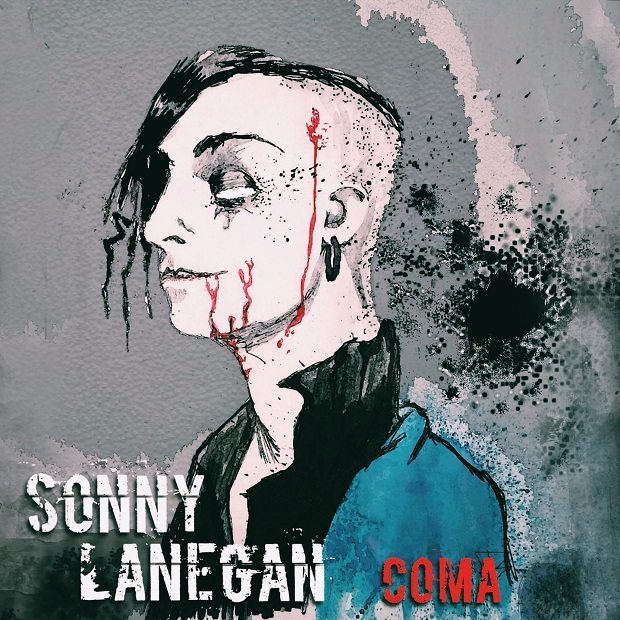 There is the nagging concern though, that what sounded grandiose and majestic in the 48-track constrictions of pre-millenium studio mixing does, in 2016, sometimes sound a little like indulgent laptop-bothering. And frankly, there's almost certainly a 'distopian angst of a hopeless post-enviro tribal streetgang meaningless sex and pharmaceuticals just hug me please' Logic filter to do it all for you now (and you don't even need to own a soldering iron). Grainy nihilist post-industrial groove vignettes ain't what they used to be, daddio.
Opening track 'And No One Ever Gave a Fuck' pleases most on its outro, a rhythmic minute or so of simple keyboard melody playing over the metalcore staple of reverse-tracked percussion. After the preceding kitchen sink's worth of processed vocals and square-waved riffs, it's a pleasant mood change hinting at a more imaginative musician than Coma suggests for the larger part of its industrial-by-numbers length.
'Down and Dirty' comes as something of a letdown, combining shock-rock with tech-house in a combo which sounded dated and forced even when Marylin Manson was peddling it to Midwest pre-teens in the MTV era. There is more juice to the succeeding track 'Loaded and Crooked', with it's repeated line 'Scary thoughts in the dark' signposting the general vibe of entry-level gothic introspection on the release (albeit set against some double time riff and shred liable to induce a certain stompy energy in the listener).
The cheekily-titled 'Love Will Never Die if you Spice it Up With Narcotics' boasts some very compelling song dynamics once past the cheesy 'community-college-professor-explains-drugs vocal samples and into the deliberately off-key lairy chorus which is pleasantly reminiscent of Angel Dust era Faith No More. There is something of that same aspect to the chorus of 'Foreplay', as well as to the song's key-swells and overdriven solos. The piledriver whomp of a compressed 4/4 beat though, whilst suggestive of the track's title, overwhelms the composition somewhat.
Best until last, 'What If' showcases Lanegan's undeniable talent for song dynamics, plotting a palpable groove through a soundscape of toplines and heavily processed beats which would, in less capable hands, disintegrate into a mush of competing frequencies.
In concept and atmosphere Coma achieves little that is particularly original or untravelled, but then, little does in the post-Napster musical landscape. If certain pre-chorus keychanges or chops veer more towards Blink 182 than Front 242, that may well be a fair price to pay for what is an uncommonly ambitious release from a musician who may well develop his knack for compelling pace-changes, driving grooves and distinct (albeit well-worn) atmospherics. With a dash of compositional confidence and a more original soundbank, Sonny Lanegan may become a name to watch on future releases.
Unless he discovers Ministry in the interim, in which case, all is lost.
[button link="https://soundcloud.com/sonny-lanegan" newwindow="yes"] Sonny Lanegan, Soundcloud[/button]

Sean Keenan used to write. Now he edits, and gets very annoyed about the word 'ethereal'. Likely to bite anyone using the form 'I'm loving….'. Don't start him on the misuse of three-dot ellipses.
Divides his time between mid-Spain and South-West France, like one of those bucktoothed, fur-clad minor-aristocracy ogresses you see in Hello magazine, only without the naff chandeliers.
Twitter: @seaninspain