[dropcap style="font-size:100px; color:#992211;"]U[/dropcap]pstairs or downstairs? Always a brain teaser at The Garage. A bit like pissing in the sink or trudging up to the bathroom.
Well Trebuchet decided not to risk the upstairs dash but instead opted for the downstairs convenience, after all that's where all the kids were.
Even from our reserved parking spot at the courthouse (where I'm sure many of tonight's crowd will soon be acquainted with) there was an unmistakable aroma of primo bud on the breeze. By the time we got to the box office for our passes the smell of skunk was thick in the air (I'm not a fan of this particular plant).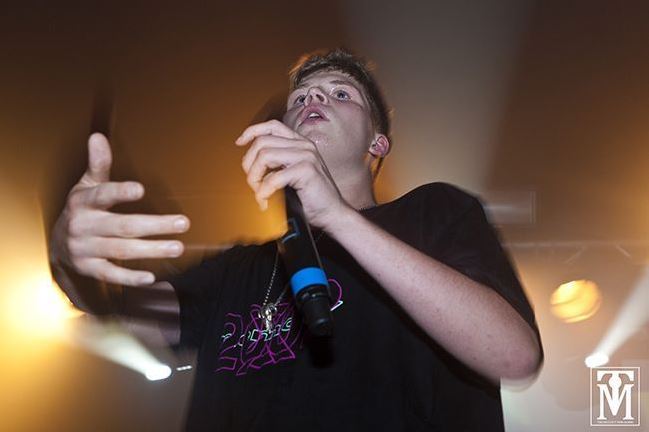 Inside, The Garage was heaving with groups of bad boys and girls with wannabe gangster attitudes, reeking of weed and oozing hormones from every pore. On the plus side, there wasn't a Shoreditch beard in sight (you can't grow them at that age).
No band here tonight, just an array of Traktor decks and laptops (I recommend the Traktor S4 incidentally). Even with this minimal stage setup Yung Lean was running well over twenty minutes late on stage time and the crowd were getting agitated, very hot and very thirsty. They surged forward with such force at one point the safety barriers started sliding stage side, the natives were indeed restless and security looked like they were bricking it a bit.
After numerous chants of 'Yung Lean, Yung Lean', the Swedish rapper eventually bounded on stage as if being fired from his daddy's sperm sack. Lets face it, I've got Spongebob pants older than this eighteen year-old Justin Bieber of rap.
The little fella was all over the place, bounding from one side of the stage to the the other and then darting off somewhere else before jumping off to be mauled by the adoring fans. No fun at all for me as I was trying to focus on him. If any pictures follow this article it'll be a fucking miracle. Low light, the hyperdrive energy of Lean and the fact that he covered our cameras with water made this a tough show to shoot.
Regardless of any problems of mine, the crowd were toking on every rhyme. Yung Lean's lips were throwing out lyrics like spit, like a boy in his prime fresh off the streets, jumping in time to the hardcore  beats.
Backlit, flash lit, the strobes couldn't catch him, the Stockholm kid was too fast on his feet.
Yes boi!
Catch him if you can, this show was sold out.
Photo by Carl Byron Batson. Not to be reproduced without express prior permission.

Photographer, published poet, former party animal, body builder, grave robber
to the stars and renowned chainsaw juggler, Carl can often be spotted on his
Harley Davidson pretending to be in Terminator 2. He is also frequently seen in
the press pits of old London town, camera in hand, avoiding being hit by bottles
of wee and crippling his opposition with secret Kung Fu moves.