[dropcap style="font-size:100px; color:#992211;"]B[/dropcap]
y Friday, our collective backs and feet are already aching, but we still have Oumou Sangare to experience (as well as the rest of the weekend).
One of the festival's 'solo' shows, she's been here before but now she's headlining Friday night. Perhaps the inevitable festival stagetime clashes are one reason why the gro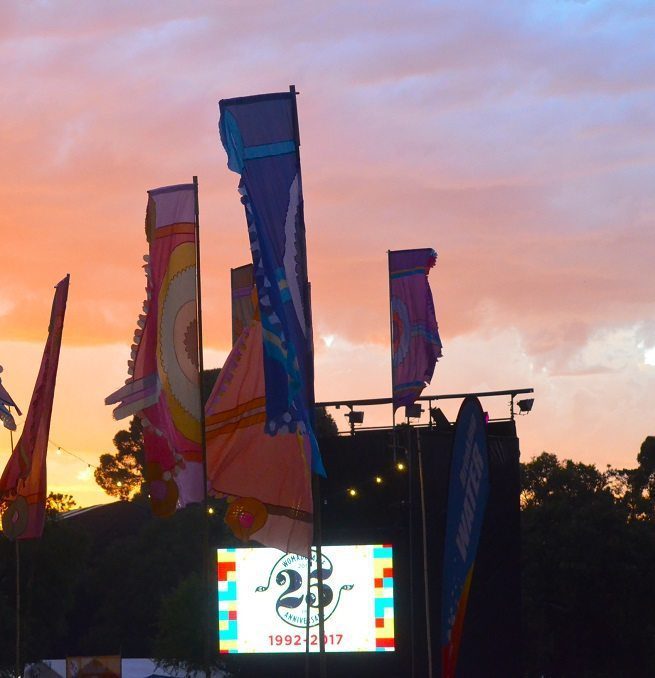 unds are not as packed as they might be, the audience size is respectable, but there was room for more bodies and had local acts John Butler or Cat Empire had been playing, it's likely there would have been more present.
Sydney based Montaigne was the worthy support, but her profile probably wasn't enough to bring in the nonchalant hordes. Certainly she played well to a young crowd at the Novatech stage, but that in itself shows that she was not a headliner, as the big acts always go to the Foundation stage.
If there is a theme this year its the display of prominent female voices in many acts and this is a major, and welcome, departure from the old days. In 1992, there wasn't a significant solo female artist featured, now the festival is dominated by them and they are amongst the most dynamic acts of the weekend.
Oumou's a great performer, she's a diva, has fabulous stage presence and she's got a great band, but given we've seen her a few times before and at this point my feet and back are giving me issues and that Ian also feels the same way, it's off home with Oumou as an accompanying sound track. DJ Hemingstein is busily getting the late night dancing crew under way by the main gate and the fire pots are snuffing out.
Time to go home as we have a long day tomorrow ….
Photos by Ian Fry, not to be reproduced without express prior permission from the photographer.
[On May 17th, Oumou Sangare plays her first UK concert with a full band since 2011, at London's Village Underground. Tickets now on sale at this link. Oumou has also announced UK summer festival appearances at Citadel, WOMAD and Shamble]
Trebuchet's 2017 Womadelaide archive can be read here.
More Womadelaide coverage here.