[dropcap style="font-size:100px; color:#992211;"]L[/dropcap]ike most bands whose songs are three minutes of guitar hooks and yelling, the Bones must be a riot live.
But when those bands are two a penny, why should we listen to them? Flash the Leather is a smart, catchy sixth album, but these rock and roll kinksters lack the originality to stand out.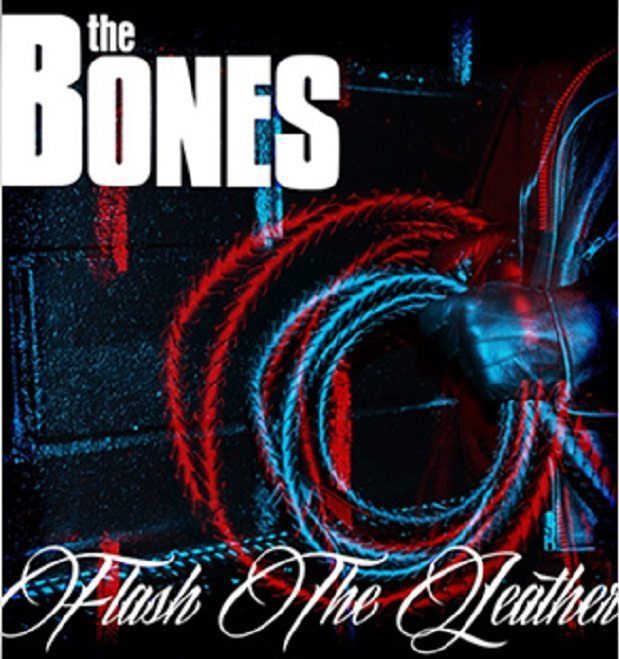 The album kicks off to all-American samples, a vignette of their roulette-and-bourbon brand of rock and roll. It's a punky, punchy collection of hooks and harmony. Front man Beef Bonanza's vocals are by turns gravelly and anthemic, while aptly-named guitarist Boner busts out plenty of catchy hard rock solos.
Stand-out track 'Busting My Balls' is an amped up chunk of blues rock with an ear-worm riff, although it doesn't crop up until track 12. Chainsaw's relentless, driving riffs break out into a sing-along chorus, and Sammy Amara of German punks Broilers makes an appearance for 'Die Wilden Jahre', the group's first track in German.
Sometimes, Flash the Leather sounds as if someone had cut out Turbonegro's riffs and Die Ärtzte's vocals and glued them onto Lemmy.
Take 'New Hooligans (090909)': a solid riff morphs into refrain that sounds inspired by Die Ärtzte's anti-fascist classic, 'Schrei Nach Liebe'. But instead of politics and a satisfyingly loud shout of "Arschloch!" the lyrics are uninspiringly self-referential "here they come again" stuff.
The Bones do a lot of things right. They have a homing instinct for guitar grooves, the rhythm will make you jive, and strong backing vocals mean drunk rockers will bellow along with gusto. If you like slick, punky rock and roll with a penchant for whips, you'll love this.
But while Flash the Leather might bust the speakers, it won't bust the mould.