Upper Street in Islington, a main road consisting of overpriced clothes shops, cocktail bars, restaurants and estate agents is not without its place in rock history, housing as it does the Screen on the Green arts cinema, where the Sex Pistols once lowered the tone.
Further down the road, Islington Assembly Hall (part of the town hall) is not known as a gig venue, but a substantial queue formed in anticipation of a gig by the legendary female rock 'n' roll icon, Wanda Jackson.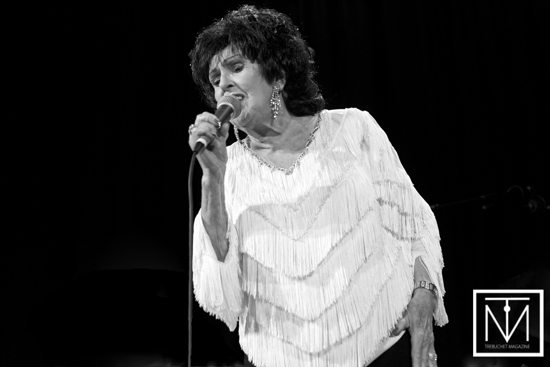 The evening started well with support band, The Dustaphonics. Their singer, Kay Elizabeth, had pretty much everything you could want from a frontwoman.  With a strong, soulful voice (like a growlier version of Marlena Shaw with elements of Gloria Jones) she banged her tambourine, swung her glittery hot pants, worked the stage and grabbed the attention of a roomful of rockabilly types who had come solely for the main event.
would it be a case of your granny's sister grabbing the microphone at your cousin's wedding?
As that main event, Wanda Jackson stepped on stage, a woman in her seventies wearing black trousers and a fringed white top, it could have gone either way. Would the Queen of Rockabilly be able to satisfy expectations or would it be a case of your granny's sister grabbing the microphone at your cousin's wedding after one too many glasses of fizz?
We need not have worried; as soon as she launched into 'Riot in Cell Block Number Nine' followed by 'Rock Your Baby', it was clear that we were fortunate enough to be watching a legend and that she still had both the voice and the stage presence to captivate the room.
Speaking to the appreciative crowd between songs, it was almost as if the evening should have been entitled An Audience With Wanda Jackson.  She was forthcoming with anecdotes – how during her early years as a singer she had toured with one "tall, good looking, dressed real cool" rock 'n' roll singer by the name of Elvis Presley who had asked her to be his girl and she had worn his ring on a chain around her neck, which she still has to this day.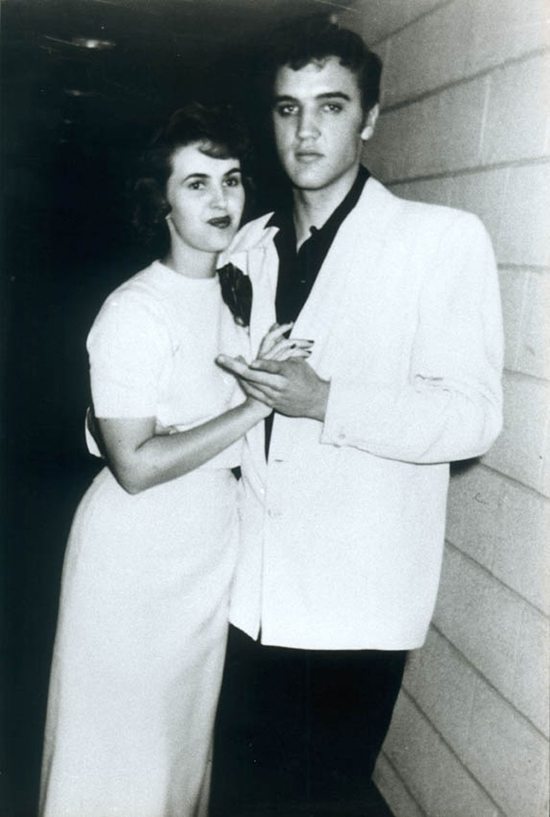 He caught her eye through wearing a yellow sports jacket, when everyone else wore blue, black or grey and driving a pink Cadillac, when nobody had seen a pink car before.  She included some of his songs in her set, including 'Good Rockin' Tonight' and 'Heartbreak Hotel'.
When I later asked about Elvis, she told me, "When I first met him he had the wildest stage presence of any entertainer I'd ever seen, and he had a great voice.  He encouraged me to do what I've been doing since he met me, and that's sing rock 'n' roll music. I owed a lot to Elvis and still think about him often."
As she says, Elvis was hugely influential on her career as he was the one who persuaded her to switch from country music to the then new style of rockabilly.  She remains equally talented at both, as illustrated by her 1956 single, 'I Gotta Know', which she sang for us, with its fast rock 'n' roll verse and slower country-style chorus.

When I asked her which style she would choose if she had to make a choice, her response was, "Probably rockabilly.  It's what I'm most known for. Although I probably had better chart success with my country music.  Rockabilly is something that my fans want to hear and what I enjoy singing best."
Her forthcoming album, Unfinished Business, (released in October) contains both genres and includes an Eddie Cochran cover, 'Nervous Breakdown', which also made the set.  I asked her if she had a favourite song from the album
"That's a good question! (laughs) I like them all and I hope my fans will too.  It's a very different album when compared with my last… it's more country and more rockabilly.  There's even some blues thrown in.  But I really like 'Am I Even A Memory' which Justin Townes Earle sings with me on.  It's a great song by a great singer/songwriter from Nashville named Greg Garing and it's one of my favourites.  I also like the first single that we're releasing, 'Tore Down'."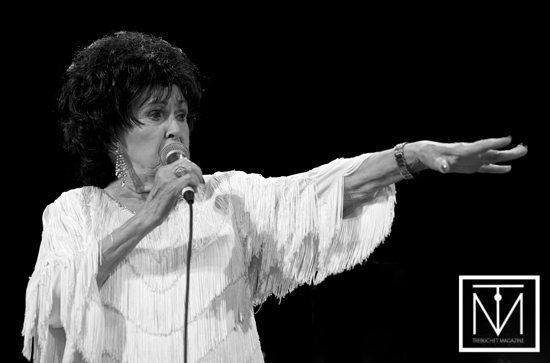 There was some laughter from the Islington audience as Wanda told us that she had heard that London people were uppity but that she was relieved to discover that wasn't the case. Her backing band for the gig was comprised of London musicians.  When she apologised for problems with her voice due to illness, one man shouted, "Wanda, you're amazing."
Despite not being at the peak of health and in the middle of a gruelling tour, her singing did not disappoint.  She sat down for a couple of songs mid-set but that did not affect her connection with the audience, many of whom appeared transfixed and were hanging off her every word and every note.  She stood back up for the classic 'Fujiyama Mama', and there was particularly heavy applause after she yodelled her way through 'I Betcha My Heart I Love You'.

If the crowd appreciated her, it is clear that she is someone who appreciates them back and is completely devoid of arrogance.  Her storytelling during the gig displayed emotional warmth, honesty and a sharp sense of humour.  She recounted how she needed her father as a manager for her early gigs because she forgot to ask to be paid, she was having so much fun playing.
she spoke with pride about being the oldest woman to have an album on the Billboard charts
When she spoke of being inducted into the Rock and Roll Hall of Fame, it was clear that she found this deeply touching, and during our interview she described this as "the biggest honour of my career". At the gig, she spoke with pride about being the oldest woman to have an album on the Billboard charts last year, appropriately titled The Party Ain't Over which was recorded with Jack White.
That album included a cover of Amy Winehouse's 'You Know I'm No Good' which also made its way into her set. Many eyes welled up as she introduced the song by speaking about how she would have liked to have met Amy and she was sad that she would never have the chance now.
Wanda Jackson is one of those artists, along with bands such as the Velvet Underground, whose commercial success at the time of their initial releases has been far outstripped by their later influence on music.  Many of her classic rockabilly songs were only regional hits at the time, but have been rediscovered and revived.  Numerous artists including The Fall, Southern Culture on the Skids, Mike Ness, Rosie Flores and Demented Are Go have covered 'Funnel Of Love', to which many of the audience sang along.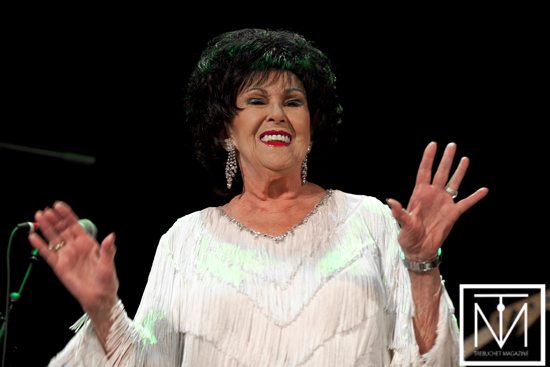 It is easy to forget how some of the feisty songs she performed in her youth (such as 'Hot Dog! That Made Him Mad' and 'My Big Iron Skillet' – sadly neither of which made the set at Islington) challenged perceptions of women being meek and submissive.  I asked her if she had enjoyed singing those songs at the time
"I've always liked those songs and it's funny that you mentioned "Iron Skillet" because fans have been requesting that song a lot in the last year or so.  Apparently the fans have discovered it on the internet or on one of my old records and really took a liking to it.  I may have to bring that one back into the set list. I'm flattered if those songs inspired any other girl singers to write or sing songs like that."
She told the audience that she was driven to write some of her own songs, such as the less assertive 'Mean, Mean Man' (which, pleasingly, was included) because there weren't too many songs written for women to sing due to the lack of female rockabilly singers around at the time. She has never followed the female mould and when she got married in 1961, rather than give up her career, her husband Wendell Goodman gave up his job to become her manager, and remains so to this day.
There is of course a body of early rockabilly songs, often unknown, performed by a number of feisty women such as Sparkle Moore, Rose Maddox, Patsy Ruth Elshire, Brenda Lee, Janis Martin and Lorrie Collins, as well as singers such as Kitty Wells and Loretta Lynn in country music.  However, Wanda Jackson is the best known and seen by many as a trailblazer for female singers and musicians.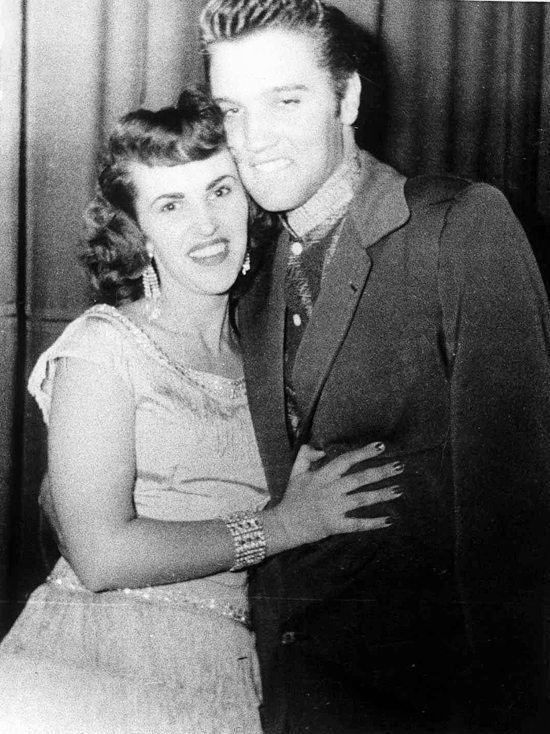 When I asked if she was aware of the influence she would have, she said, "I just wanted to sing my songs.  I never thought about leaving any sort of legacy or anything like that.  We were just kids out there on the road and all of those guys like Jerry Lee and Elvis were my buddies.  I never thought about being the only girl singer on those package tours."
She became a Christian in 1971 and as she sang Hank Williams' gospel number, 'I Saw The Light', many of the room happily clapped along.   By that stage of the gig, she had everyone in the palm of her hand and I think we'd all have turned to Jesus if she'd asked us to.
The night ended with a medley of 'Whole Lotta Shakin' Goin' On' and 'Let's Have a Party'. By the time she left the stage, she looked tired and no doubt needed to rest her voice for the remainder of the tour, but nobody in the crowd would have complained if she had played encores all night.  As the audience filed out, a mixture of old time rock 'n' rollers and younger tattooed rockers, there seemed to be an agreement that the evening had been something pretty special; it may not have been history in the making, but we had witnessed a performance by someone who had shaped a part of our history and it certainly was a gig to remember.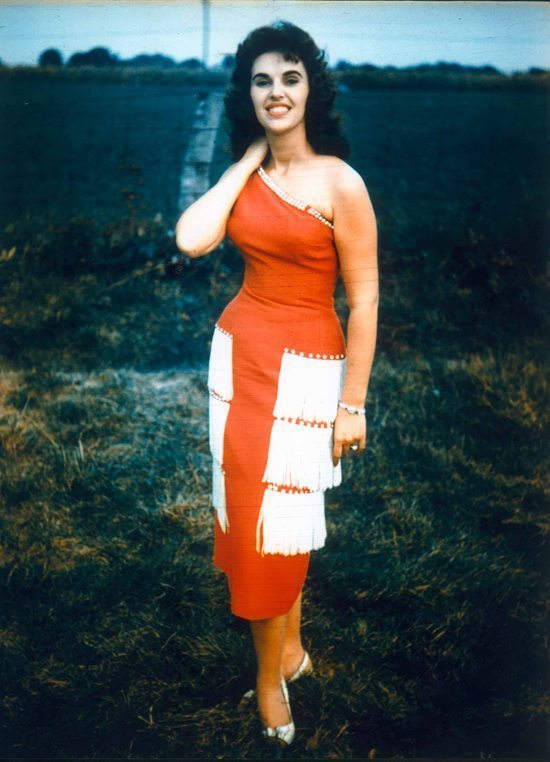 Concert photos by Carl Byron Batson