[dropcap style="font-size:100px; color:#992211;"]Y[/dropcap]ou might think that corrugated metal, poultry wire, fabric and string could be the basis for thought-provoking abstract art with a story to tell. And you'd be right.
What you might not expect are powerfully elegant, beautiful stand-alone pieces that need no explanation to engage the viewer. Despite these materials being more normally associated with financially expedient, quotidian life in East Africa, they are elevated and transformed into exquisite contemporary art. This is the work of Naomi Wanjiku Gakunga, a Kenyan born artist residing in San Antonio, Texas. Born in 1960 into the Agikuyu (Kikuyu) people, she possesses a long and storied art career ranging from the University of Nairobi to UCLA to Texas and has been exhibited in the UK, France, Poland, Brazil and the USA. Upon completion, her art takes the form of striking wall hanging sculptures meticulously crafted from mabati, or galvanized sheet metal used for constructing roofs.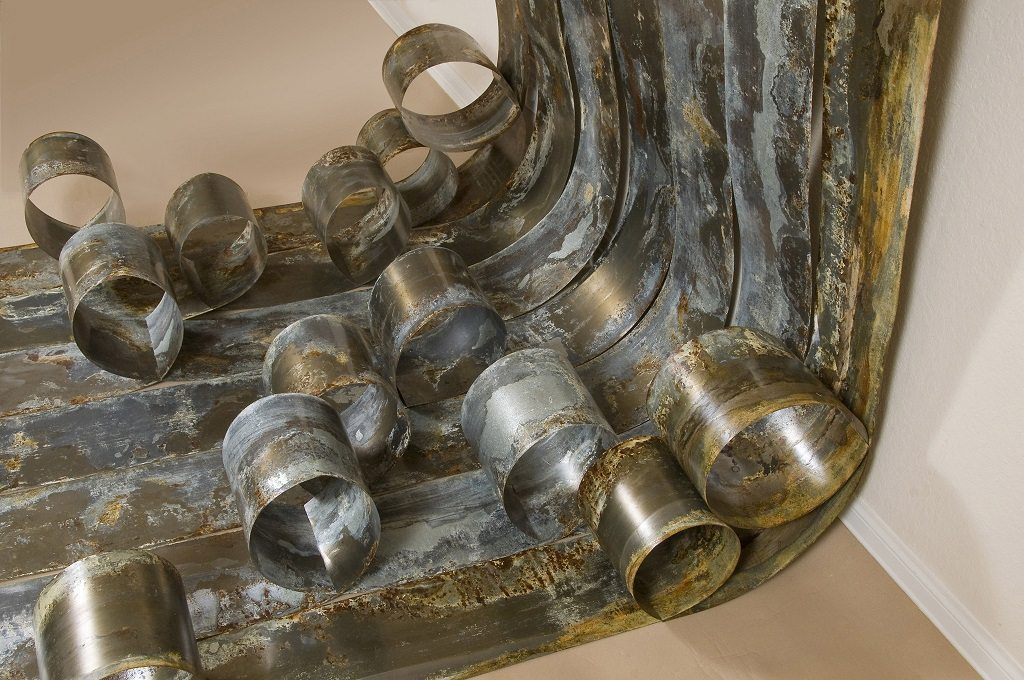 The roots of her extraordinary level of craftsmanship come from her mother and grandmother who passed down their knowledge of practical everyday weaving, painting and construction to her from a very young age: "For me, art was an activity and was always fun." This spirit of light heartedness, humility, and creativity coupled with a deep appreciation of the women who preceded her shone through both at the opening of her show at October Gallery (entitled Tushauriane—Let's Talk About It) and at a presentation she gave at the gallery a few days later.
This unique exhibition will be running until July 29th 2017 exclusively at October Gallery in Central London. Visiting the gallery in person if possible, as photographs inevitably fail to convey the full aesthetic impact of these monumental works.
For the show, Naomi took whole sheets of metal and oxidised them whilst submerging them in water under the hot Texan sun, sometimes for years, allowing nature to exert her will on the metal in the form of mesmerizing muted marbled blue, green, brown and copper patterns. This process results in no two mabatis being identical or possessing the same story. Take the piece 'Kukumbuka—To Remember', (inset, right)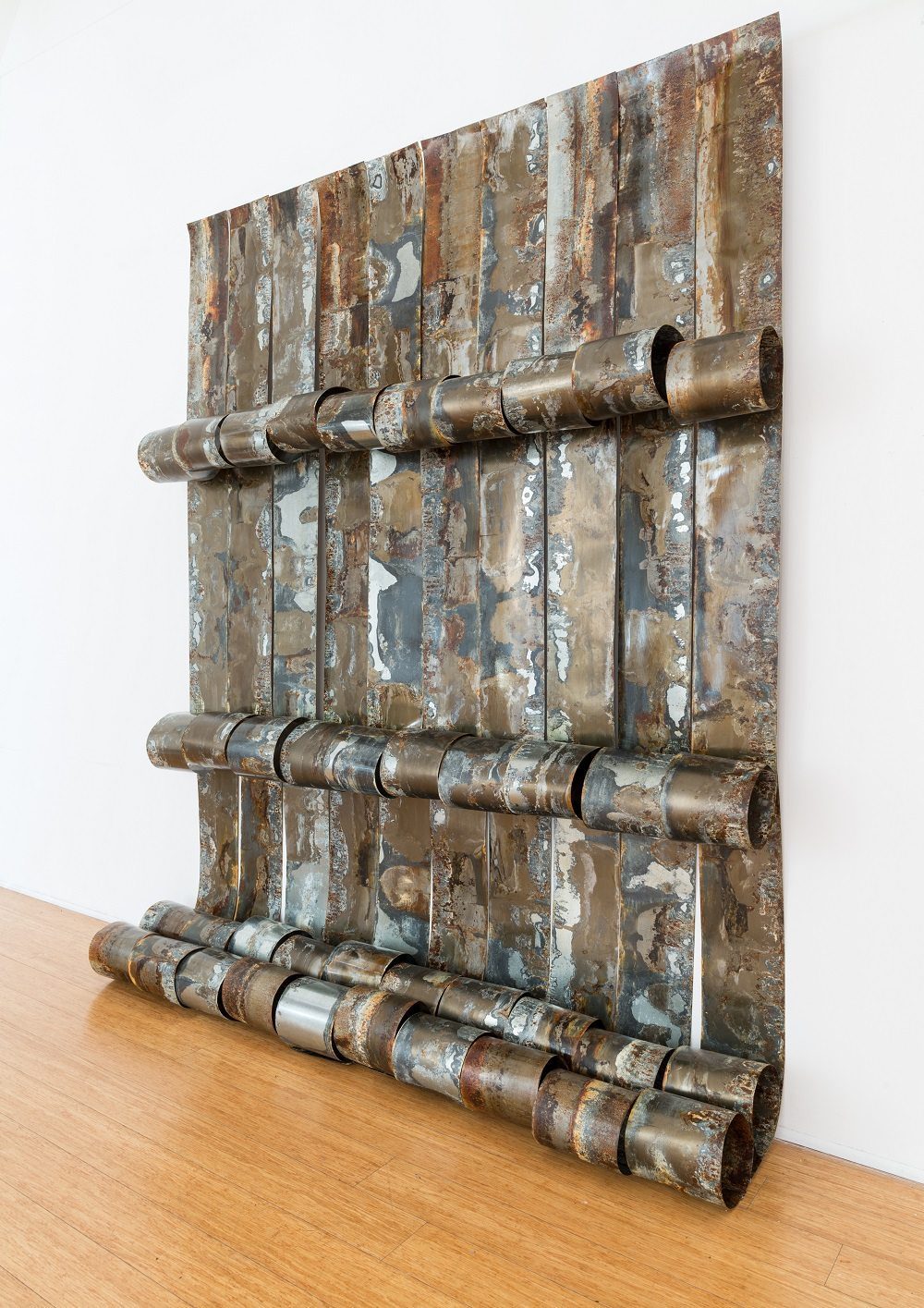 an 8 foot by 7 foot wall hanging sculpture comprised of sheet metal, stainless steel and wire. The viewer is struck first by the full effect of the whole sculpture with its polished yet uneven surface, before being hypnotically drawn into each detail. Each swirl of oxidation echoes the last in an ancient, twisting symphony that unfurls from top to bottom. Crucial breaks in the piece come in the form of systematic rolls of metal that span the breadth of the work.
Naomi's mabati work "connects the past to the present"; this piece, in particular, references the pause we all need to take to recollect lest our past is lost. Her story begins with the "Mabati Women's Groups" of the 1960s who, as their husbands left the homestead for Nairobi to look for work following independence in '63, took charge of their future. They slowly and painstakingly replaced the old thatched roofs with mabati which allowed them, among other things, to collect rainwater and thus save vital time in their daily lives, giving them more agency. They were better able to tend to their coffee, tea and pyrethrum cash crops that enabling them to provide for their daughters' education. As a result, one small change in construction material arguably allowed for generations of empowered women to make their mark on the world.
Naomi's work is a testament to her grandmother and mother who both made the switch to mabati and prioritised education for their girls.
Another theme of Naomi's work, along with women empowering themselves and open dialogue, is that of migration and boundaries on shared spaces. Her mother moved from Gacharaga, outside Nairobi, to Nakuru, in the Great Rift Valley; Naomi herself made the move from Kenya to Texas. She states that, "It's us, all of us are migrants; and if we can embrace this we will gain compassion." This is embodied in her haunting piece, Routes of Migration. It is a textured square mosaic of mabati and threaded poultry wire with coloured cord running down the centre of the squares. This piece brings to mind the clothing ripped on fences as migrants make the journey from one space to another. Those pieces of cloth act as markers, or guides, to others searching for a better life.
Given the current migration crisis unfolding on the world's stage, Naomi's work undeniably lends a strong voice to those who advocates predominantly for humanity. Naomi herself, however, does stress that her work is not directly political in nature and is first and foremost meant to be abstract art. Going to Tushauriane is like taking a step backwards in time to a treasured space in Naomi's memory and experience rooted in Agikuyu life. The brilliance of the show is that it is also an exemplar in cutting edge contemporary art that needs no cultural qualification to be recognized as remarkable.
18 May – 29 July 2017
October Gallery

Photos courtesy of October Gallery