[dropcap style="font-size:100px; color:#992211;"]A[/dropcap]nti-government protests continue to spread throughout Turkey.
These protests were sparked by the government's plan to turn Gezi Park (Istanbul's central park) in Taksim into a shopping mall.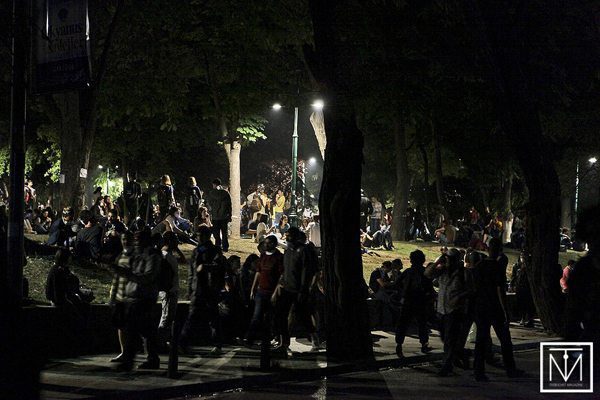 Gezi Park, where young people shade from the hot Turkish summer, enjoy the sea view, socialise and drink with their friends had a happy, almost hippy-like character. For a week prior to the police intervention, this park was the gathering place for peaceful protesters.
Therefore, the initial attack by the police on the protestors in the park on 31 May was considered both a physical and a symbolic attack.
Turkish people do not call these events 'protests'; they call the whole set of events 'direnis' which means 'resistance' in Turkish. This, as a word, embodies the meaning of 'perseverance' and 'decisiveness' in Turkish language.
Government Background
Turkish PM Erdogan and his party AKP have been elected three times and have been in power for the last ten years. He is a pious Muslim conservative man. Even though most people were initially extremely cautious about a secular state being ruled by a party which they knew was blatantly religious, in time, more and more people started thinking that was doing a great job, which resulted in him gaining 46% of the votes in the last election.
Within the last ten years, Turkey's tremendous economic growth has been recognised as Erdogan's biggest success. However, until recently, the shiny world of economic growth seems to have made some people silent to some occurrences.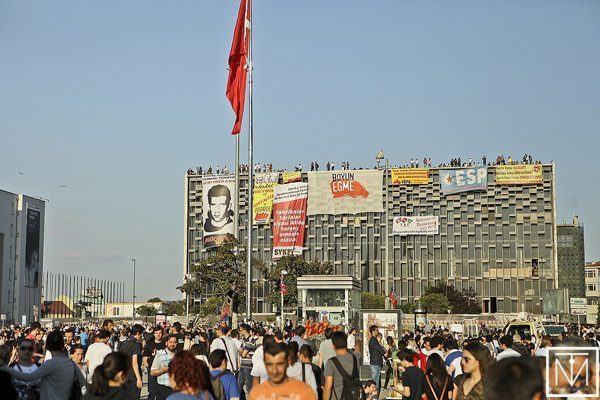 The protesters have been brought to boiling point by the stabilised system established throughout the AKP government. Erdogan's supporters hold key positions in important government related organisations and influential institutions; from the generals and other high rank military officers to the MIT (National Intelligence Organization) members that represent the State's power; and from the legal bodies to the media that are paramount components of democracy.[quote]"If someone broke
into my house,
I would call the
protesters instead
of the police."[/quote]
In the social and educational spheres, a recent arrangement on the education system encouraged children to learn the Islamic language: Arabic. Some educational religious institutions that had been shut down after the secular Turkish Republic was founded in 1923 have been re-opened. Just two weeks ago, the advertisement and sponsorship of alcohol brands was banned as well as restricting the sale of alcohol during certain hours at night. There are intentions to ban abortion and Erdogan has urged each family to have three children.
International politics is another issue, especially Turkey's involvement in the Middle East politics. Many people do not wish to give their consent to getting involved in the tension there.
Media censorship is another big issue. Hundreds of journalists, writers, caricaturists and other intellectuals have been sued or jailed. The world famous Turkish pianist/composer Fazil Say, who is recognised as one of the biggest artists of the 21st century and is a well-known Atheist, was sued for one of his Twitter updates.
To say the least, this is the overall picture the country has had to face in the last few years. An environment of intolerance does not seem to have left much room for people to breathe, especially in democratic terms. With the recent police crackdown on the protests, people have started to be fearful as to whether their democracy and secularism are turning into an authoritarian non-secular rule.
One Ego vs. Millions of Protesters
Here, let us remember that until 1923, Turkey had been the Islamic Ottoman Empire for over 600 years. Of course, there are a good number of conservatives or extremely religious people who still have the Ottoman mindset.
No doubt about it, slowly but surely Erdogan has secured his power. When Erdogan speaks, he refers frequently to deeds of the old Ottoman sultans.
Erdogan's first reaction to the protests was to label the protesters as marginal groups formed of 'capul-cu's which means 'looters' or 'plunderers'. He was reacted fiercely to the opposition party, CHP that favoured the protests on the basis that they represent freedom of speech.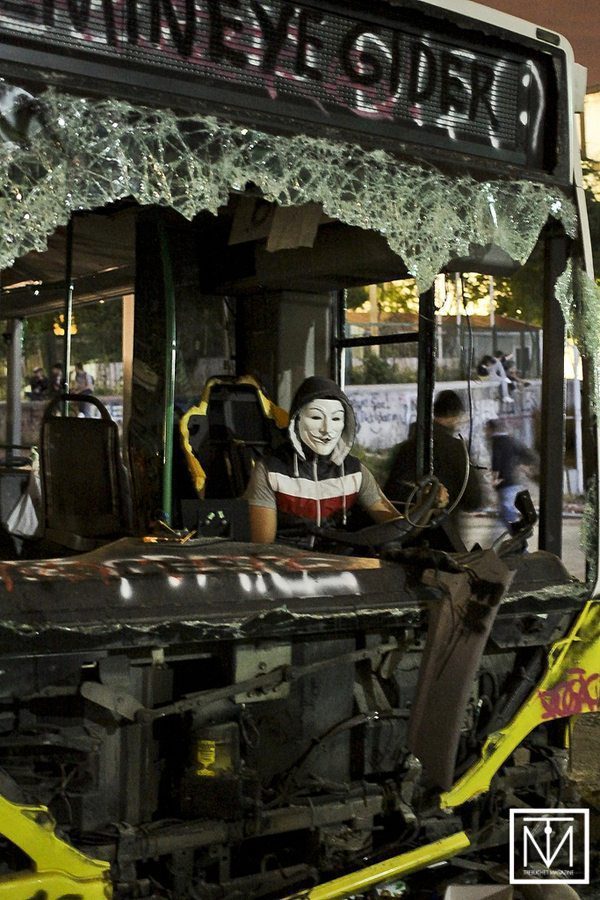 During the course of these protests, Erdogan has called out for support from his voters, which he says constitute 50% of the country.[quote]Even the football fanatics of
different teams who used
to hate each other are now
protesting side-by-side,
shoulder-to-shoulder[/quote]
The media censorship has had a huge impact on the fluent coverage of the protests. For example, while various international channels have been showing the Turkish protests live, most Turkish channels have been showing penguin documentaries, beauty competitions and food and entertainment programmes. Due to the failure of the Turkish media, young people have found the solution by opening live stream channels, forums and social media groups to get their voices out to as many people as they can. These are full of photos and videos uploaded by the protesters on the spot.
As a reaction, Erdogan called Twitter a 'nuisance' and 'trouble' claiming it is full of incorrect and provocative updates. His party offered "free transport services" to whoever wanted to attend his public speeches. In these speeches, he reaffirmed that he is proud of his success and he distinguished between his supporters and the protesters as 'us' and 'them', i.e. his 50% voters and 'capullers' (looters).
What is more, as the protests continue, the media have started to show coverage that celebrates Erdogan's supporters. Two weeks ago, exactly the same headline was published on seven different newspapers on the same day quoting Erdogan: "We are ready to die for democratic demands." Most TV channels are cheering on his speeches.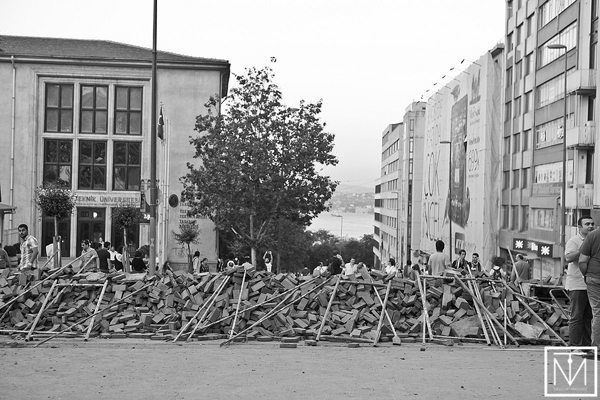 Public Violence
As outlined above, there is a polarisation within the various media. On the one hand, you have people standing up for their rights who can find no means to express themselves via the mainstream channels of communication. On the other hand, the mainstream media appreciate that Erdogan's supporters are a breeding ground for resentment against those who the Prime Minister has called 'marginal groups'.
What happened next did not take long. A minority of Erdogan's supporters took to the streets with long sticks, knives and other sharp weapons in their hands to take violent action against the protesters. Walking around Istanbul chanting "Takbir" (i.e. Allah-u Akbar; meaning "God Is The Greatest" in Arabic), they have attacked and injured people.
Police Violence
The most heartbreaking part of these protests is the excessive police violence used against the public:
While the PM ordered the police to terminate the protests within 24 hours, another minister Egemen Bagis said, "Whoever goes into Gezi Park to protest is going to be deemed as a terrorist." Shortly after, the police forced the protesters in the Gezi Park area to evacuate the park by using excessive gas bombs and cleared the park of the protesters' tents, flags and slogan boards. The protesters had built little units with solidarity for food, medical needs and a library. The police have trashed them all.
Pepper and tear gas bombs, water cannons spraying water containing acid and chemical components and rubber bullets are being used aplenty on the streets of most Turkish cities today. Men and women alike are being beaten up. Four people and hundreds of street animals have died so far, and thousands have been injured including children.[quote]Due to the failure of the Turkish
media, young people have
found the solution by opening
live stream channels, forums
and social media groups[/quote]
Gas bombs are not restricted to the streets. They have been shot into the houses and hospitals where the protesters run for shelter, into the medical units where the voluntary doctors are helping the injured and into five star hotels which provide help to the protesters by supplying food and other needs.
Thousands of people are in custody accused of provocative behaviour or 'incorrect' social media updates.
The doctors who helped the injured and the lawyers who represented people in custody have also been taken into custody on allegations that they are helping out marginal groups:
Many world human rights associations and organisations have called out to Erdogan to stop the police violence and recognise freedom of speech for Turkish citizens. European Union and other world leaders have criticised Erdogan's handling of the protests. Petitions are being signed.
We are coming towards the fourth week of the protests. The police violence on the streets continues.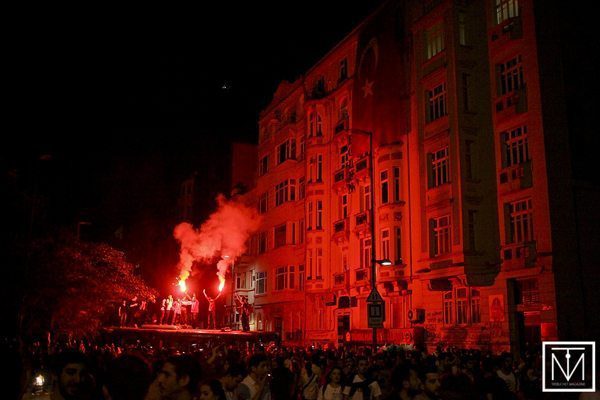 'Direnis' (Resistance) and Solidarity
Does the handling of the protests sound irrational, undemocratic and need to stop NOW?
You are not the only one who thinks this way – throughout the world, many artists and intellectuals have sent statements supporting the protests and asking the Turkish government to stop the violence and listen to the people. These include Slavoj Zizek, Noam Chomsky, Roger Waters, Joe Satriani, Joan Baez, Manu Chao, Madonna and many more human rights organisations and thousands of peaceful protesters all over the world.
Another democratic form of support has come from Turkish trade unionists, who have been on national strike.
Support has also come from the hackers Anonymous and the Turkish communist hackers RedHack that have worked under #OpTurkey. Some government websites have been hacked by Anonymous and RedHack and the mobile numbers of government ministers and high-ranking police officers have been published online.
It is delightful to see anti-capitalists, Muslims, Turkish nationalists, right and left wingers, Kurds, Armenian and homosexual groups standing together side-by-side.
Even the football fanatics of different teams who used to hate each other are now protesting shoulder-to-shoulder. These are scenes that nobody would have imagined to see in Turkey. This is a fruitful celebration of unity.
[quote]Turkish people do not call
these events 'protests';
they call the whole set of
events 'direnis' which means
'resistance' in Turkish[/quote]
Most protesters are university students or educated intellectuals who believe that they can save those who are misled. Some protesters gave flowers to the policemen, read them poems and offered them food to share. They are aware that democracy is not solely about elections, but it is a regime that should recognise and embrace all individuals. They are trying to show this with their intellect and humanism.
Having seen that the usual 'walking' protests have resulted in police intervention, a performance artist Erdem Gunduz started a 'stand still' protest, which has spread to the country as expected. It is a new form of protest where people stand still in a square – no moving, no speech. The police act awkwardly, not knowing how to respond to this form of protest.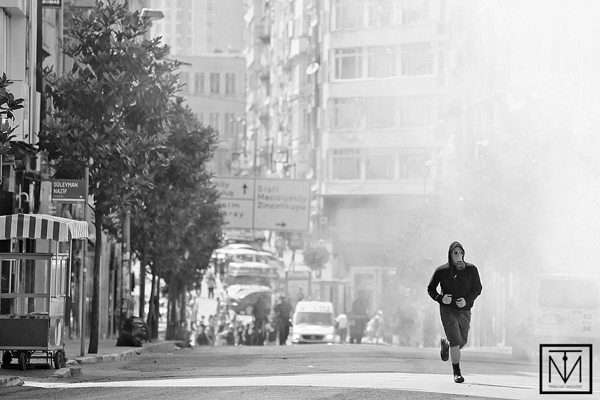 The protests essentially do not represent a political movement because they were initiated by the apolitical youth. Most young people would like to call this a revolution, though not yet concluded. There are early stages of attempts to organise a democratic party out of these protests under the name "Civil Turkey" which will aim to be ready for the next election as an independent party without favouring certain ideologies. However, given that the next general election is two years away, some people want Erdogan to resign now so that the country can go to the polls sooner.
Apart from that, these are purely the protests of a nation that is 'awake' and 'aware'. The majority of protesters are up all night in various cities peacefully standing up for their rights or sharing their views on social media. They are risking their lives on the streets and being exposed to the excessive police violence. But these people say that they want real modern surroundings without oppression that cares about human rights and allows freedom of speech. They want to maintain their modernity and secularism.
They are tired of wrong and corrupt world politics, from West to East. They are after something 'new'.
They have been writing slogans derived from jokes and wordplays using smiling emoticons. The level of humour and irony in the slogans shows how smart and enlightened the majority of these protesters are. They are even able to make fun of the situation. One slogan said, "Indeed, we are marginal groups. Look at us with our gas masks in the streets in the middle of the night fighting for freedom." Another one was, "If we were scared of gas bombs, we would not fart." Yet another, "If someone broke into my house, I would call the protesters instead of the police." [quote]They are tired of wrong
and corrupt world politics,
from West to East. They
are after something 'new'[/quote]
Their attitude is not fierce or angry; their attitude is humour, subversion, respect and love for people.
Protesters call for solidarity everywhere and are thankful for the ongoing worldwide support, especially the media coverage because they want the world to know and they would like to know that they are not alone on this journey. Latest news show emerging protests in Brazil and some other countries inspired from Turkey. Hopefully, this is turning into a unity of nations.
Roger Waters' Facebook statement on 3 June summed up the importance of why the protesters believe in solidarity:
"Every time a man or woman or child takes to the streets, and stands up for human rights, for self determination, for democracy, for Mistress Liberty, the rest of the world is in debt."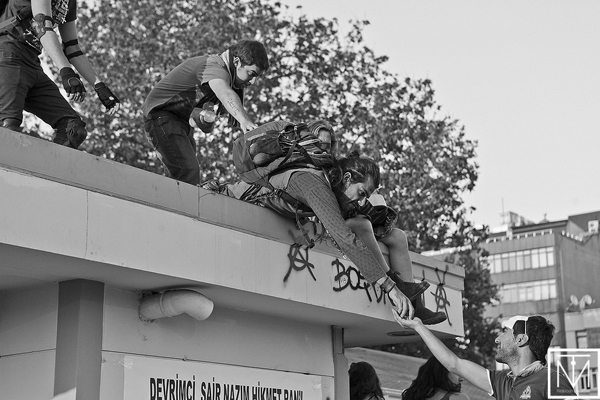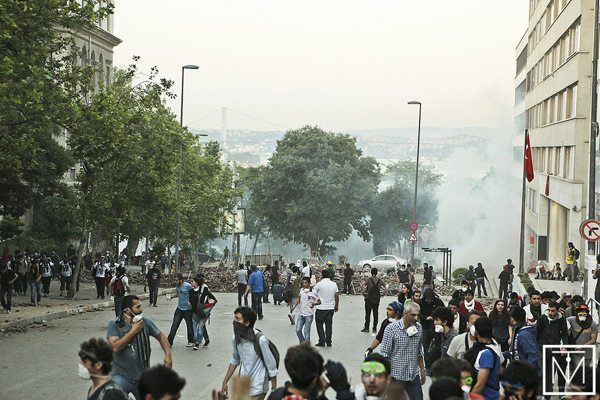 Photos: Copyright 2013 Levent Kopuz – www.leventkopuz.com
http://cengizerdem.wordpress.com/2013/06/19/alain-badiou-on-the-uprising-in-turkey-and-beyond/

Meltem is a London-based 'wanderer above the mist', whose biggest passion – a flame that never burns out – is Rock 'n' Roll. She contributes to the magical (for some!) world of Rock 'n' Roll by being a rock singer, a rock musician, and a rock songwriter. She has worked with great rock musicians from all over Europe. Her history as a rock musician consists of multiple rock covers, originals (rock), rock tribute bands and professional recording sessions. Where she dwelleth rock resides.