[dropcap style="font-size:100px; color:#992211;"]T[/dropcap]rebuchet first stumbled across Wolf Alice when they opened up for Splashh and Big Deal at the 100 Club last year….
and stole the show from both bands.
At the time, I likened Ellie Rowsell's vocals to the wonderfully talented, Harriet Wheeler from The Sundays.  Since then they have escalated their attention-grabbing excellence, with numerous write-ups as a band to watch and The Guardian also likening Ellie to Harriet Wheeler. Where Trebuchet leads, others follow….
[quote]Listening to Tribes
is an experience
tantamount to finding
that there's no
salt on your chips[/quote]
While some bands seem swamped by the occasion as they graduate to larger venues, Wolf Alice greedily grasped the opportunity like a terrier's jaw clamped onto a bone. Ellie's transformation from rabbit in the headlights to leading lady in the spotlight was striking.  The vocals were stronger than ever, befitting of the bigger stage, but had lost none of their tone and pitch perfect crystal clarity.  Indeed the overall sound of the band was heavier and gutsier than before. Impossible to categorise, their set swung from alt rock to grunge to melodic indie.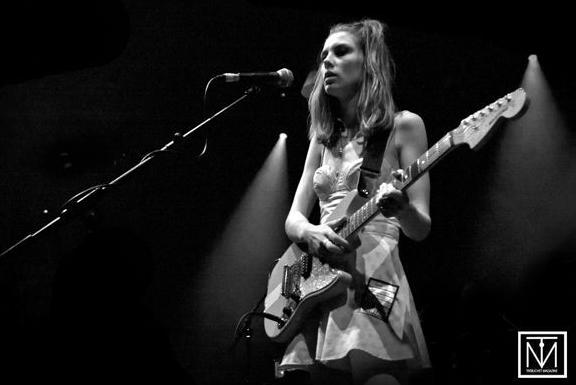 While a few of the songs had that album track filler feel and lacked that killer riff, by the end there were moments of catchy brilliance.  If they continue to progress at this pace, we may finally have the stardust sprinkled female fronted indie band that we so sorely need.
As one star accelerates its ascent, another starts to wane. Tribes, although previously much hyped by the music press, have seen a recent fall from grace with second album, Wish To Scream, attracting at best lukewarm reviews.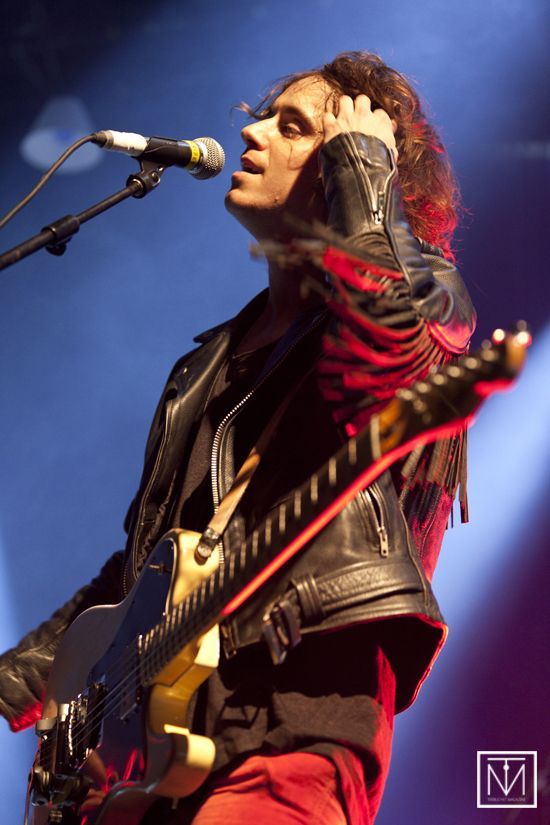 Maybe recording in LA was a mistake?  Maybe they only ever had one album in them?  Did music journalists finally wake up with a hangover after one too many nights out ligging and realise that the emperor had no clothes?
Recent disappointments aside, dirty old Camden Town is where it all started and Tribes took the stage at the area's largest venue with all the knowing self-assurance of local boys returning home to flaunt their success. The dedicated core of sixth-formers pressing their lager, sweat and in a few cases, vomit soaked bodies up against the barriers had already downloaded and learned the new songs.
But for most of the audience, the songs from debut album, Baby, were the high points of the set.  These sing-along and punch the air older songs, such as 'Corner of An English Field' and 'We Were Children' at least combined some real feeling and lyrical content with the unoriginal 1990s style guitars.
Unfortunately the newer tracks had neither style nor substance. 'Dancehall' was no more than soft rock by numbers. Set closer 'How the Other Half Lives' sounded like an unsuccessful attempt to replicate Oasis circa Definitely Maybe and when Johnny sang the lyric, "no mediocrity" – oh, the irony.
Despite the rock 'n' roll swagger, Tribes are standard off-the-shelf, middle of the road, rocky guitar pop with delusions of anthemic grandeur. Truth be told, they are about as rock 'n' roll as Coldplay. Listening to Tribes is an experience tantamount to finding that there's no salt on your chips.
From the contrived rooftop gig on Camden High Street to the packaged platitudinous posturing of the new album, this is sugar puff music for people who take the gherkin out of their sandwich, turn off the news and find Ed Miliband a bit too edgy.  Jump around little pop children, play your guitars while Rome burns around you.
TRIBES + WOLF ALICE – THE ROUNDHOUSE, WED 29 MAY 2013
Photos: Carl Byron Batson
An article about Tribes playing live. Go Tribes.