Editor's Note. Writer Tim Hall has covered a few acts for Trebuchet that can be broadly described as progressive rock. It's a label not all bands seem willing to accept, since it's frequently associated with musical conservatism. But bands within the genre frequently display far wider musical influences and a greater musical ambition than a lot of of mainstream rock and pop, much of which remains wedded to song structures and chord progressions unchanged since the 1950s.
The larger bands in the scene such as Porcupine Tree can fill 1000+ capacity venues across the UK on a regular basis, but still garner less press coverage than identikit indie-rock or electropop acts playing to a handful of music writers in selected East London venues. Trebuchet Magazine doesn't aim to be a comprehensive source for all things prog, there are media outlets serving that purpose already. But a grass-roots music phenomenon, filling concert halls and all-but ignored by the mainstream press? It's got our name written all over it.
Tim prepared his interview with Cardiff band The Reasoning's founder Matt Cohen back in March. Then circumstances intervened in a particularly unhappy way. Early in March their guitarist, Owain Roberts, went missing. He had been on temporary sabbatical from the band for non-specified health reasons, and everyone was naturally very concerned for his safety.
As reported by the Dyfed-Powys Police:
"Police are concerned for the safety of a missing man from Cardigan, who was last seen early Saturday morning, Saturday the 10th March 2012. Owain Roberts, 36 years old, is described as a white male, 5ft 10' inches tall and of a slim build with short brown hair and clean shaven"

Two months later there is still no news.
---
Trebuchet: We can't really begin without talking about Owain, who's in everyone's thoughts at the moment. It's difficult to imagine how you all must have been feeling over the past few weeks.
Matt Cohen/The Reasoning: It has been a very strange time with all of us going through the whole gamut of emotions. It didn't seem real in the beginning and then after the first few days, it all started to become too real. To have no sightings of him just blows our minds. In this society of CCTV – nothing……. We miss him so much but more importantly we want him home for his Mum, Dad, family and Lisa.
I just cannot imagine how they feel and on top of that, I can't imagine what Owain is going through. I think about him constantly and miss him loads but I just know that he will return. We just have to keep the faith at all times.
Trebuchet: Your set at the showcase gig at The Underworld was a very intense experience from an audience perspective. What was it like being on stage that night?
Matt Cohen/The Reasoning: That's the first time I have heard that from someone who was there. I did get a lot of questions about asking how we were etc. and people obviously shared their feelings but I have never heard it put like that. For us, again, it is so hard to express how one feels in circumstances like that. We have never been in this situation before, obviously, and never want to be again. That gig was about bringing everyone together and sharing the feelings we all have about this distressing and sad situation.
It was a salute to Owain. Dave (Mr So & So) did an incredible and wonderful job under very difficult circumstances and for that we will be eternally grateful. It was a great night though and everyone had fun and got into the spirit of it I felt and that, is what Owain would have wanted for sure.
Trebuchet: The new EP And Another Thing, the last thing you recorded with Owain, is your first studio release for almost two years. It's got a rather different and much softer sound from how The Reasoning have sounded in the past. What was the thinking behind the record?
Matt Cohen/The Reasoning: There was no thinking behind it. We just had four songs written by the band that didn't match the feel of the main album we are currently writing / recording but I loved them so didn't want them to sit on the shelf. They have a real vibe but as you say, they have a different feel to anything else we have done before and that is a great thing. We are always looking to progress musically/sound-wise so those songs were just an expression of what we were feeling at that particular time – the album will be another surprise.
Trebuchet: What can we expect from the full-length album due later in the year?
Matt Cohen/The Reasoning: You can expect The Reasoning with some twists. We know who we are for the first time in our career and that is showing in the music. Everyone is contributing and bringing lots of wonderful ideas to the studio – we're all bouncing with musical joy. I am genuinely so excited by this new album. I can honestly say, I haven't been this excited about a TR album since Dark Angel. That'sall I'm saying for now….
Trebuchet: You've stated you plan to record with several different guest guitarists for the album. Are there any names in the frame yet?
Matt Cohen/The Reasoning: Not really. Our new guitarist Keith [Hawkins] will be playing all the rhythm parts on the album which will also include the acoustic side of things, and I'll also be recording some guitar parts (I did that for the first time on the EP) but our intention is to get a few players to contribute solos if their schedules permit. We have approached a few so far and waiting for their replies. Dave Foster is definitely contributing and Keith will be as well and I think we might even have Lee Wright who played on and toured Awakening with us (he is also one of my closest friends as well) contributing a solo but as to who the others will be, your guess is as good as mine.
Trebuchet: You played a new song "No Friend of Mine" which will presumably be on the new album at The Underworld, with some intriguing lyrics about the darker side of social networking. Can you tell us something about the song and the inspiration behind it?
Matt Cohen/The Reasoning: You are correct Tim, the song is going to be on the new album. The music was written by me and Owain last year with the vocal melody and lyrics by Rach. I don't really believe in trying to explain Rach's lyrics as they will always have a different significance to whoever reads / listens to them. As you are aware Tim, Rach is rather clever at writing lyrics that can be interpreted in many ways.
Trebuchet: You've now signed a record deal with Esoteric Antenna after releasing half-a-dozen records independently under Comet Records. I remember you saying around the time of Dark Angel a few years back that you didn't see any benefit of signing to a label rather than remaining independent if you're making non-mainstream music. How much have things changed since then, and how much do you expect to benefit now from partnering with a label?

Matt Cohen/The Reasoning: I think I actually said that I would never sign to another label unless it was the right deal for the band. I/we really felt that Esoteric Antenna came to the table with a lot of things we were struggling to do as a small independent. You have to remember that I started this from scratch (and I mean scratch), so we have achieved a lot in a short space of time.
we need to get out to a wider audience
We have had great CD sales, we've financed tours, we've gotten our name out there and played some incredible gigs and got some great press coverage and all on our own little label, but we need to get out to a wider audience and to do that by myself / ourselves would take a huge amount of extra financing that is just not available to us.
This deal also allows me to take the business model for The Reasoning and apply it to another situation, a new band(s) which is something that excites me a lot. I have learned so much over the past 7 years and I think I understand a little better how to do things yet still knowing that I have a lot more to learn when applying the business model to something that isn't so personal.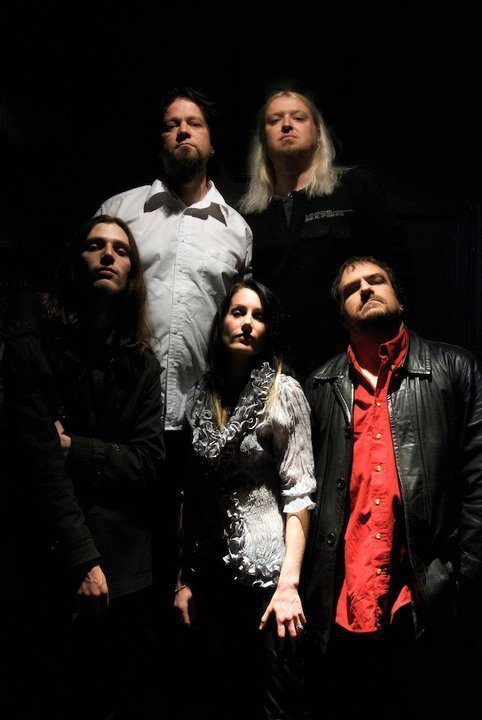 Comet Music will still exist as a record label and also as a band management company. For The Reasoning, Comet Music has now become the place where the bands business interests are dealt with. Comet Music now manages the band, effectively.
Trebuchet: Do you see having a record deal changing the music you make in any way?
Matt Cohen/The Reasoning: Absolutely not. Only we (the band) change the music. The situation we find ourselves in now, with Esoteric Antenna, does not affect our music. Esoteric Antenna has no say in what we do musically. They love The Reasoning for being The Reasoning – that's why they signed us and that's why we signed to them, among many other reasons. They just want us to be us and we will be.
Trebuchet: How is Comet the Cat taking not being your label boss any more?
Matt Cohen/The Reasoning: Oh he is still very much a label boss. He spends most of his time whining, eating and sleeping under the toilet these days. He's old you have to remember and he's been round the block a few times. He's decided to step back a little and enjoy the spoils of all his hard work. I'm sure he'll get his claws into some other band one day soon. Retirement won't suit him in the long term. He's too inquisitive to just sit back and let the world go by – we leave him to it at the moment. He gets grouchy if we push him too much on the subject.
Trebuchet: I remember one of your gigs a few years back promoted as "an evening of Gorp-Metal" in response to a rather lively debate on your forum about genre labels. Do you think genre labels like "prog" are a good or a bad thing, and has this changed in the past few years?
I liked it when there was just Rock, Pop, Metal, Prog, Jazz, Folk and Classical.
Matt Cohen/The Reasoning: Blimey, "Gorp Metal". Didn't you actually come up with that? I have no problems with genre labels though; I do think they have gotten a little out of hand these days. Everything has a sub-genre in a sub-genre. I liked it when there was just Rock, Pop, Metal, Prog, Jazz, Folk and Classical. People need to have new labels to make them feel like new music is exclusive to them. If genre labels help people feel a part of something special, who the hell am I to argue.
Trebuchet: When Scandinavian bands like Opeth and Nightwish have quite a high profile and can fill major venues, do you think equivalently sophisticated forms of home-grown British rock get too marginalised by an indie-dominated media?
Matt Cohen/The Reasoning: No, not at all. Opeth and Nightwish started the same way any other band started but worked hard, got the breaks they needed / deserved. I know you are quite vocal (and not alone in that thinking by the way) about what you see as London-centric magazines but that has always been the same. Bands had to travel to London to get heard, that's where the magazines and labels were and still mainly, are. There is still an excitement about going to London and flogging your wares.
You have to have a whole heap of other attributes to bring to the table
There are so many bands out there these days with the majority of them having high aspirations about being successful (I think TV is to blame, in many ways, for that) but they aren't always prepared or able to do the necessary donkey work to get heard by the right people and music fans. Them be the breaks, like any business. To be a musician/songwriter just isn't enough in the majority of cases. You have to have a whole heap of other attributes to bring to the table to get you music heard and promoted. Of course, having good songs helps as well. That in itself unfortunately, doesn't always help either. So who knows eh? If I knew the secret, trust me, I'd exploit it to get The Reasoning playing major venues and then sell it on to the highest bidder.
The press is very important, back to the original point and bands or fans still need them, in my opinion. I remember I had a huge thread on my FB page about this and from my point of view they still are my go-to place to find out about new music because they act as a filtering system in a cluttered market place. I know some people say that that particular filtering system is a narrow one but that still doesn't stop people finding a band via that particular medium and hopefully that will lead the reader / listener to investigate similar / new acts. Surely that is the joy of finding music?
I know there are so many options to find music on the internet and thank heavens for the internet, we embrace that technology very much but I don't always want it handed to me on a plate? That goes for anything in life. You have to work for it and there is a huge amount of pleasure gained from that. I will say however, that I wish someone would hand me a plane and a boat on a plate. That would be nice.
Trebuchet: And finally, any parting thoughts?
Matt Cohen/The Reasoning: I have many thoughts and some that shouldn't be shared in the public domain (laughs).
I've learned so much about myself, music and other people over the past three years and I would like to say that for the first time in a very long time, this seems right again – on a personal level and musical level. I love writing music with the band and love writing music by myself, I love playing bass in this band and I love the laughs we have as a gang. The past three years have been so tough that I just can't explain how that feels but I know that the five of us have a common goal and all we want to do is let the music do the talking.
You know we have a great time on stage with the folk who come to support us – long may that continue. This band is all about the music, nothing more, nothing less. I'm sick and tired of band / music politics so I've stepped away from it as much as I possibly can. The Reasoning are just going to embrace who we are, what we do and run with the amazing opportunities we have been blessed with. If you like this band, we salute you and if you don't, we salute you too. It's only Rock 'n' Roll and we love it!