312 shows in a year, 17 different countries.
Bob Wayne puts in the miles, and he'll be doing this shit till the wheels fall off this muthafucker. "I've always known I wanted to be on the road, no matter what. Whether I was selling t-shirts for Zeke or guitar teching for Hank III, I knew I wanted to be on the road. I don't care what I'm doing. I'm not against getting in front of a bigger audience, but whether I'm on CMT or MTV or not, I'm going to keep doing this, that's for sure."
Bob Wayne is as true of a DIY act as there is, kicking off his career without an agent, manager, record label, proper touring vehicle or fulltime backing band. He picked up and moved from the Pacific Northwest to Nashville and was instantly embraced by the community of underbelly outlaws whose stripped down and straightforward country cuts through the mainstream noise and pop pretenders.
"You can't rely on waiting around," he insists. "You just go. That's what I do. I'm just going to keep doing it."
What's more, Trebuchet and Mean Fiddler have two pairs of tickets to give away for Bob Wayne and the Outlaw Carnies at The Borderline, London on June 5th.
Mail us your best guess at the length of Bob's beard to editors@trebuchet-magazine.com and we'll get the winners on that guestlist.
In true tabloid style, let's make it a multiple choice:
a)Long
b)very long
c)Taliban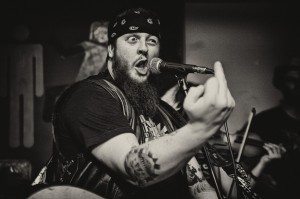 The aim of art is to represent not the outward appearance of things, but their inward significance. – Aristotle