London five-piece folk band Stick in the Wheel represent the social commentary side of English folk music, with covers of traditional tunes recounting working class histories, as well as original compositions, all backed by a strong beat.
Their second album, Follow Them True, released in 2017, attracted rave reviews from both folk and mainstream press, as well as plenty of BBC radio airplay. I caught them for a quick interview just before their performance on the main stage at Cambridge Folk Festival 2018.
Sarah Corbett-Batson: With your return to the Cambridge Folk Festival, promotion to the main stage and a host of folk award nominations under your belt, would you say that you feel like part of the established folk scene, or do you still feel like outsiders?
Nicola: I think we'll never stop feeling like outsiders but I'm pleased that people are beginning to accept us a little bit because basically we won't go away! To be on Stage 1 is a big deal.
"what can you do when all hell's breaking loose"
A major theme of the album is working class history and repeating the same mistakes over again. What do you think could break that cycle?
Ian: We don't like expressing that literally through our music. I just think our music is a soundtrack to what's happening. As far as the future goes, we're being led down the garden path. We're in a situation where Danny Dyer has the most prescient point on Brexit. That's when you know that we're in really interesting times.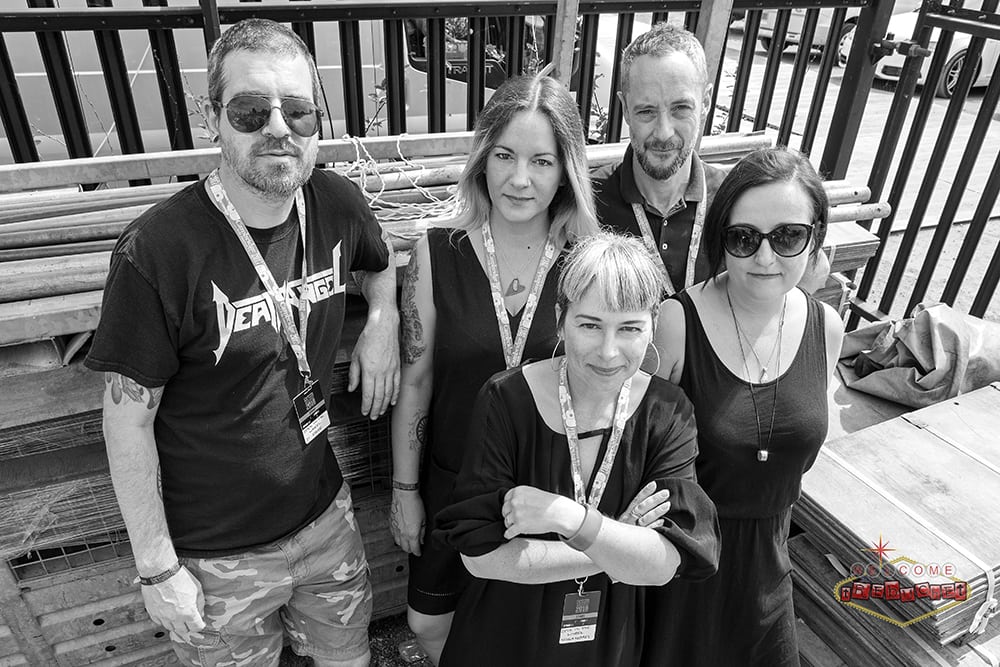 You've just got to get on and hope everyone tries to be nice to each other because it looks like it's going to be pretty wild because everyone seems to be panicking so it's very difficult to have faith in anything. Like with Corbyn, he seems like a normal man but what can you do when all hell's breaking loose. I think that at the moment, the problem is that everyone uses social media and the things that it rewards, like saying something outrageous. Both sides have degraded into a slanging match online and it lets people like the Far Right gain momentum. We've got a situation where we're being sold down the river by whatever government it is and it just stokes bad feeling. Everyone needs to be a little more civil.
If you compare English folk music with, for example Irish folk music where all ages are into it and it doesn't have a cultural stereotype the way that some English folk music does, do you think that English folk took a wrong turn at any point?
Nicola: I'd never say it went wrong for English folk music but there was certainly a time in the 1960s where the revival of folk music coincided with a time when that music was able to be part of popular culture. You don't have that nowadays. Popular culture and folk music are way apart. Anyone who thinks it's possible to reconcile them in a commercial sense, it's just ridiculous.
"Our lives are crazy and that stuff's got to cut through"
Fran: I don't think that Irish folk music ever had to figure out what it was because it's always been there, it's always been popular and there are people who take it very seriously and I have a lot of respect for that. As an identity, it has known what it is.
Ian: The thing about that question is that it's incredibly difficult to answer because traditional music is obviously part of our cultural identity and English cultural identity is messed up. All those problems that you get like the class system and class privilege, all this kind of stuff exists in our culture and it's reflected in traditional music because it's really a very intense part of it.
Nicola: We're just doing our thing and that's all we can do. Like Ian said, we're not a politically narrative band, it's a soundtrack.
What do you think is the future for music that presents a soundtrack to what is going on? A lot of people would say that it is through music such as drill and grime rather than folk – what would you say to that?
Ian: Being from London, I used to do all that kind of stuff although we didn't call it drill back then. It's an integral part of people trying to express themselves. The problem comes when people use it for their own gain, whether it's money or notoriety or whatever it is, not necessarily the artist. It's a very tricky thing to rebel against the system that you're actually trying to engage with, the idea of making commercial music. Like jungle before that, it was always about making music from where you were and the people around you. It's again like the soundtrack thing – although nobody would explicitly put political statements in their music, that's what it was about. 
About giving a voice?
Ian: Yes, and it's just street music and about what is going on around you. It's a very tricky subject because one set of people go, drill music causes violence, and others say, it doesn't cause violence, they're just expressing themselves. The truth is somewhere in between because you're talking about the feedback loop that normalises certain behaviour and certain ways of thinking but you are talking about your everyday life. If it's constantly being reinforced by other people talking about it then it normalises it so it doesn't help people but then it doesn't do to condemn someone. People don't listen to a song about violence and think, I'm going to go and do violence, that's not how it works. But if it's in your environment then it's constantly reinforcing certain things. That's what music is; it's a transmission of culture.
There's a really strong underlying beat in your music, whether it's clapping or from other rhythms, that seems to be an integral part of your sound. Did that come from your previous work in dance music?
Ian: Absolutely. I write and arrange stuff so it's my past experience with rhythmic music and then Simon who plays drums, he's a rock band guy but the attitude to rhythm is the same – it's got to be heavy rhythm that drives you. Our lives are crazy and that stuff's got to cut through, whether it's rock music or dance music or whatever, you've got to have rhythm to it always.
Nicola: It's got to be heavy. Like Ian says, our lives are mental and it reflects that.
[youtube https://www.youtube.com/watch?v=ZzkQFb8TDLw&w=560&h=315]
Stick In The Wheel played Cambridge Folk Festival on Saturday, 4th August 2018
Look out for them on their 2018 Autumn Tour:
6 Oct 2018 The Garage, London
7 Oct 2018 The Bodega, Nottingham
12 Oct 2018 Ropetackle Arts Centre, Shoreham
14 Oct 2018 Thekla, Bristol
15 Oct 2018 Nettlebed Village Club, Maidenhead
18 Oct 2018 The Atkinson, Southport
19 Oct 2018 Broadcast, Glasgow
20 Oct 2018 Wychwood Folk Club, Oxon
10 Nov 2018 The Junction, Cambridge
11 Nov 2018 Talking Heads, Southampton
16 Nov 2018 Wyeside Arts Centre, Builth Wells, Wales
17 Nov 2018 Mwldan Theatre, Cardigan, Wales
23 Nov 2018 The Crescent, York
24 Nov 2018 Night & Day Cafe, Manchester
29 Nov 2018 Norwich Arts Centre, Norwich
1 Dec 2018 West End Centre, Aldershot
Photographs copyright Carl Byron Batson. Not to be reproduced or used without express prior written permission