That Psychobilly combo, The Meteors have a new album for release, an anniversary album no less, entitled Doing The Lord's Work. It should be a good listen, being a very special time for them and all. Thirty years in the game should bear some ripe and juicy fruit and upon reading their press blurb, they still claim to be the undisputed 'Kings Of Psychobilly'.
But hey, you say tomato, I say bullshit.

Now Momma always told me, "Jon junior, you know better than to argue with idiots, they'll only bring you down to their level," then Pappy would get home and give me a hiding to beat the stupid out of me, or try. Then my long-suffering wife (hey little Monkey) would say, "Lordy lordy big Jon, you know they ain't nothing but children and should be spoken to as such, they don't understand all the grown up talk". Now I take what these gals say as if it were the good Lord's gospel itself.
So, over the past year or one has been re immersed in a scene that was born and believed to have passed away way back in the 1980s. Albeit for a brief reprise in the 90's and now in the 00's, that did appear to be the case. The creature that we look upon today and call Psychobilly could possibly just be a sad and laughable parody of its once proud, hard hitting self, a zombie if you will.
A few of the original bands of the time remain, plugging away, seemingly cashing in on a niche group of fans and possibly it could be said the horse has been well and truly flogged to death (and should be left to decompose in peace with dignity and not constantly reanimated). As they say "Once you wake up the dead, you've got a real mess on your hands", although I could be wrong.
[box] a sad and laughable parody[/box]
There are bizarre if not fond personal memories of the Klubfoot, Headstone Hotel and other venues in the 1980s that played host to and incubated the small hybrid foetus that was to be named Psychobilly. Being in Britain at the time and as a fan of pure raw Rockabilly, times were tough enough. Punk had slipped into a drug induced coma and choked on its own vomit, Elvis had left the building and Bolan decided to headbutt a tree, all were dead and gone and the kids were into the New Romantic scene. So being a young guy strutting around with a quiff, creepers and eyeliner made you an outcast from the start.
That and embarrassingly being associated with Matchbox's 'Rockabilly Rebel' didn't make life any easier (and it was embarrassing having that sung to you whilst walking down the high street), particularly when Perkins, Feathers and Presley et al were spinning on the turntable back at the ranch. So an introduction to The Cramps albums, Psychedelic Jungle and Songs The Lord Taught Us promptly put things in a totally new perspective (in a kaleidoscopic sort of way).
For better or worse, The Cramps were life changing, and over the course of one weekend a well-groomed bouffant Rockabilly would be turned into a mutant teenage werewolf, ripping his faded jeans and splattering them with Domestos, tearing the sleeves off his Jack Geach (R.I.P Jack) shirts, flat topping his greasy quiff and adorning himself with bone necklaces and earrings. This cause of action could naturally culminate into severe beatings, and back then often did. Friends were lost and black eyes were acquired. This was the beginning of Psycho Rockabilly and the purists just didn't like it.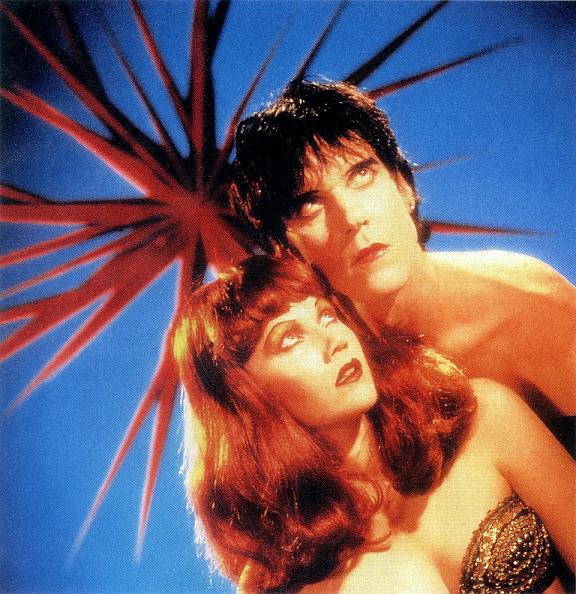 What was this Psychobilly thing? Well there are a vast number of people out there who haven't a clue so to outline, Psychobilly was most notably a term used in the lyrics to the song 'One Piece at a Time', recorded by Johnny Cash in 1976, although the term had almost certainly been used before.
It was a term also used by the aforementioned Cramps on flyers to advertising their gigs and it was this use of the word that almost certainly led to it spreading like a deadly fungus on an over-ripe cheese. Later, The Cramps turned their backs on and rejected the idea of being a part of the Psychobilly creature saying:
'The Cramps weren't thinking of this weird subgenre when we coined the term 'Psychobilly' in 1976 to describe what we were doing. To us all the '50s rockabillies were psycho to begin with; it just came with the turf as a given, like a crazed, sped-up hillbilly boogie version of country. We hadn't meant playing everything super loud at super heavy hard-core punk tempos with a whole style and look, which is what 'Psychobilly' came to mean later in the '80s. We also used the term 'rockabilly voodoo' on our early flyers'.
– Poison Ivy Rorschach.
There were many people who took the same stance, not because they didn't like 'Psychobilly' in general, but just weren't happy with what much of it was developing into. A parody? Perhaps. A monster? Maybe?
Arguments to one side, The Cramps were important pioneers of the Psychobilly movement. The blend of Surf, Garage, Punk and Rockabilly was put in a pot with Horror and Sci-Fi B-Movie humour, sprinkled with a touch of pure madness and that is what made that Psycho Rockabilly sound. The US seemed to take a slightly different direction to the UK and this may well have contributed to a division in the ranks (personal musical taste if you will).
Great American bands from that time (amongst many others) were The Gun Club (who turned out the amazing 'Fire Of Love' album in '81), Tav Falco's Panther Burns, The Reverend Horton Heat, The Blasters, Shockabilly, The Fuzztones and later The Legendary Shack Shakers (most still rocking and some pushing boundaries).
Meanwhile, back in Britain, the Rockabilly and Psychobilly scene was indeed growing with notable bands like The Sting-rays, The Stray Cats, The Guana Batz, The Milkshakes, The Shakin' Pyramids, The Meteors, Alien Sex Fiend and King Kurt. These bands would indeed move in different musical directions, some more experimental, some commercial and some thrashing out the same old, same old (again splitting the camp). For many, Psychobilly was felt to be something more progressive but for them it seemed to stagnate and in its original form was felt to be short lived.
In some eyes it pretty much died in the decade it was born. Bands with a distinctly more Rockabilly style such as The Stray Cats had more luck at that time, and their commercial success probably allowed a few Psychobilly bands to breathe for as long as they did. Anyone who was on that scene at the time will surely testify to the craziness of it all. Tribes were formed and the hatred of bleached jeans and bleached flat tops from the Ted and Rockabilly camps toward the Psychobilly fraternity was equalled by the repulsion of creepers, wallets on chains and long barrelled quiffs.
There was certainly a rebellion going on and I have beautiful memories of all out-wars between the tribes. Memories also of large numbers of the audience cutting themselves up at a Guana Batz gig and front man P. Paul Fenech trying to secretly put blood capsules in his mouth and pretend to get injured in the 'Wreckin' Pit' (I wonder if he still does that) at a Meteors gig, and lest we forget, Lux Interior busting out of a coffin in high heels, downing two bottles of red wine and slashing his chest with broken glass.
So nostalgically, it's an anniversary after all, The Meteors have their new album out, Doing The Lord's Work. It could be said The Meteors best work was In Heaven and Wreckin' Crew; this could be true and most probably is, as both those albums pretty much embodied what British Psycho Rockabilly was. Those albums stand up today against anything that is currently being put out, both are on my play list to this day. Back in '83 I even named my motorcycle Zorch (I miss that green machine), but I digress.
A point of debate here could be, apart from being the last man standing, The Meteors haven't significantly moved forward. There is the feeling of churning out endless rehashes of the same old stuff and hailing themselves as monarchs; this should be unacceptable. There's only so much you can do with those old riffs before you start to feel you've heard it all before, right? That may also be true also for many of the other so-called Psychobilly bands around at the moment, although many people will disagree. Well, Psychobillys at least.
That being said there are bands on the circuit as it is today that are more than capable of blowing The Meteors off stage and taking their self proclaimed crown, all the more reason for pulling something out of the bag here.
Disappointedly, Doing The Lord's Work certainly does have that mundane feel to it, especially when you hear tracks such as 'It's a Long Way Down' (despite its hooks) or 'Ain't No Turning Back'.
'My Life For Thee' and 'She Screams Out My Name' just feel particularly weak and Fenech's vocal, which admittedly did set him apart from the rest at one time, just isn't there (I am sorry to say) and there is definitely "a bad wind blowing in the air" on 'Strange Times Are Coming," a bad wind indeed.
A point of redemption is 'Girl Meat Fever'. Fenech uses the gravel for better effect and the beat chugs you along like a heavy goods locomotive, a definite foot tapper. 'Drag You Down To Hell' is also very well executed with some surprising little guitar licks although it could have benefitted from losing the samples. 'Hell Must Be Empty' was also very similarly pleasing.
[box] a letter of apology should immediately be sent to Ozzy[/box]
I nearly choked on my pipe however when 'Paranoid' started playing. Yes, it really is a cover of 'Paranoid'. Not just a cover, a kind of surfy karaoke version that begged the question, 'Why bother?' and a feeling a letter of apology should immediately be sent to Ozzy. It will surely make you want to snatch the microphone from Fenech's wizened hands and have a crack yourself. The Meteors really should leave those covers alone as they will never be able to improve on their rendition of 'Johnny Remember Me', which was a masterpiece.
Seriously, there was a yearning that more might be on offer here. That doubts would be dispelled and the magic from years on the circuit would shine through, but there really was nothing new or outstanding and the low expectations weren't thwarted. I wanted to be violently smashed around the head (wait for it) and forcibly made to re-embrace The Meteors' sound rather than have smoke blown limply up my arse.
Apart from Fenech's voice having seen much better days and his failure to use those shredded chords to better effect, there is a real overkill of samples, and instrumentally it just isn't firing on all cylinders. Bearing in mind what Mr. Fenech is capable of with a guitar, the vehicle seems to be coasting and there may be a build up of silt in the carburetor, an overhaul may well be in order.
At one point I slipped on my snakeskin boots and donned my Stetson for some boot scooting', as one could argue the album is leaning back more toward Rockabilly than Psychobilly with its country edge. I don't say that in a bad way, personally I'd like to hear The Meteors do a raw ballsy Rockabilly album, acoustic even. As someone once said, "One man's Psychobilly is another man's Rockabilly" or was it the other way around? Guess it all depends on your threshold.
The animal as a whole appears to be lost and needs to find a direction home. It is certainly disappointing as an anniversary album. The herd will obviously buy it, like zombies going to the mall, but Meteors fans will always be Meteors fans (sweet baby Jesus love them) no matter what's churned out and that's about as far as it goes.
All that being said, 'Mr Psychobilly Syndrome' positively has a dance feel about it and could be mixed in to a DJ House set. Perhaps the future of Psychobilly lies in that direction. Try dumping that Slap Bass and introduce a sitar and a drum machine. I hear Paul Hardcastle is back on the scene at the moment so perhaps Mr. Fenech could give him a call, either that or just get back to what it was supposed to be in the first place.
Something's got to change, don't it? I still say we should all hold hands this Halloween and conjure the spirit of Lux Interior back from the grave to save us.
Out on October 8th on People Like You records.
[This article has been edited from the original]
[button link="http://www.peoplelikeyoushop.com/Search?q=lords+work" newwindow="yes"] Pre-Order[/button]

Col. Jon Burrows. Conceived in the ghettos on the outskirts of Memphis. Hailed as the new face of the hood. Haikus to him can be found on underpasses, large rocks at public parks and the occasional idling limo.
Nearly all of the words he writes are spelled correctly, occasionally managing to format a page with a paragraph break. He once drove a tank and lives solely in hotel and hospital suites covering the windows in tin foil.
His epic autobiography, 'Fuck You Buddy', will hopefully one day be published, if someone in the literary world can decipher its sophisticated and convoluted message.