Grief can move people in different ways.
It can come to define a person, it can drive them irreversibly to their lowest point, or it can act as the catalyst for change.
What's clear from End Of Daze, the new EP from Dum Dum Girls, is that frontwoman Dee Dee has not been afraid to channel her well documented sorrow into her songs, in what is one of the most brutally honest emotional floods in music history. In contrast with their aloof and distant image, the songs here could not be more intimate, spilling over with evident misery to painfully beautiful, and surprisingly uplifting, effect.
[box] one of the most brutally honest emotional floods in music[/box]
'Mine Tonight' has the voice of a girl who could be speaking to her dearly departed with lyrics like "Need you here to be my guide/Pull me out to the other side". The sad melancholia in its melody haunts our subconscious for days and is incredibly touching.

In narrative terms, Dee Dee still finds herself understandably fixed on the idea of death, dreams and escapist desires, her voice crystal clear and with the tearful, country tinged tone of Connie Francis or Patsy Cline set against the gentle tussle of the guitars to great poignancy.
'I Got Nothing' has their trademark drumbeat but turns out to be a straight down the line pop song, cut in melodic terms from the cloth of The Pretenders, with Dee Dee putting in a turn as a fully-fledged pop chanteuse while 1980s icons are further paid tribute to in 'Trees and Flowers' (a cover of heavily-kohled female duo Strawberry Switchblade).
Originally penned by Jill Bryson in relation to her agoraphobia, here it's turned it into an altogether more evocative affair. Heartbreakingly apt and perfectly delivered, it is an inspired turn which seems to neatly reflect the personal horror Dee Dee has suffered with its sense of fear and solitude in lines like "Can't you see I get so frightened/No-one else seems frightened/Only me, only me".
[box] Her sadness is never fetishised[/box]
'Lord Knows' is an echoing, introspective ballad followed by 'Season In Hell' which illustrates their new, more refined penchant for walls of sound. A wistful, sincere picture of Dee Dee's emotional state, it sees her moving forward, wary but hopeful and ready to shake off her grief. The final refrain "Doesn't the dawn look divine?" could not be a more fitting metaphor, a symbolic closure on her darkest time. Her sadness is never fetishised, trivialised or used as a selling point, but is simply allowed to flow through the songs organically.
When lyrics of love and loss are usually employed in a romantic sense, it is even more stirring that the EP is an account of those concepts in different terms, and sounds as though it is a vehicle for the stages of Dee Dee's grief. After the youthful, drug-infused haze of their debut album, and though the second album lost its way a little, this EP hits all the right notes and distances the band further from the narrow route of potentially one-dimensional Jesus and Mary Chain surf pop they could have gone down.
Patently, painfully straight from the heart, the songs here are flawlessly formed pop. Infectious and threaded with gloom but practically knee-buckling in their soaring affection, it's amazing to hear Dee Dee and co push themselves into unfamiliar pop climes and pull it off completely.
While it's apocalyptic overtones ring clear, perhaps 'End of Daze' refers to her pulling through the foreboding, consuming clouds that were cast over her, while her songwriting ability surges forward all the more. While Dee Dee might have experienced loss and tragedy, it has inadvertently gifted her with the platform for greater expression and the chance to be more candid; It is almost as though the experience of being emotionally stripped has allowed her to build herself up again and along the way, she's evolved musically too.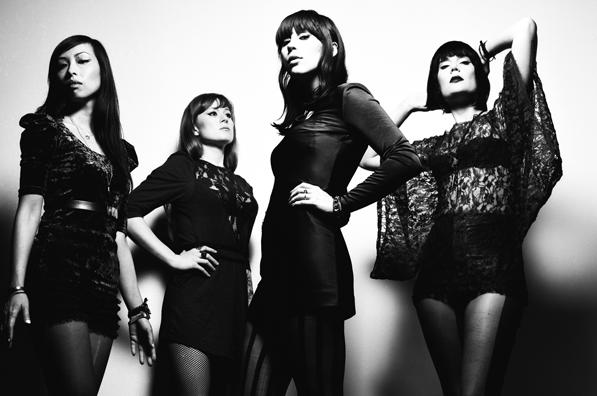 Radically vulnerable but with the inner strength to match the outward toughness that's always been present onstage, she has a resilience that her 60s girlband heroes never did while, much like Ronnie Spector et al, her obvious despair does not detract from the glaring pop value of the songs.
It may be the end of daze, but it sounds like the start of something inconceivably brilliant. Dum Dum Girls Mk 3 are the best yet.
Out today.
[Ed's note: after a prolonged battle with cancer, singer Dee Dee's mother died late last year, an event which is the focus of the grief mentioned in the review]
[button link="http://www.subpop.com/artists/dum_dum_girls" newwindow="yes"] Dum Dum Girls[/button]